Hillary Clinton sticks to her signature pantsuit, looking more relaxed and like a boss
What did you think Democratic presidential nominee Hillary Clinton would wear when she took the stage Thursday night to address attendees on the final night of the Democratic National Convention in Philadelphia?
You already know the answer. The former first lady, secretary of state and U.S. senator stuck to her classic Clinton style by wearing a pantsuit. (As for other well-known Clintons in the audience at Wells Fargo Center, Clinton's husband, former President Bill Clinton, wore a dark suit with a red tie, while their daughter, Chelsea Clinton, wore a red sleeveless dress.)
Instead of one of her colorful pantsuits — or opting for the tried-and-true black or gray power suit, Clinton made a bold fashion choice given the general messiness and hazards of everyday life — especially one for a historic political moment. She wore a crisp, summertime white. (However, this wasn't the only time she has worn white on the campaign trail.)
On first glance, her two-button white pantsuit on Thursday appeared to have wider lapels than jackets she has worn in the past, and overall, the pantsuit didn't seem as matronly as some of the tweed and embroidered jackets she has worn before.
Skipping a formal business-style blouse, Clinton wore a simple white crewneck shell top under her jacket on Thursday night. She also went with minimal jewelry — what appeared to be a tiny gold necklace as well as a ring, earrings and her gold chain bracelet, which she has been photographed wearing — not bold, statement jewels such as the pearls she has worn in the past. Clinton, who favors jackets and pantsuits from Susanna Beverly Hills, completed her outfit on Thursday night with neutral-colored kitten heels and soft makeup.
Ultimately, Clinton's look was a more relaxed version of her days as a senator from New York. Her fitted white pantsuit at the Democratic convention didn't appear stuffy and had a boss lady vibe.
However, since Clinton arrived on the national political scene decades ago with her husband, her style choices and hairstyles — the headbands and the frumpy jackets (remember them?) — have been scrutinized in the media. In more recent years, she has become the queen of the pantsuit.
Four years ago, her style went viral largely because of the Tumblr Texts from Hillary.
In a series of viral memes, Clinton, then secretary of State, was seen in a photo wearing dark sunglasses, black clothes and statement jewelry while holding a BlackBerry. The photo was usually paired with another one of a political leader with snappy, overlaid messaging. (That Tumblr, started in 2012, was last updated with a fresh post on June 7 of this year.)
During this presidential campaign, Clinton, who lately has gone with a more refined look, was criticized in the media for wearing a $12,495 Giorgio Armani jacket while giving a speech in which she touched on income inequality.
And in recent months, fashion insiders have speculated that Vogue magazine editor Anna Wintour has been quietly serving as a fashion consultant to Clinton.
Seeing Clinton at center stage in Philadelphia, one couldn't help but think about an actress like Holland Taylor transforming herself into the politician for a future HBO movie and allowing viewers to relive this moment when the first woman in U.S. history accepted the presidential nomination from a major political party. And of course, an epic tale like this one would require a proper sartorial co-star, the pantsuit.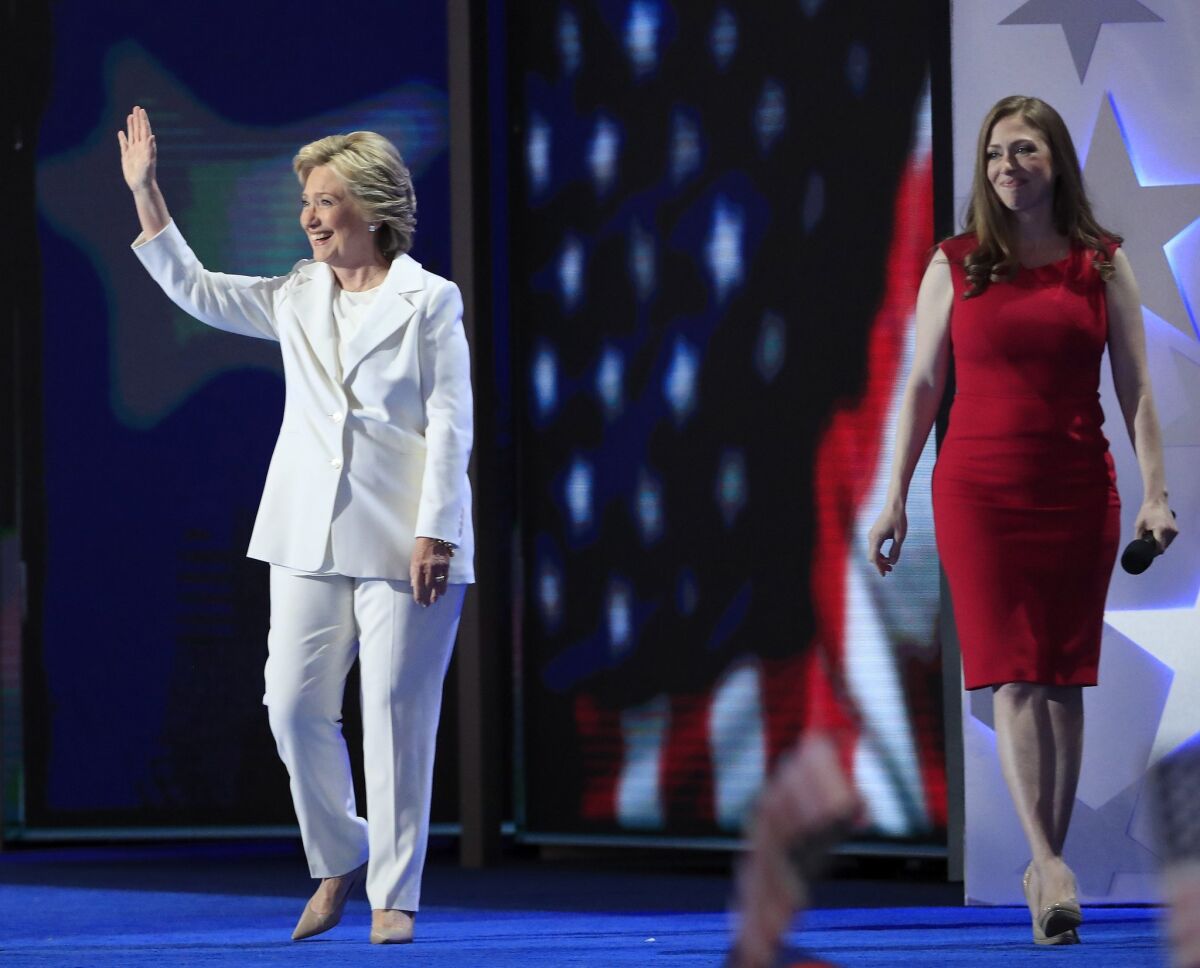 ---