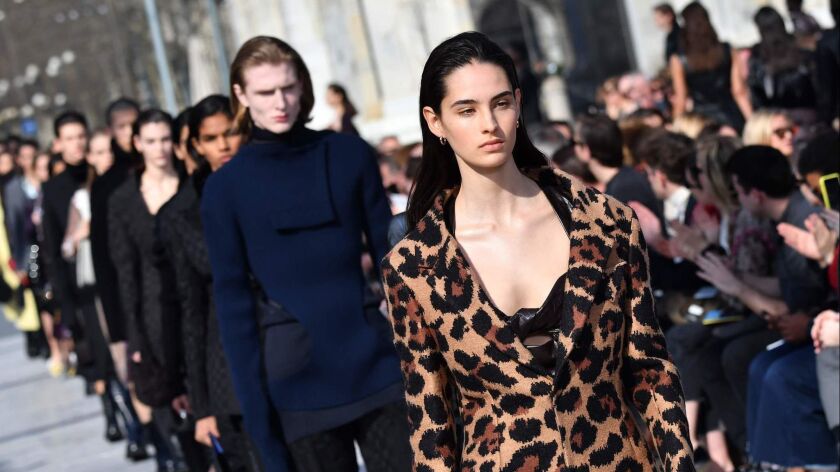 Reporting from Milan —
The first few days of fashion week here it was gray-skied and cool, as is typical of Milan winters, but the day of Bottega Veneta's show the clouds were nowhere to be seen and sunlight streamed through the clear plastic tent erected in Piazza Sempione. As the fashion flock gathered, the mercury steadily climbed until it felt just short of chicken-broiling.
After seeing the fall and winter 2019 men's and women's collection, the first runway show under the creative direction of Daniel Lee (following in the footsteps of Tomas Maier, who held the top job for 17 years), the unusual weather felt symbolically appropriate, because it's definitely a brand-new day at the brand.
The color palette was heavy on the neutrals — mostly black with a few white, gray and brown offerings — with very spare pops of color including a sea foam green (on a quilted leather skirt) and pumpkin orange (on a knit sweater dress). But what the collection lacked in color it made up for in other places. On the aforementioned sweater dress, for example, a swath of fabric managed to be both belt-like and scarf-like — and not look ridiculous in process — and reference the house's signature intrecciato weave at the same time.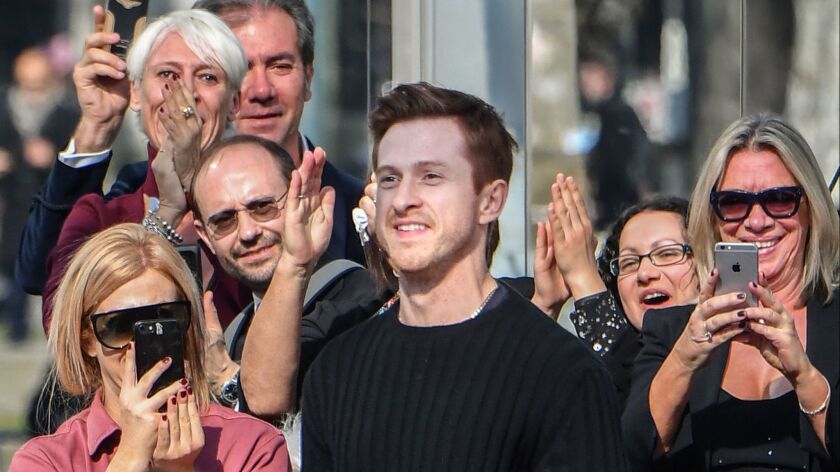 That weaving pattern was referenced more overtly in black trousers and jackets that were nipped in at the waist but strong at the shoulders (the strong shoulder has had a strong showing here — see the silhouettes at Gucci, Prada and Fendi for starters).
Bottega's bread and butter is leather work, of course, and the runway here was full of it; leather dresses, leather motocross-inspired jackets with padding down the arms, and leather moto-inspired trousers with quilted padding at the knees.
There were also slightly more oblique references to the weaving technique in the squares of quilted puffer coats and skirts and a handful of outerwear pieces (and at least one skirt) that looked like armor constructed from square pieces of leather about twice the size of a first-class U.S. postage stamp. Also keying into that sharp, armored feel was geometric hardware and accessories; equilateral triangles cinched the belts of long puffer coats and pyramidal handbags that resembled medieval weaponry.
Adding to the ready-to-rumble feeling were the stompy black boots worn by many of the models. Their message was clear: lead, follow or get out of the way because we're on the move.
Which perfectly captures the vibe of Bottega Veneta at the dawn of a brand-new day.
For more musings on all things fashion and style, follow me at @ARTschorn
---