Gayle King moderates a Milken Institute panel on rethinking what aging means for women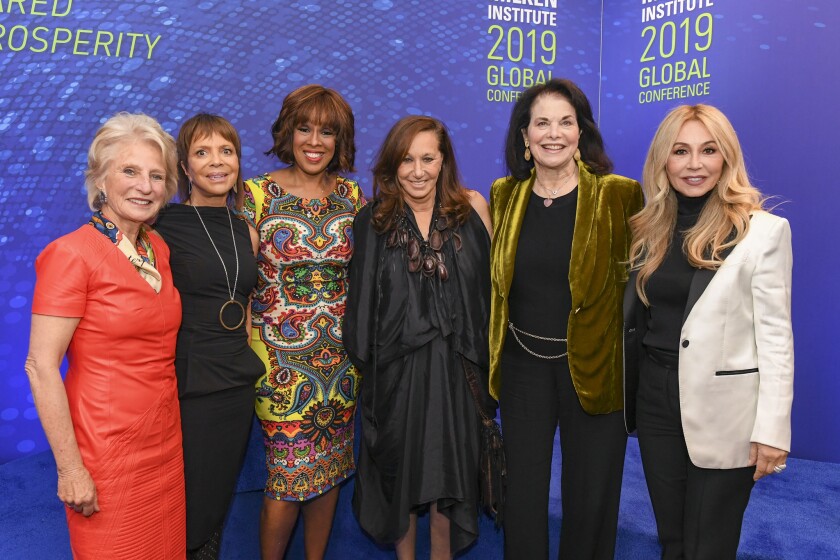 Appropriately enough, Katy Perry's song "Roar" could be heard over the speaker system as guests filed out of the panel discussion "Coming of Age: Women Rise to the Top" at the Milken Institute Global Conference at the Beverly Hilton earlier this week.
Moderated by Gayle King, co-host of "CBS This Morning," the April 29 event during the four-day conference consisted of women who had broken age and gender barriers to achieve powerful positions in a variety of industries and who had come together to talk about the need for society to rethink what age and aging represent.
"How do we feel about the phrase 'women of a certain age?'" asked King, 64, plunging right into the topic.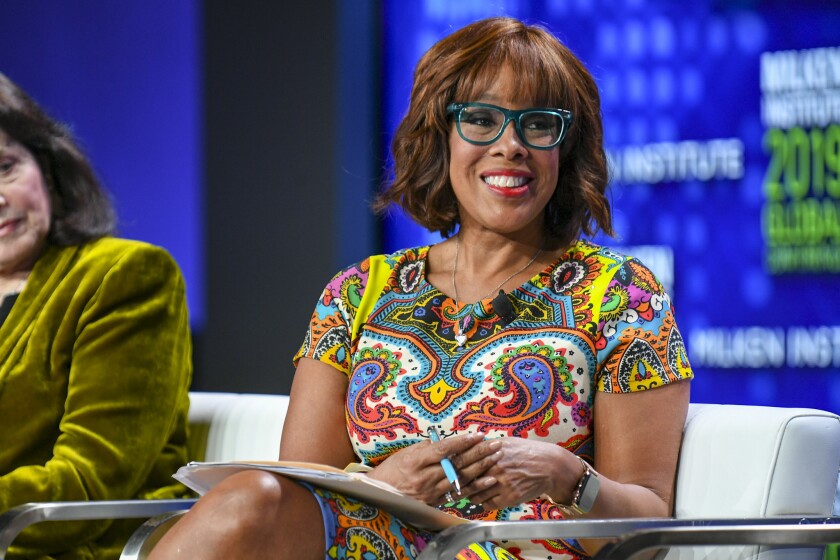 "I like, 'perennials — perennially young,'" said Sherry Lansing, 74, former chairman and chief executive of Paramount Pictures. Lansing said she has no problem revealing her age but hates the phrase "a certain age" and also the descriptors "seniors" and "older."
"I've never felt better and more in tune with myself, more in tune with my business and more connected to the rest of the world," said Sylvia Rhone, 67, chairman and chief executive of Epic Records.
Anastasia Soare, 61, joked that she still celebrates age 39 every year. Soare is the founder and chief executive of Anastasia Beverly Hills, a cosmetics company that has more than 19 million Instagram followers.
Not surprisingly a proponent of makeup, Soare talked about cosmetics' ability to lend women confidence and give "the power to women to control what they want to look like."
"You have to look good in order for people to listen to what you have to say," said former congresswoman Jane Harman, 73, currently director, president and chief executive of the Wilson Center.
Harman said she first became passionate about politics as a young girl after meeting Eleanor Roosevelt and feeling "an aura about her."
Lansing then suggested that Roosevelt's beauty came not from outside but from her energy, charisma and substance, and that beauty as women age should also be judged in other than superficial ways.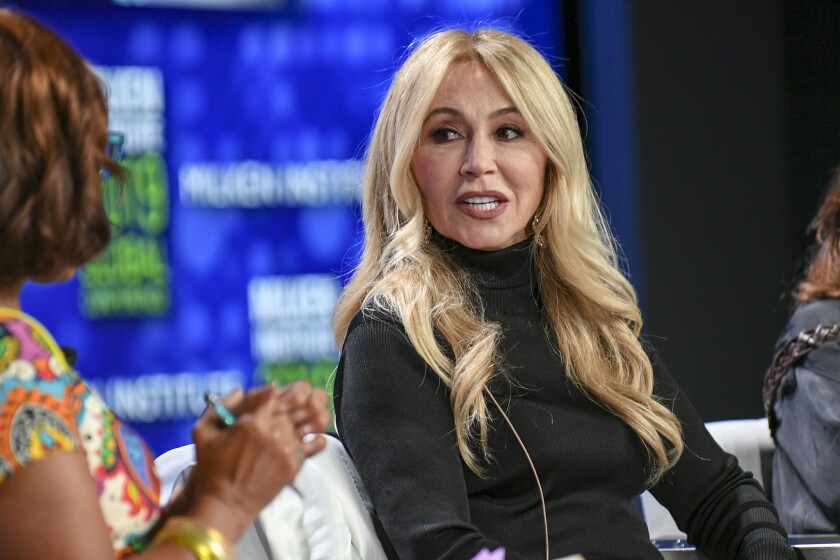 "I thought I'd be dead by 70," Lansing said. "So instead of thinking that 70 is old or 80 is old or 90 is old, can't we accept the way it is? I'm too scared to let my hair grow gray. … But if we're really going to be role models and we're really going to redefine aging, some of us have to do that."
Donna Karan, 70, said that although her daughter thinks she should retire, the designer said, "I'm [just] beginning. … I'm an artist. You never give that up. There is no age about it."
Then, offering a fashion tip, the founder of Urban Zen and Donna Karan International recommended clothes that bare the shoulder. "Your shoulder never gains weight," she said. "That's why I did the 'cold shoulder.' … The shoulder never gets wrinkled."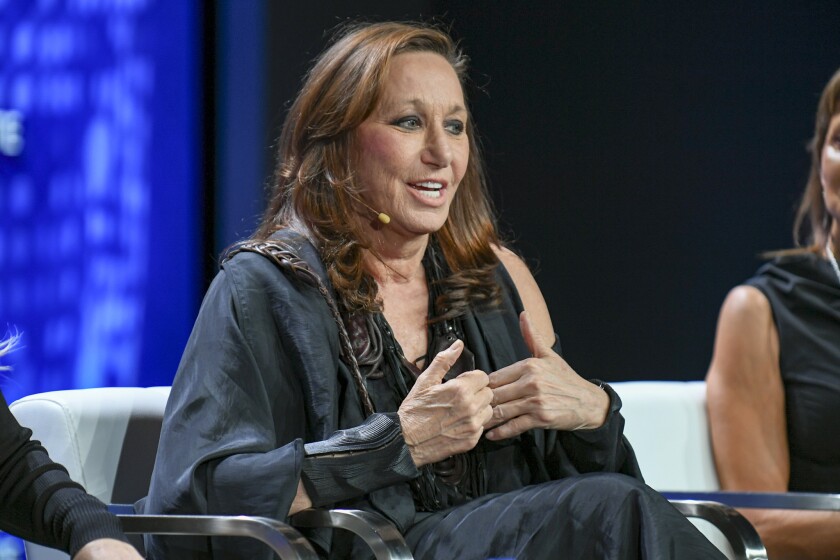 Harman had two more suggestions for success. The first: "Be confident. It's very hard for women to learn self-confidence," she said. "When you're confident, you put yourself out there in ways you wouldn't otherwise."
Her second piece of advice: "Be the most qualified person in the room. … Don't say, 'Well, I'm the girl' and 'Gee, it's stacked against me.' … If you're good, it's amazing what can happen and what continues to happen even at this ripe 'young' age."
Epic Records' Rhone said her success came not only from being good at what she does, but also from hard work, surrounding herself with good people and being fearless. "I'm very fearless," she said, "and that's what gets me through. There's not a lot of things that can put me down. And, if there are, it's just for a moment until I recalibrate, and then I'm back again."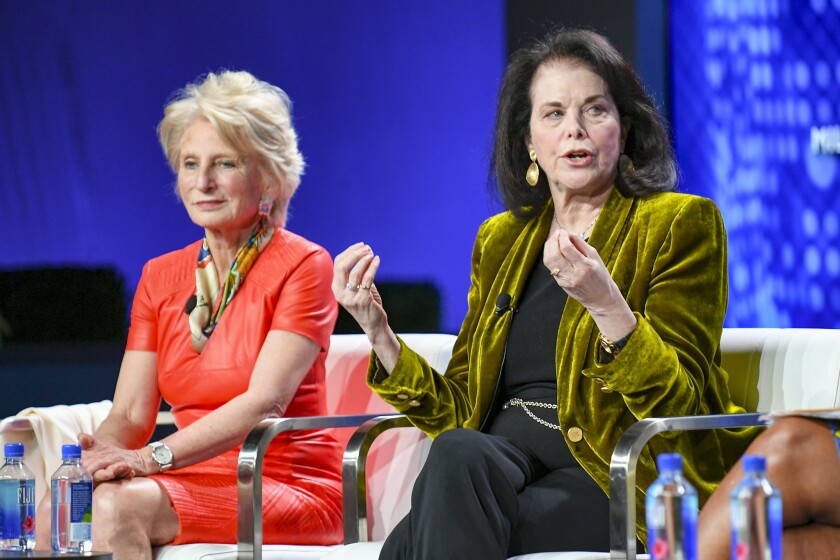 Summarizing the sentiment in the room, King ended the session with a declaration: "70 is the new 50 — I'll leave you with that."
The talk about aging didn't end at the door. In a post-event conversation, Lansing said, "My generation marched for civil rights. We marched for the women's movement. We marched for gay marriage, and now we have to be the culture to redefine what aging is and what beauty is. I wish I had the courage to let my hair grow gray, but I can't because there's a stigma attached to it. Aging can't be a negative thing. It has to be a positive thing, and every birthday has to be celebrated."
Of course, for some women, aging naturally may not be realistic and may depend upon a woman's profession.
"I'm under no illusion that if I were gray-haired, white-haired or 50 pounds overweight with wrinkles on my face, the reality is I would not have a job on television," King said, just after the session. "I look at that as that's just the way it is. I don't run away from aging and I have no hang-ups about telling my age, but if you're in a business where you have to look good, that's the reality."
Ellen Olivier is founder of Society News LA.
For fashion news, follow us at @latimesimage on Twitter.
---