L.A. Clipper Montrezl Harrell builds a stellar sneaker collection — one rare pair at a time
The ancient Greek philosopher Heraclitus once observed that "no man ever steps in the same river twice." Were Heraclitus alive today — and a fan of the Los Angeles Clippers — he would undoubtedly appreciate the sneaker game of Montrezl Harrell, who has made it a personal goal to never step onto the basketball court in the same pair of sneakers twice.
In each half of this NBA season's 82 regular season games, the Clippers forward has (or will) lace up a different pair of often colorful and cartoon-character-festooned sneakers — without repeating a single pair. And, with a collection that is currently around 3,000 pairs strong, he could continue to roll that way for roughly 17 more seasons before having to step back into the same river of shoes.
A shoe game of that magnitude takes some organization and, during a mid-January tour of the shoe closets — there are two of them — in his Westchester home, the enthusiastic sneaker collector explained his game plan.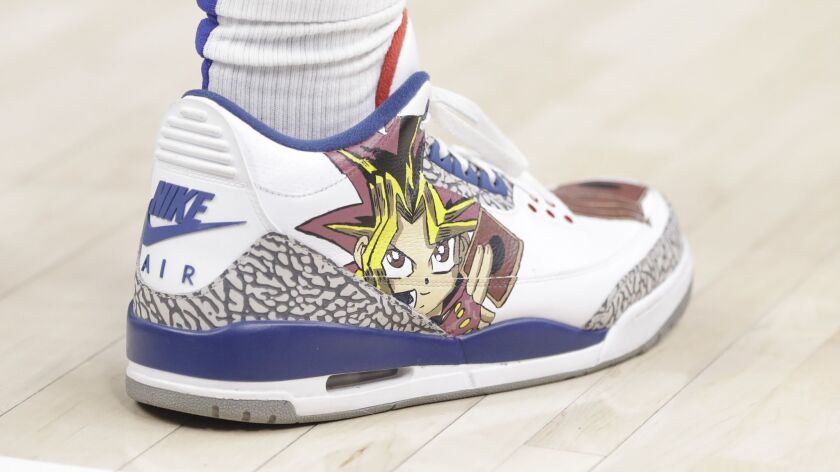 "Down here, I have a good 400 to 500 [pairs]," Harrell said of the downstairs space that, in a more typical home, would be used as an office or a bedroom but here is a staging ground for shoes that are either queued up and waiting to be worn this season or already have been.
A pair of Dwyane Wade's Li-Ning Way of Wade sneakers (autographed "with love and respect" by the Miami Heat player) was in the mix. So were a pair of Reebok Pumps (a gift from Dee Brown, who put that shoe memorably on the map during the 1991 All-Star weekend) and a pair of Air Jordan XX9s customized to include characters from "The Simpsons."
"I actually had these done last year when the color restrictions were still on," Harrell said. "So that's why one shoe is red and one is blue." He explained that Bellflower shoe customizer Kickstradomis had the idea to make the shoes Clipper colors (they'd started as a lighter shade of blue), but the cartoon characters were Harrell's concept.
"I'm really big into the '90s cartoons that I liked watching as a kid," he said. "So that's why, on a lot of my shoes, you'll see cartoons [such as] Homer Simpson, Johnny Bravo [and] SpongeBob SquarePants."
The other roughly 2,500 pairs in Harrell's collection live upstairs, stacked neatly floor-to-ceiling in plastic bins or the original shoe boxes. "I love all of my collection," he said, "but these were the ones I worked harder to get my hands on, [and] some, I haven't even put on."
To prove his point, Harrell pulled one of his most prized pairs from a box and held them aloft. "These are called the [Air Jordan] Rising Sun 12s," he said. "I actually came upon them in college."
He considers them one of the crown jewels of his collection, he said, because they weren't easy to come by. "I enjoy the thrill of the hunt, the actual research of the shoe," Harrell said, adding that general-release shoes — as in the kind anyone could walk off the street and buy at Footlocker — hold little interest for him.
Instead, he prefers to find shoes through either the small network of sneakerheads he trusts (knockoffs are always a problem, he said, so he's also learned to check the stitching and other subtle details) — or go-to sneaker boutiques in cities he visits for away games.
"I take along an empty suitcase because I know I'm probably going to come back with eight to 10 pairs of shoes, easily," he said. "I go to a lot of boutiques in New York. I've got one in Houston I like to stop at. There used to be one in Phoenix, and there's one in Portland. I'm fortunate enough to live out here in L.A. where there's a number of different places like Flight Club, Solestage, Rif, CoolKicks — that's four right there."
Harrell said that he's been stepping up his on-court shoe game long before this season's rule change, but the lifting of the color restrictions have made him feel a little bit like a kid in a candy shop when it comes time to pick the kicks he'll wear during an upcoming game.
"I walk into this room," he said, standing ankle deep in a river of sneakers in the downstairs closet. "I look around and am like, 'I got some AND1s over here. Do I want to put them on today?' "
Heading out of town for a road game requires a tiny bit of advance planning but, for home games, it's usually a last-minute decision when it comes to his footwear, he said.
"When we get home from shoot-around, that's usually when I pick ... And, honestly, I just come in here and get a feeling," Harrell said. "I love shoes. I love finding them — and the search and the hunt for them."
For more musings on all things fashion and style, follow me at @ARTschorn
---