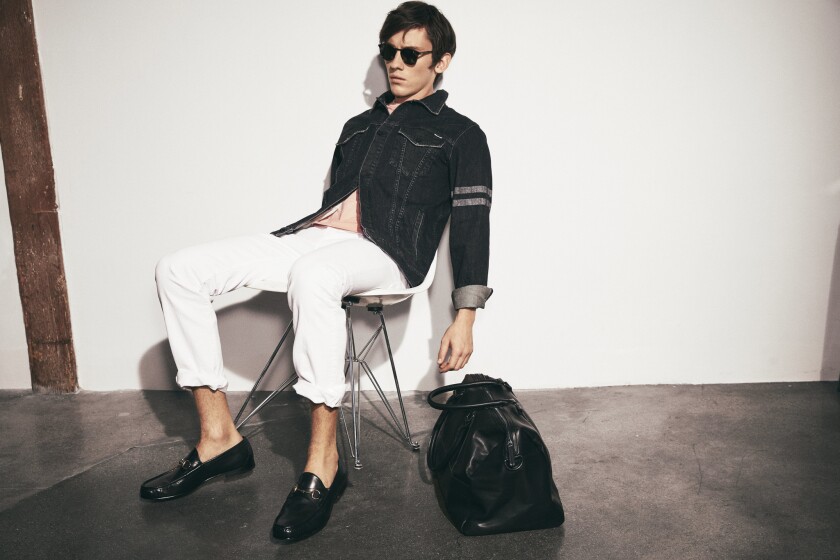 Los Angeles-based label Mother is known for its whimsical approach to jeans. Each collection has a theme, and every piece is infused with a heavy dose of personality thanks to creative cuts, playful names and thoughtful details. The label is bringing the same sensibility to its new men's line, a well-curated range that includes jeans, a hoodie, a denim shirt, a Hawaiian shirt, tees, a dark denim jacket, trousers and a track suit.
"A couple years ago we started a women's collection called Mother Superior, which was a take on menswear fabrics," said the brand's creative director, Tim Kaeding, who co-founded Mother with Lela Becker. "It was men's-inspired fits on men's-inspired, non-stretch denim. The line did really well, and I thought, 'Wow, this a natural progression into men's. We had the look, the washes and the fabric.'"
The men's line, which is priced from $85 to $325, dropped May 15, and is available on the brand's website, www.motherdenim.com, and at Ron Herman.
The new collection features three men's denim fits — skinny, straight and tapered straight — in four washes. Each was given a name inspired by nightlife: the Joint, the Neat and the Chaser. "The way we approach jeans is different than other brands," Kaeding said. "A lot of it is in the details. We give fun names to the jeans and the washes and put cheeky slogans on the T-shirts and tags. We love storytelling."
So how different is designing for men? "Men really get into the details," Kaeding said. "It's the small nuances, especially in the jeans world, that dudes pick up on and appreciate; the amount of stitches we use; the placement of the stitches — the little things."
With that in mind, Kaeding said the men's line will remain carefully edited and smaller than the women's collection. "Women have a sensational appetite for newness whereas men like what they like," he said. "Once they find something, they want to buy all of them. For men's, it's not about changing the wash but instead changing some of the details."
However, Mother's men's line does not forgo the sense of humor and trademark joie de vivre the brand is known for. One T-shirt simply bears the word "Sports" across the chest, while another reads "Do Less." The hangtag for the men's line is also whimsical. It folds out like an accordion. When unfolded, it reads, "Mother," but when it's folded, it reads, "Mr."
Becker, who serves as the label's president, and Kaeding have a long history in the denim industry. She helped bring Citizens of Humanity to the masses through her role as president of sales, and he was once the creative director at 7 for All Mankind. At a time when they were separately contemplating next projects, a vendor suggested they meet. "We both have a long history in denim and we were at brands that were competitors," Becker said. "So we understood the landscape and what the market needed."
As partnerships go, theirs appears to be as strong as the styles they create. "He understands what I do, and I understand what he does, and we both respect that," Becker said. "I feel fortunate because partners can sometimes be difficult." And now that they've conquered clothes for women and men, what's next for Mother? Kaeding said the sky isn't the limit for the brand. "Taking over the world, I think," he said.
Please consider subscribing today to support stories like this one. Get full access to our signature journalism for just 99 cents for the first four weeks. Already a subscriber? Your support makes our work possible. Thank you.
For fashion news, follow us at @latimesimage on Twitter.
---