Why did Ty Dolla Sign and Joel McHale check into a Hollywood motel? The answer is more stylish than seedy
Spotting one celebrity in the parking lot of a Hollywood Boulevard motel seems tawdry, but a dozen or more feels downright fashionable. At least that was the case Wednesday night when a laundry list of famous folk including actors Joel McHale, Ethan Peck and Matt Bomer and rapper Ty Dolla Sign checked into the Hollywood Premiere Motel to help online luxury menswear retailer Mr Porter celebrate its recently launched Made in California collection.
Items from the collection, which includes 145 California-focused pieces by a dozen designers and labels (Rick Owens, Outerknown, the Elder Statesman, Stüssy, Simon Miller, James Perse, John Elliott, Mollusk Surf, Amiri, Golden Bear, Noon Goons and Second/Layer) were on display in the windows fronting the parking lot, and many of the designers who created the exclusive capsule collections were in the house (well, motel) as well.
Among the ones we had a chance to chat with were Simon Miller's Daniel Corrigan and Chelsea Hansford (who told us the brand's handbag business is blowing up), the Elder Statesman's cashmere wunderkind Greg Chait, Outerknown's John Moore, John Elliott's namesake designer and Amiri's Mike Amiri.
Other guests of note included, professional football player Victor Cruz, soccer player Robbie Rogers, model Dylan Brosnan, Stampd designer Chris Stamp, actor Chord Overstreet and stylist George Kotsiopoulos.
The parking lot of the motel — where the bulk of the festivities took place — was filled with Instagram-worthy vintage cars bearing Mr Porter vanity plates, a seemingly endless supply of tacos and burgers (the former courtesy of B.S. Taqueria, the latter In-N-Out) and the pervading smell of enthusiastically consumed cannabis. Next to the motel pool stood a serve-yourself beer cooler fully stocked with the house beer House Beer. (See what we did there?)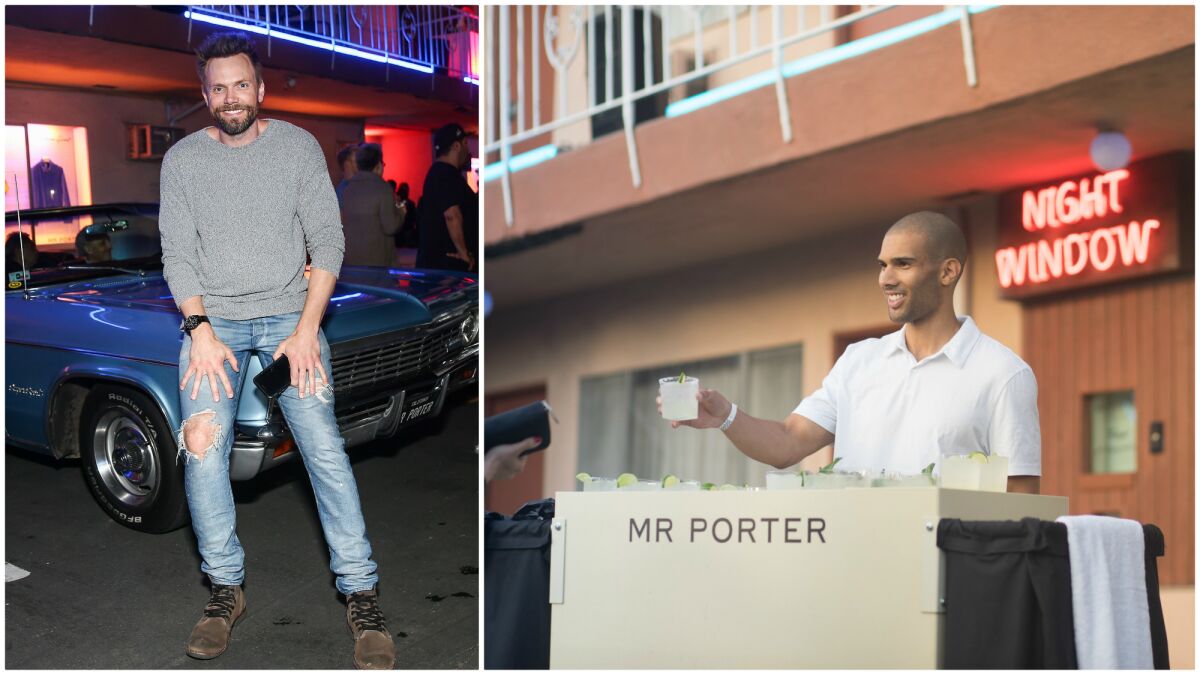 Additional attractions and distractions were scattered throughout the interior of the motel, including one room filled with arcade-style video games, another set up for commemorative photo-taking and a "makers room" where the folks from Lot, Stock & Barrel were hard at work hand-customizing patches.
Despite all the celebrity firepower on deck and a blasting-from-the-balcony DJ set by Mike Will Made-It, the focus-pulling star of the evening turned out to be the motel theme itself, thanks to closets filled with embroidered Mr Porter bathrobes, housekeeping carts converted into rolling mini-bars (complete with shots of Don Julio tequila), a front-desk-turned-gift-shop with take-home tchotchkes like ashtrays, old-school motel keychains, lighters, pens and retro-Americana-themed enameled pins by Pintrill (our favorite was the vintage front-loading ice chest pin), and a neon-topped "Night Window" outfitted with a doorbell-type buzzer. Many a curious party-goer jabbed a finger at the buzzer button over the course of the evening and waited for something to happen. (Nothing did.)
The entire breadth of Mr Porter's Made in California collection — from $35 T-shirts to $14,900 made-to-order leather jackets studded with Swarovski crystals — can be viewed by jabbing keyboard buttons that will take you there.
For more musings on all things fashion and style, follow me at @ARTschorn.
ALSO:
Mr. Porter's 'Made in California' collection serves up palm trees and surf vibes
---