Natasha Gregson Wagner honors her mother Natalie Wood's legacy with a new lifestyle brand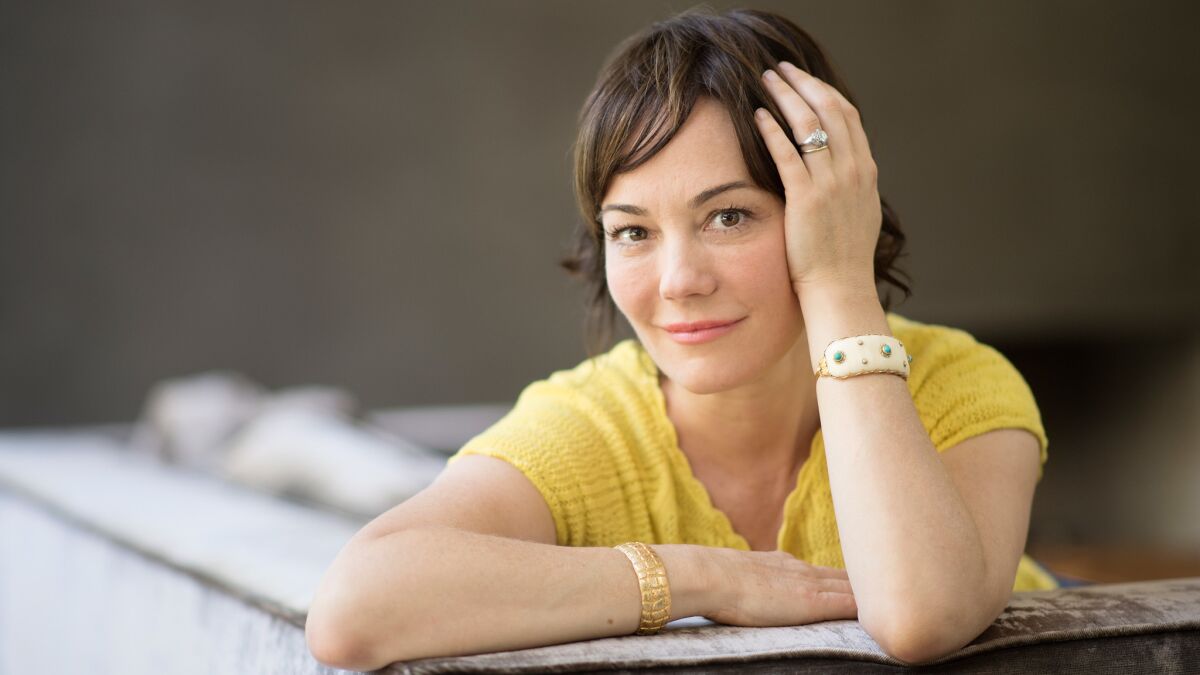 A makeshift wooden sign propped at the base of an overgrown tree in front of the Venice home of Natasha Gregson Wagner, daughter of the late actress Natalie Wood and British film producer Richard Gregson, declares "Fairy House" in a child's off-kilter lettering. It's easy to miss, as is the fairy home, constructed of tiny wooden blocks perched in a nook of the tree.
The whimsical work of 4-year-old Clover, Gregson Wagner's daughter with actor-husband Barry Watson, seems a fitting introduction to Wood's storied legacy as an actress and mother, which is often overshadowed by her untimely and controversial drowning in 1981 off Catalina Island.
Today Gregson Wagner, who was just 11 years old at the time, is taking a break from her acting career to focus on a new lifestyle brand dedicated to golden memories of her mother. Earlier this month, she sat down over coffee to talk about forthcoming products and to reminisce about her mother's style.
"I'm 46 [years old] now, and she died when she was 43," said Gregson Wagner. "So I feel like I'm her mom now in the way that I am shepherding her legacy out into the world the way a parent would take care of a child. It's come full circle and has been incredibly healing."
The new biographical coffee-table book "Natalie Wood: Reflections on a Legendary Life" by Manoah Bowman with Gregson Wagner (Running Press: $35, 320 pp.; also available in an $85 limited-edition signed by Gregson Wagner, her half-sister Courtney Wagner, and her 86-year-old stepfather-actor Robert Wagner at nataliefragrance.com) debuted Oct. 11 and offers an in-depth look at Wood's film career, while shining new light on her private life with many never-before-seen images and family commentary.
In addition, TCM will be airing 12 of Wood's films through November. "Many of her films were really very good and ahead of their time at that time in our society," said Robert Wagner, who wrote the forward to the coffee-table book. "It's quite interesting."
This spring marked the introduction of Natalie, a gardenia-focused fragrance ($95 for 1.7 ounces) that is a nod to Wood's signature perfume, reinvented with fresh notes of orange flower and hints of freesia and rose. This month, a candle ($55) was added to the collection, as was a gift set featuring the eau de parfum, a purse spray and body cream ($125), exclusively at Macy's stores and macys.com. Next up, likely in time for Valentine's Day, are a shower gel, room spray and reed diffuser.
Barbara Stanwyck, with whom Wood starred in the 1946 film "The Bride Wore Boots," first gifted the then-8-year-old actress with a bottle of Jungle Gardenia perfume by Tuvaché that she had admired. Wood proceeded to send bottles to friends who complimented her on the scent.
"My memory is of her always wearing it," said Gregson Wagner. "My mom's birthday is July 20, and gardenias are a summer flower. So I remember on her birthday that my dad would send so many gardenias to our house [on North Canon Drive in Beverly Hills], and it would smell amazing. We also grew them in the garden."
The scent of Jungle Gardenia "would linger for three days in your room after she walked out," celebrity photographer Michael Childers notes in the new biography about Wood.
As for her own signature scent, Gregson Wagner gravitates toward orange flower.
"I love Frederic Malle's Bigarade Concentrée fragrance [with bitter orange notes], and there is an orange grove on the property next door to us in Venice. So in the springtime you can smell the flowers," she said. "That's definitely my favorite scent. So I wanted to add a lot of it to soften the gardenia fragrance because gardenia can be really powerful."
Gregson Wagner has partnered with perfumer Claude Dir of French fragrance house Mane to create the perfume. And there are more fragrances in the works, scheduled to be released in 2017 and beyond. One is a spicy rose scent inspired by Wood's role as burlesque entertainer Gypsy Rose Lee, in the 1962 film "Gypsy," while another evokes the smoky scent of incense "because my mom was Russian, so we spent lots of time in Russian churches when I was growing up." A third, likely related to Wood's famed 1961 turn as Maria in "West Side Story" "will feel very fresh and clean and pretty" and is due out in 2018, the year Wood would have turned 80 years old.
"Memory is oftentimes triggered through the senses, and smelling something can take you back to a time with somebody you love," said Gregson Wagner. "Because my mom was an actress, I have so many of her films, so I can hear her voice and I can see her, but the smelling of her is something I can only evoke through the scents that I am re-creating. When we were growing up, my mom burned Cypres candles by Rigaud [a blend of lavender, pine and cedar], so I love that smell too — mixed with the end of my parents' dinner party, scents of cigarettes [smoldering] out and the wine that had been drunk. They entertained a lot. I remember the sound of everybody laughing and telling stories and that smell of the house."
When it comes to personal style and home decor, Gregson Wagner emphasized that she and her mother couldn't be more opposite.
"In every way, my mom was Russian [Wood's parents were immigrants]," said Gregson Wagner. "She was opulent. She had lots of objets. And she was a movie star. [Photos of Wood's fussy, French Rococo-style interiors are featured in the book.] I'm definitely more minimal and cleaner and I like to have less stuff…. I just buy a couple things a season that I love. My mom was a major shopper. Her favorite boutiques were Boulmiche for pieces like patterned silk shirts and [the now-defunct] Jag for jeans.I don't remember her being super-into big labels, aside from Porthault for robes and nighties and sheets. She loved hippie dresses and tops from India. Unfortunately, she left all her clothes to my aunt [Lana Wood] who sold them a long time ago. So we don't have any, which is a bummer, but we've let it go. "
The 46-year-old scuttled around her clean-lined, clutter-free Venice home in bare feet and an understated gray dress by New York designer Jane Mayle, that has been in her wardrobe for 15 years, cinched with a "fake Hermès belt from a thrift store." Her current fashion uniform is a mix of Céline ("I'm talking a pair of shoes or a purse because it's expensive"), J. Crew, L.A. label Co co-designed by friend Stephanie Danan and her husband Justin Kern, and vintage "hippie dresses" from General Store in Venice or Swedish e-commerce site TheasVintage.com.
"My home style is also so different from my mom's," she said, "I always wonder if she had lived, would she have evolved into something more modern and minimal?"
Gregson Wagner, however, does nostalgically don her mother's jewelry. Lately, she's worn a Van Cleef & Arpels enamel butterfly necklace and a crocodile-textured gold Tiffany & Co. bracelet. Wood wore bracelets on her left wrist, to cover a break at age 10 that didn't heal properly.
Forty-two-year-old Courtney Wagner, daughter of Robert and Natalie, once designed fine jewelry with childhood friend Anita Ko under the label Wagner & Ko and is thinking of re-creating some of their mother's pieces.
"You can imagine how very, very proud I am of the way they've done this and the legacy they're creating for their mother," Robert Wagner said. "I don't have anything to do with this at all. I just stand back and watch. They do everything. And I'm sure that whatever they decide to do will have a marvelous sense of taste about it. There were so many things about [Natalie] that they can utilize in the future for her legacy."
The half-sisters are also discussing a potential line of sheets embellished with Wood's favorite symbols. And then there are her trademark smoky eyes and red lips — beauty products such as gardenia-scented lipstick and eye shadow are also on the table.
A percentage of proceeds for every item the brand sells is donated to CoachArt, an L.A.-based nonprofit that offers free instruction in athletics and the arts to chronically ill children and their siblings.
"An astrologer taught me that when you put your hands together [in the Buddhist culture], it represents heaven and Earth coming together," said Gregson Wagner. "They're not as far apart as we think. So when I see a butterfly [Wood loved them] or smell something that reminds me of my mother or somebody sends me a pair of her shoes, I think, 'Oh, yeah, She's right there.' Right. There. Just in a different dimension."
---