Review: For fall/winter 2019, Brandon Maxwell focuses on elegant armor for powerful women
Reporting from NEW YORK —
The setting and tone for Brandon Maxwell's fall and winter 2019 runway show could hardly have been more different from last season's Texas tailgate party. That one unspooled in a cavernous garage space that served as the home to the Classic Car Club of Manhattan and featured a tricked out Kia Telluride at the top of the runway, bubblegum-pink Yeti coolers as seats (both courtesy of show sponsors) and a Texas flag emblazoned with the label's B logo. The collection Maxwell presented here Saturday night took place in an intimate space that was so narrow that it was nearly impossible for some of the fuller skirts and gowns to pass without brushing the knees of those in attendance.
In his show notes, Maxwell explained that while last season's collection was about where he came from (he grew up in Texas), "this season," he wrote, "is firmly rooted in the idea of resolving where I am." Where Maxwell is has a lot to do with his mother, who was diagnosed with breast cancer between that season and the present one. "In that time I developed a deeper appreciation for women who transform the ugliness and brutality of reality into something beautiful and substantial. I found myself thinking about the potential of clothes to act like armor against the elements both physical and spiritual."
Maxwell's version of armor has nothing to do with the hammered-metal breastplates and chain mail of the medieval battlefield, though (sorry "Game of Thrones" fans) and everything to do with instilling a sense of inner resilience through a back-to-basics color palette ground in black and white (with a very few pops of pink, green and blue) and silhouettes that managed to be sharp, chic and elegant but with an air of insulation and protection.
That vibe came by way of silk tops with stand-up collars that nearly reached the chin, quilted black puffer coats, ribbed-knit turtleneck sweaters and caped-shoulder details. If you missed the subtleties in any of those pieces, you'd be hard-pressed to miss the more overt references – chunky lockbox-like acrylic purses and briefcases and wide, combination-lock belts that accessorized many of the looks.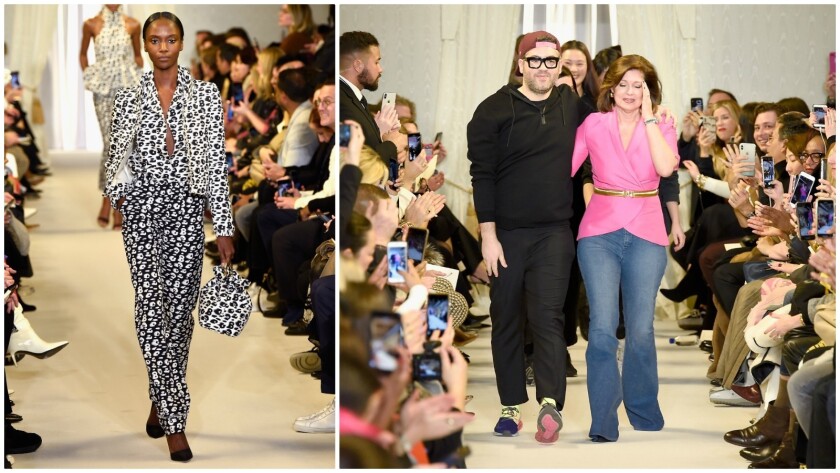 It wasn't all serious business, though, the collection had its moments of near whimsy thanks to a trio of looks that seemed to be done in an allover floral print but, upon closer examination, turned out to be a stylized version of Maxwell's letter B logo.
When it came time to take his finale bow, Maxwell urged his mother, who had been sitting in the front row, to join him. They walked, arm-in-arm to the end of the runway, flanked by a thunderous standing ovation.
For more musings on all things fashion and style, follow me at @ARTschorn
---