New York Fashion Week: Brandon Maxwell takes a pink-tinted road trip to Marfa, Texas, for spring and summer 2019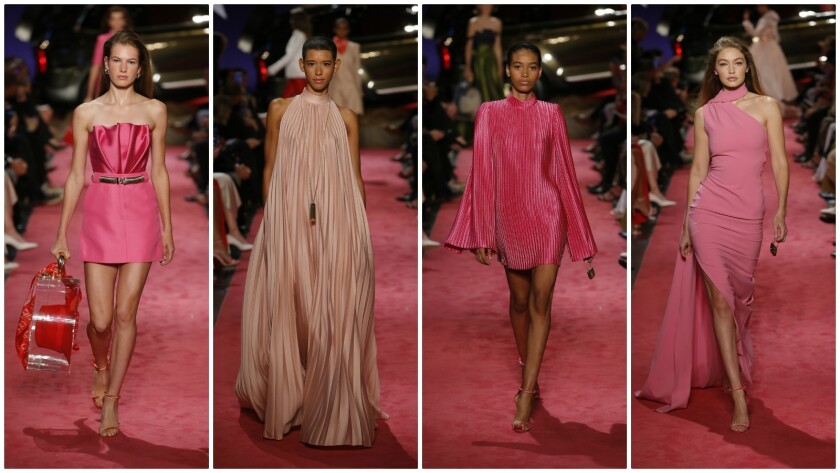 Reporting from New York —
The first inkling that designer Brandon Maxwell's spring and summer 2019 runway collection would be tied to Texas — the designer's home state — came when the pairs of Lucchese cowboy boots started arriving at hotels all over New York City, the leather sole of each embossed with a lizard graphic (by Jules Buck Jones) and the invitation to Maxwell's Saturday fashion show. The second indication came with word that guests shuttling between shows on one of fashion week's busiest days could expect to find "burgers and beverages" waiting.
So, it was hardly a surprise to find the Classic Car Club of Manhattan tricked out to resemble a Texas tailgate party, complete with guests seated in folding chairs in the beds of pickup trucks, a giant Lone Star flag against the back wall (Maxwellized by adding a big pink "B" in the center of the star), with stacks of Shake Shack burgers and sippy cups filled with Texas tea cocktails at the ready, and a bubblegum pink Yeti cooler stocked with iced-down cans of Shiner Bock beer.

For the record:
9:50 PM, Sep. 09, 2018An earlier version of this post incorrectly describes the location of Marfa. It is in west Texas, not east Texas.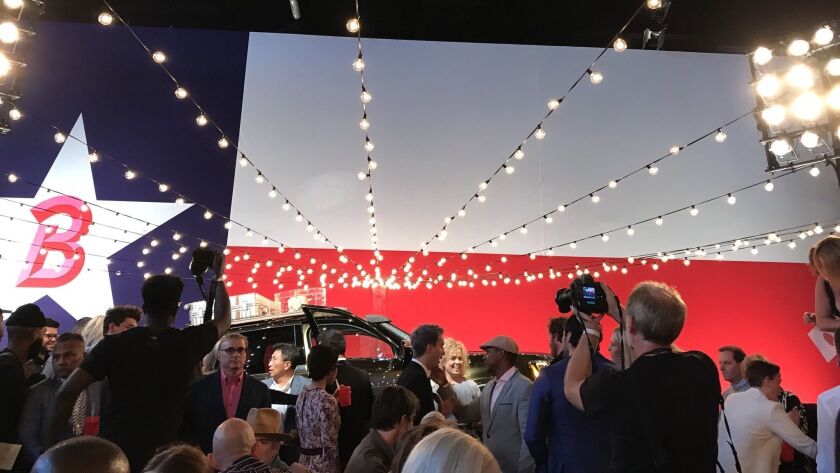 In the show notes at the seats — some of which were actual Yeti coolers — the designer wrote, "This collection is dedicated to Texas and my family for making me who I am," before going on to explain that it had been designed during a period of time spent in the west Texas city of Marfa. That could easily have been a recipe for a cartoonish take on Texas (big belt buckles, big hair, country music, cacti and the like), but instead, Maxwell stuck to his guns (oops, sorry pardner) and turned out yet another polished, powerful and fiercely feminine collection of bold dresses, strong-shouldered suits and voluminous-skirted ball gowns that all but screamed for a red-carpet opportunity.
There were, of course, the obligatory cowboy hats — done in collaboration with Gigi Burris Millinery — which, instead of being worn, were carried down the runway in clear acrylic hat boxes with silver handles (another clear carrying case seemed designed for the sole purpose of porting a single bottle of Champagne) and a tiny, red version of the iconic western headgear embroidered over the heart on several shirts, and a couple looks included custom red suede Lucchese cowboy boots. Other hat-tips to Texas included sleeveless red cocktail dresses emblazoned with crystal-studded version of Jones' lizard graphic, slinky silver belts and silk scarves knotted at the neck like bandannas.
The collection's big color story — from the color of the show notes to the coolers to the carpet and the clothes that came down it — was pink. There were popped-collar shift dresses, wide-legged trousers and pleated mini-dresses in bubblegum pink; a clingy, one-shouldered gown in dusty rose; and a shirt-dress with western-inspired silver hardware in a shade approximating salmon. (By the end of the following day, it would become clear that Maxwell's collection had keyed into one of the season's most noticeable color trends.) The other prevalent color throughout was red, which was served up in stretchy trousers, curve-hugging, floor-length dresses and the aforementioned lizard-festooned cocktail dresses.
Another link back to Texas for the collection? According to the show notes, it was that organizations back in Maxwell's home state would benefit directly from the show. Yeti pledged to donate the coolers to Girl Scout troops in San Antonio, and the swanky Kia Telluride SUV parked at the top of the runway (which was actually being unveiled to the public at the show — now you know) was being donated by Kia to the teachers of Marfa to help them commute to Dallas and Austin for continued professional training.
For more musings on all things fashion and style, follow me at @ARTschorn
---