Reporting from New York —
The mix-and-match mentality of the fall and winter 2019 collections presented during the current run of New York Fashion Week shows circled back and swallowed its own stylish tail with the Michael Kors Collection that came down the catwalk here Wednesday morning, by pulling inspiration from the Big Apple itself, which the designer called in his show notes "the melting pot of style."
Well, a very specific slice of the Apple during a very specific time, anyway, what Kors' show notes describe as the "swinging West 50's in the Seventies," a world inhabited by pre-Instagram influencers who occupied the intersection of dance, theater and fashion. Fueled by the economic prosperity of the Me Decade — and no small amount of cocaine — they tossed caution to the wind, dressed with abandon and partied like there was no tomorrow at famous nightclubs like Studio 54.
The result was a collection that served up some of the familiar disco-era clichés; purple sequin halter dresses, ruched gold metallic jersey dresses and mini dresses shimmering with copper fringe were a nod to the dancing queens of the time, beige bodysuits, legwarmers and turbans evoked the de facto uniform of off-duty Alvin Ailey dancers, the cool cat got his runway moment thanks to cocoa-colored, double-breasted corduroy jackets paired with flare-legged trousers, the hippie had hers thanks to frayed denim skirts and patchwork leather trench coats jackets. Animal prints prowled the runway in the form of tiger-striped sequin pants, metallic jacquard dinner jackets, a python print shirt and boots.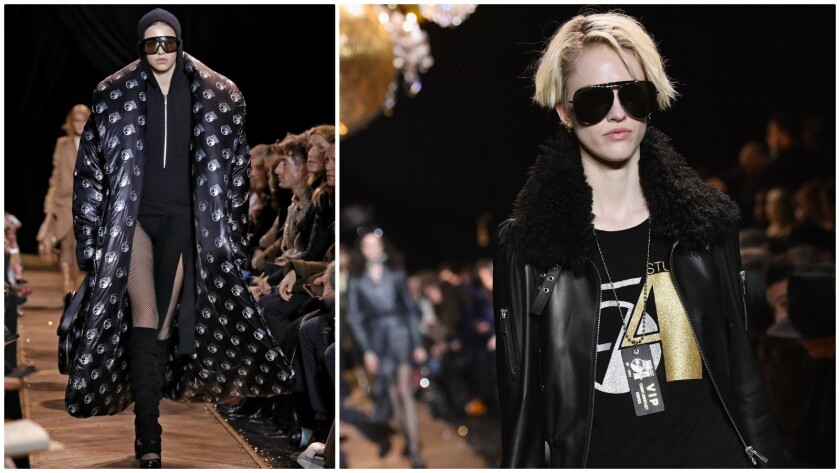 The range of pieces served up in suiting fabrics – houndstooth check trousers, herringbone overcoats and jumpsuits sharp cutaway blazers and trousers rendered in assorted glen plaids – felt a bit disconnected from the overall theme of the collection though, if you think about, somebody had to be working down on Wall Street to pay the party people's bar tab.
For anyone unclear about the season's inspirational starting point, Kors hammered it home with a range of pieces emblazoned with the logo of the famous (and later infamous) Studio 54 nightclub, including sleeveless glitter cashmere intarsia T-shirts and sweatshirts, embroidered motorcycle jackets, crepe de chine blouses, poplin shirts and duffel bags.
The heavy-handed homage to the decade of disco and debauchery felt creaky and clichéd in places even though there were a lot of beautiful clothes in the mix. (And, let's face it, everyone who's anyone on the up-all-night party train needs a feather-embroidered black sequin double crepe sablé blazer to throw over their black cashmere scoopneck bodysuit for a night on the town.)
But then, as the runway finale walk ended, a familiar nightclub classic started to play and the black curtains off to one side of the venue parted and Barry Manilow — in the flesh, mind you — began singing "Copacabana," surrounded by models new (Bella Hadid) and veteran (Patti Hansen) and eventually Michael Kors himself.
The show's attendees leaped enthusiastically to their feet, enraptured by the music and the proximity, adrenaline rushing, neurons firing. Suddenly the idea of dressing with abandon, embracing the wild mix of patterns and boogieing until sun-up in a purple sequin felt like the most natural — and desirable — thing in the world.
Who could ask for anything more?
For more musings on all things fashion and style, follow me at @ARTschorn
---