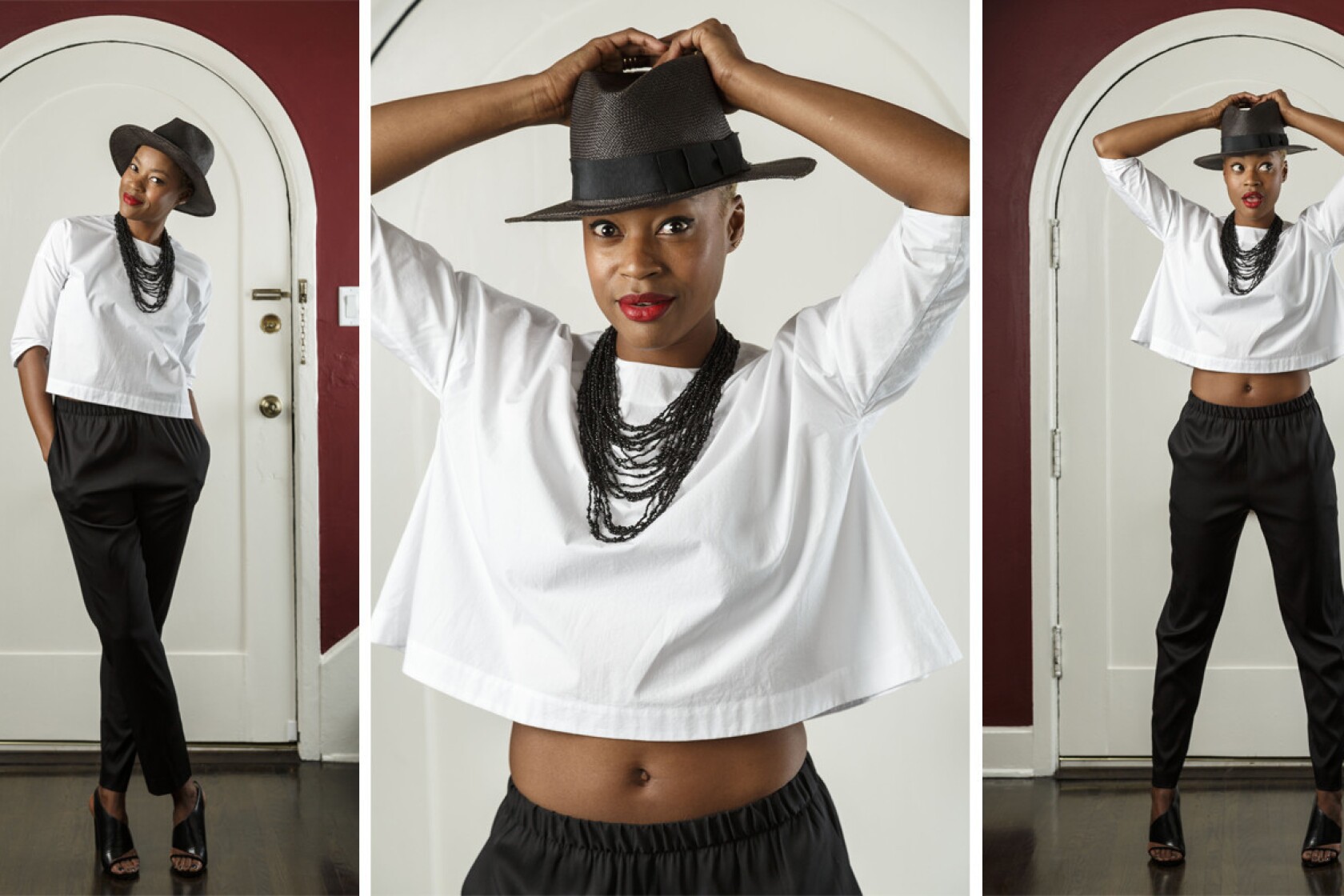 Noelle Scaggs, lead singer for Fitz and the Tantrums, will play at Coachella. The band commands attention through its music and its fashion, and Scaggs draws eyes like a magnet.
(Ricardo DeAratanha/Los Angeles Times)
"I like pieces that are sexy and powerful but not too fitted," says Fitz and the Tantrums co-lead singer Noelle Scaggs of her fashion taste.
(Ricardo DeAratanha / Los Angeles Times)
Michael Fitzpatrick and Noelle Scaggs of Fitz and the Tantrums perform at Coachella stage in Indio, Calif., April 2012.
(Jay L. Clendenin / Los Angeles Times)
Noelle Scaggs performs at the 2014 Austin City Limits Music Festival at Zilker Park, October 2014.
(C Flanigan / Getty Images)
Noelle Scaggs and Michael Fitzpatrick perform during the KROQ Weenie Roast at the Verizon Wireless Amphitheater, May 2014 in Irvine, Calif.
(Patrick T. Fallon / For the Los Angeles Times)
Noelle Scaggs at the KROQ Weenie Roast at Verizon Wireless Amphitheater, May 2014.
(Chelsea Lauren / WireImage)
Noelle Scaggs, left, and Michael Fitzpatrick perform at Los Angeles' El Rey Theatre in 2010.
(Jay L. Clendenin / Los Angeles Times)
Noelle Scaggs at the 89X And 93.9 The River's Fall Ball at The Fillmore in Detroit, November 2014.
(Scott Legato / Getty Images)
Soul-spiked L.A. pop band Fitz and the Tantrums will likely be greeted by a whistling crowd when they land at the two-weekend Coachella Valley Music and Arts Festival in Indio for their Sunday performances on April 12 and 19. After all, the band's whistle-happy earbug "The Walker" was omnipresent in 2014, and their festival shows are packed with plenty of mood-elevating hip-shaking, courtesy of hits including "Out of My League" and "MoneyGrabber."
But besides music, fashion is part of the Coachella mystique, and this band delivers. While the group's Fitz, Michael Fitzpatrick, definitely commands attention with his svelte suits and signature streak of white hair, it's the group's co-lead singer, Noelle Scaggs, who draws eyes like a magnet.
She bounds across the stage in fitted minis, midriff-baring tops and leather shorts. For TV appearances, the soulful singer has been known to adapt the sleek polish of early Motown artists.
"In the beginning stages of our career, we were very dressed up. Everything was from the '40s to the '60s," Scaggs recalls, thinking back to her days in pencil skirts and sequined sheaths. "Fitz and the guys were dressed to the nines. But after you do a few shows like we do, that doesn't work so well anymore." Since then, Cory Savage, the band's on-call stylist, has helped them incorporate their own more casual style into their stage acts.
"I've always been drawn toward classic appeal with an edge," Scaggs says, describing her everyday style. Leaning against the railing of a Los Feliz balcony, she exudes out-of-your-league allure, coming off like a swag-tinged minimalist. During an interview in March, she's wearing a simple, boxy white cotton blouse by L.A.-based designer Fabiana Pigna, black Alexander Wang elastic waist pants, a black beaded necklace and a black panama hat by local milliner Gladys Tamez. Individually, the pieces might not wow, but the way she pulls them together makes you want to steal her entire look.
She frequents curated boutiques like Robertson Boulevard's Curve and Mohawk General Store in her own Silver Lake stamping grounds. And when she's on the road, she makes stops at Totokaelo in Seattle and Intermix's outpost in Chicago. Luxe, modern brands such as Rachel Comey and Cushnie et Ochs catch her eye, as does local jeweler EF Collection, whose delicate, diamond-dusted stackable rings lace all her fingers.
Scaggs is quick to throw on pieces that show off her toned arms and athletic build. "I like pieces that are sexy and powerful but not too fitted," she says. Not surprisingly, the star spent her formative years in the Pasadena area taking fashion cues from Southern California style icon Gwen Stefani.
Black and white may be her go-to combination, but the lone lady Tantrum more than makes up for it by rocking pops of color from the neck up. She'll belt out the band's infectious hooks through a pair of bold red lips. As for her hair, the singer's TWA (that's Teeny Weeny Afro) is currently blond, but her hairstylist, Yukari Yokomizo at West Hollywood's Helmet Salon, has helped her go from pale pastel green to navy blue to purple over the last few months.
The follow-up to the band's sophomore studio album, "More Than Just a Dream," is still in its incubation period and with it, she suspects, a new style change will be in the works. Maybe she'll return to a more "femme" vibe. "I may get back into wearing heels," she says. To ease back into the habit, she knows she can rely on J. Crew's retro-inspired kitten heels, which she deems comfortable enough for dancing.
While she is the group's only female, Scaggs is by no means the only fashion fanatic. "John and I both have amazing shoe collections," she boasts, simultaneously praising the band's drummer, John Wicks. His assortment reportedly includes several pairs of collectible Nikes, while hers leans more toward Wang and Rupert Sanderson.
"Fitz and I play off each other," she also notes, pegging his favored graphic tees and stripes as "industrial."
Later, en route to the band's back-to-back Sao Paolo, Brazil, shows in late March, Fitzpatrick messages to share his love of clean-cut suits filled with all-over pattern. "Geek chic is definitely an influence on my wardrobe," he says. The French-born singer also says that the many phases and styles of David Bowie have made a lasting impression on his wardrobe.
When the six-piece act heads to the desert for Coachella, they plan to go with lightweight pieces that make it easy for them to put on their usual high-energy, funked-up performance. Fitzpatrick says they'll work with their stylist to make sure their festival clothes are breathable but still sharp. They'll add built-in ventilation here and stretchy fabrics there in order to, as he puts it, "make sure we don't pass out on stage from heat exhaustion."
Coachella-goers can expect to see Scaggs in her version of "sporty chic" — baseball caps, Jimmy Choo sneakers and cropped tops and pants. Her other must-have Indio accessories? A jacket to combat the chilly desert nights and a reusable water bottle.
Hydration is Scaggs' No. 1 style tip. "We always tell people to hydrate; I think a lot of them forget that!"
---