When it comes to dressing lead actor winners for the Oscars, the gold medal goes to Giorgio Armani
The fashion focus of the Academy Awards has always been — and always will be — on what the women who attend wear. This reality has nothing to do with sexism and everything to with the dictates of formalwear. Here the fairer sex has a leg up (Angelina Jolie meme-worthy) on the menfolk, hitting the carpet wearing elegant gowns in every fabric known to man, rendered in every color under the sun and covered in acres of exquisite embroidery and bushels of glittering crystals.
And for the lucky women who end up taking home lead-actress Oscar gold, a statement-making red carpet ensemble has the potential to be fixed forever in the collective consciousness, the details of their dresses imprinted forever in our memory even while the specifics of their award-winning performances grow cloudy.
The pink taffeta Ralph Lauren gown Gwyneth Paltrow wore to the 1999 ceremony is one such dress; another is Halle Berry's burgundy Elie Saab gown with its strategic floral embroidery at the 2002 Academy Awards. And even if you've never seen the film for which she earned it, you've more than likely seen a photo of a 1988-era Cher brandishing her Oscar and thanking the Academy in a sheer, sequin-covered Bob Mackie creation. (The wins, for those of you playing along, were for "Shakespeare in Love," "Monster's Ball" and "Moonstruck," respectively.)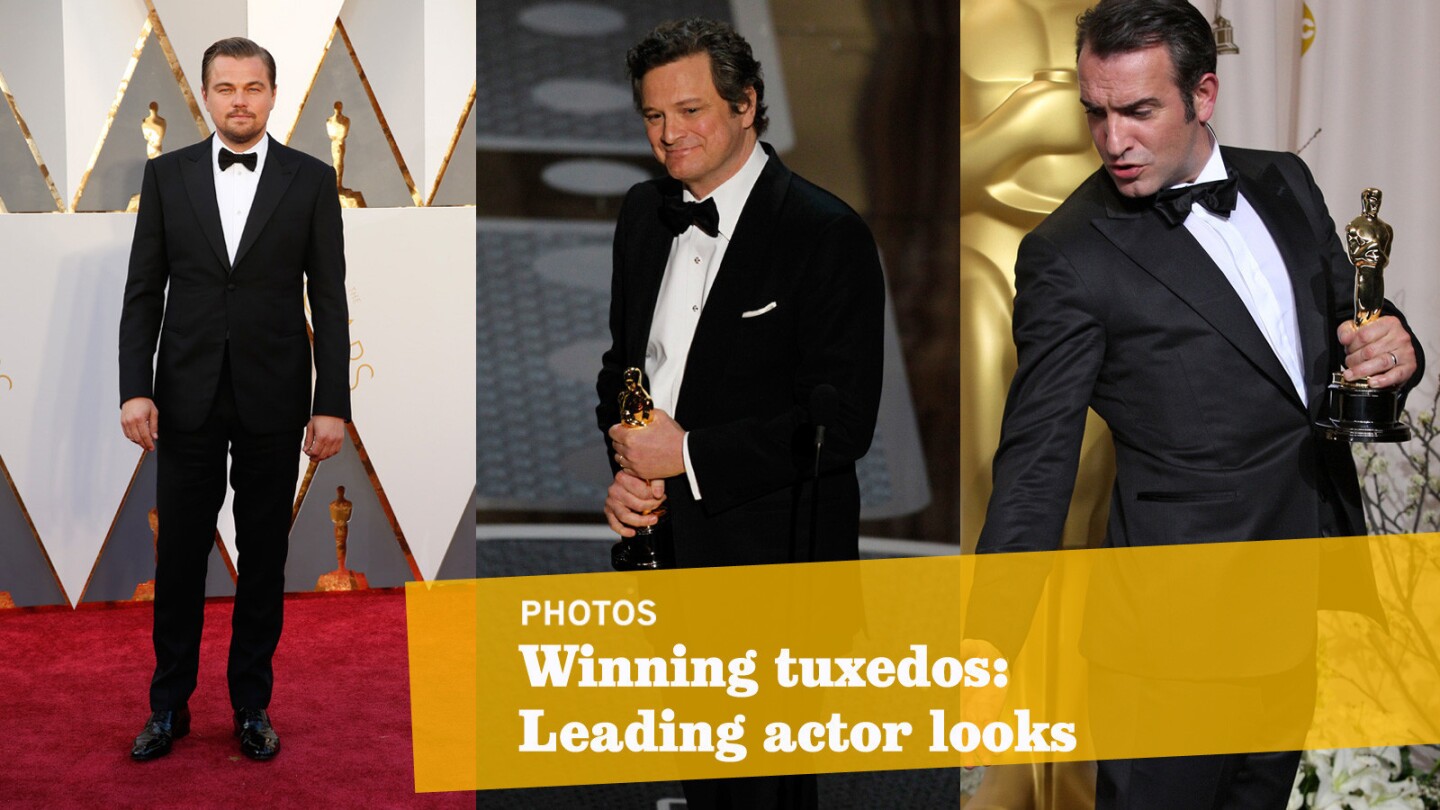 Oscar winning tuxedos
(Jay L. Clendenin / Los Angeles Times (left); Robert Gauthier / Los Angeles Times (center); Allen J. Schaben / Los Angeles Times (right))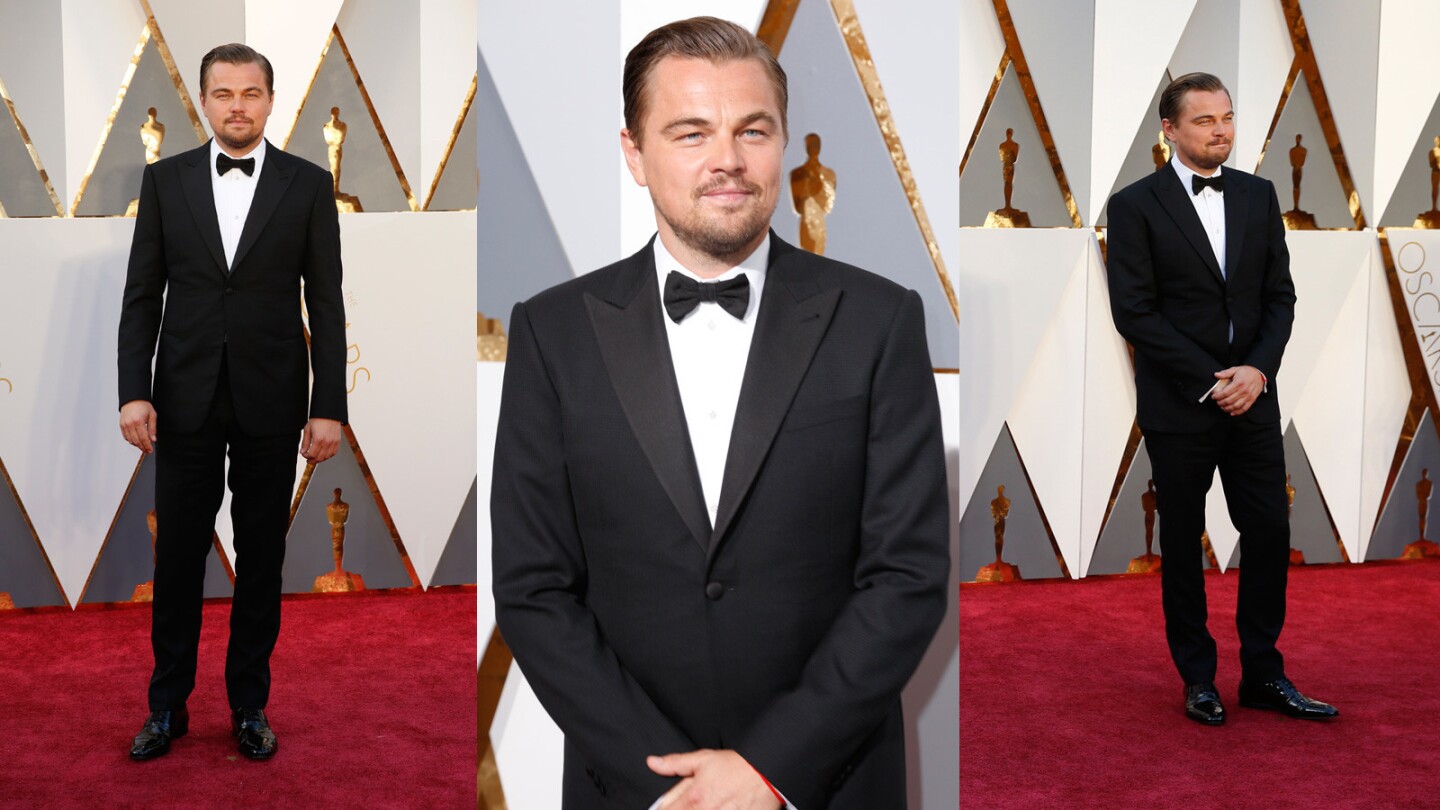 Leonardo DiCaprio wears a Giorgio Armani made-to-measure black, textured-fabric, peak-lapel tuxedo at the 2016 Ascademy Awards, which puts him in good company; since 1996, 13 other lead actor winners have taken home Oscar gold in while wearing Armani.
(Jay L. Clendenin / Los Angeles Times (left and right); Mark Boster / Los Angeles Times (center))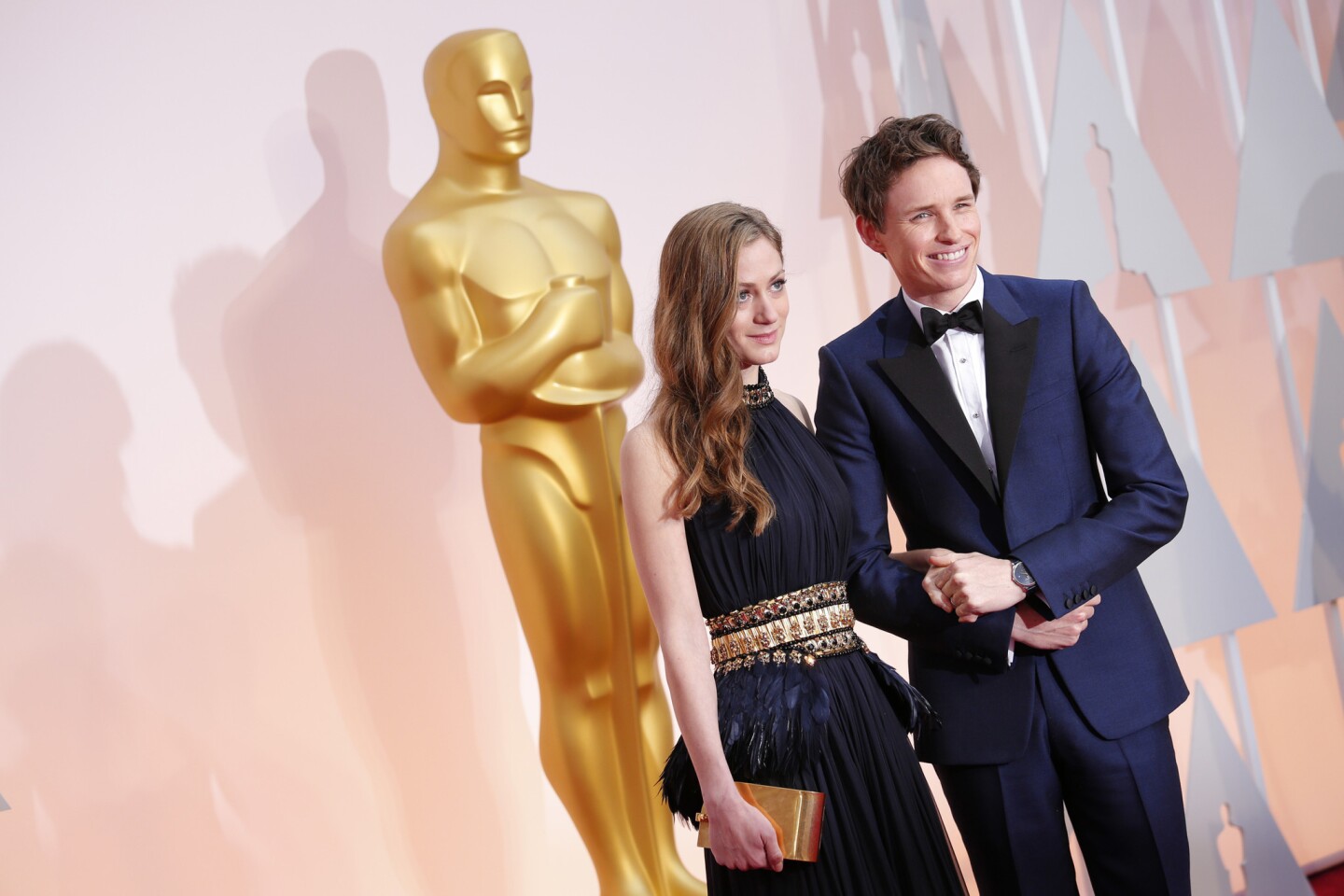 Eddie Redmayne and Hannah Bagshawe arrive at the 2015 Academy Awards. Redmayne, who won a lead actor Oscar for "The Theory of Everything," is wearing a navy-blue Alexander McQueen peak-lapel tuxedo, making him one of just five best actor winners to wear a blue hue to the winner's circle since 1996.
(Jay L. Clendenin / Los Angeles Times)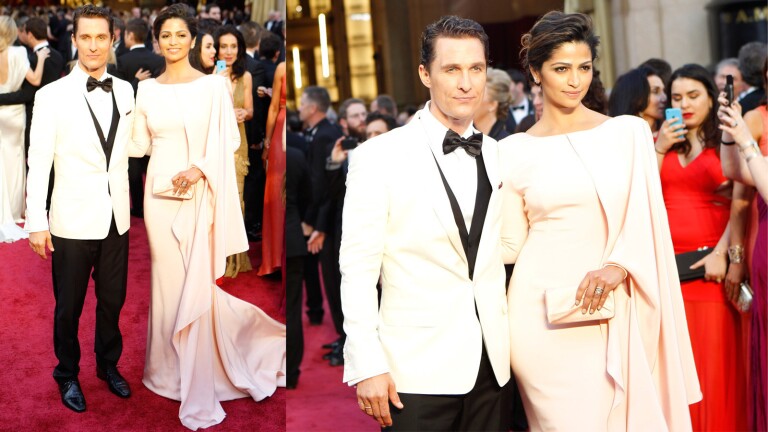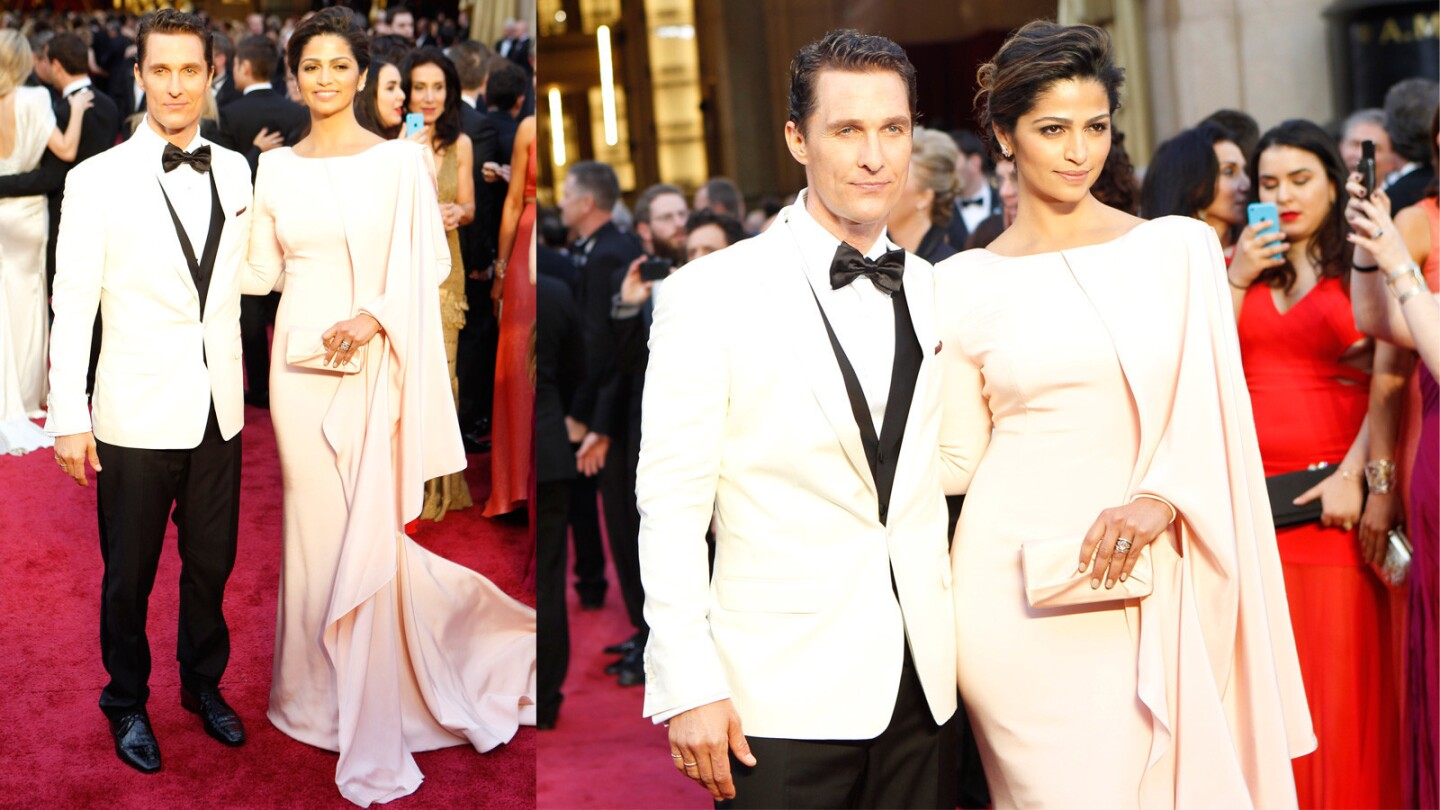 Matthew McConaughey with wife Camila Alves at the 2014 Academy Awards. His white, peak lapel Dolce & Gabbaba tuxedo jacket made him a serious sartorial standout — the only best actor winner in the last two decades to take top honors in a white tux jacket.
(Wally Skalij / Los Angeles Times)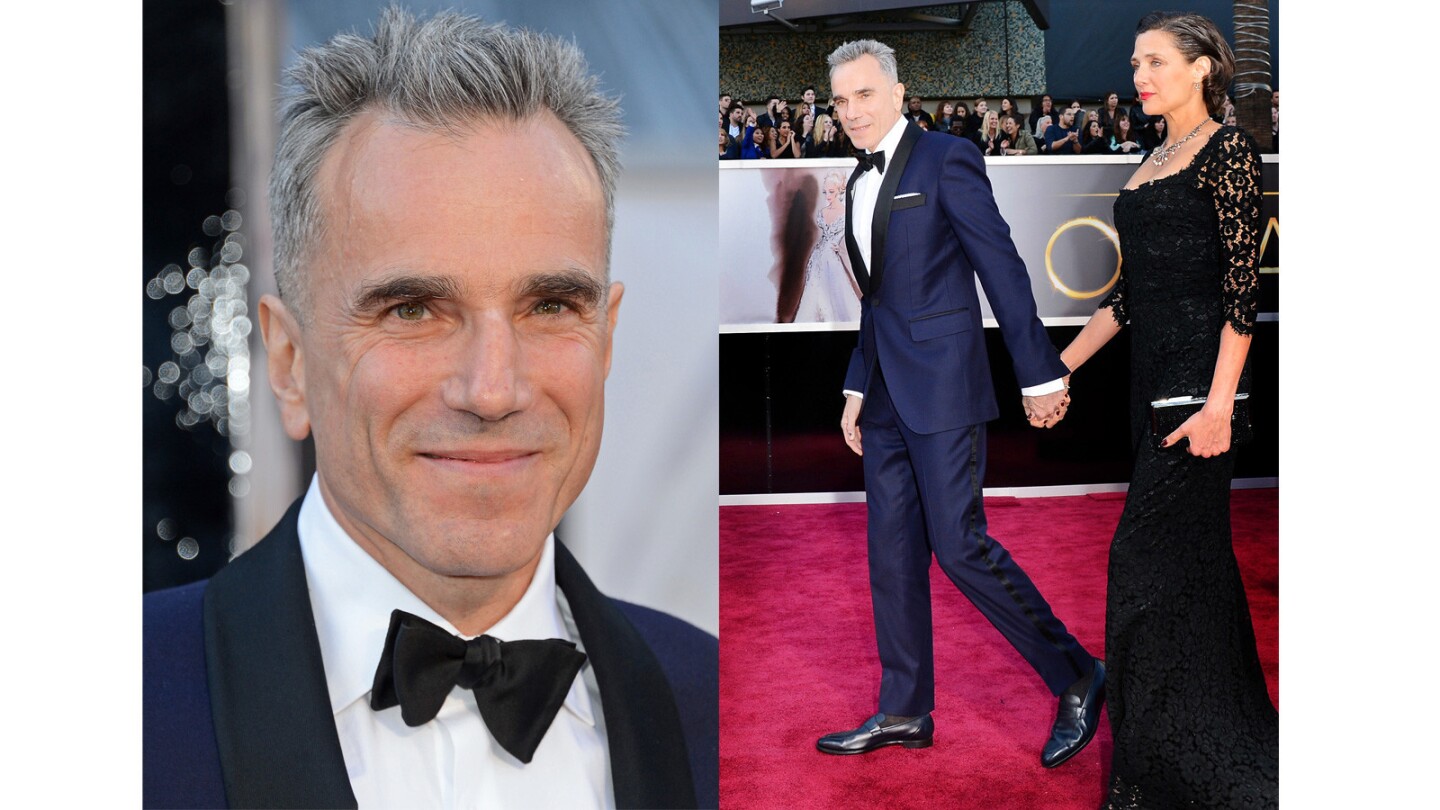 Daniel Day-Lewis was wearing a blue, shawl-collar tuxedo by Domenico Vacca when he took home an Oscar for "Lincoln." It was the second trip to the winner's circle for a Domenico Vacca tuxedo, Forest Whitaker was clad in the designer's wares when he won in 2007 for "The Last King of Scotland."
(Jason Merritt / Getty Images)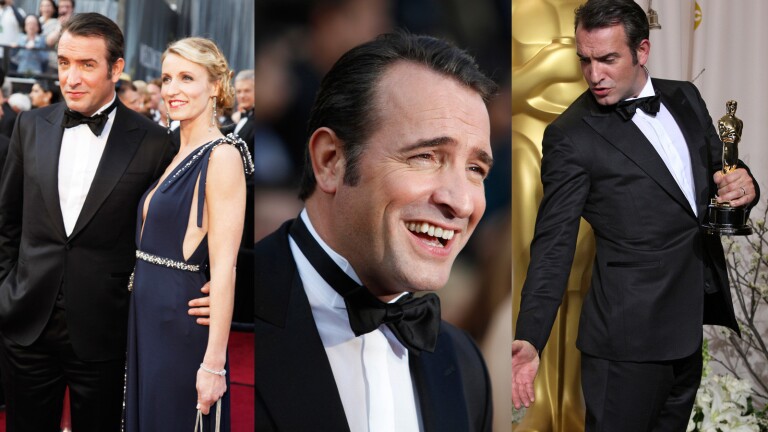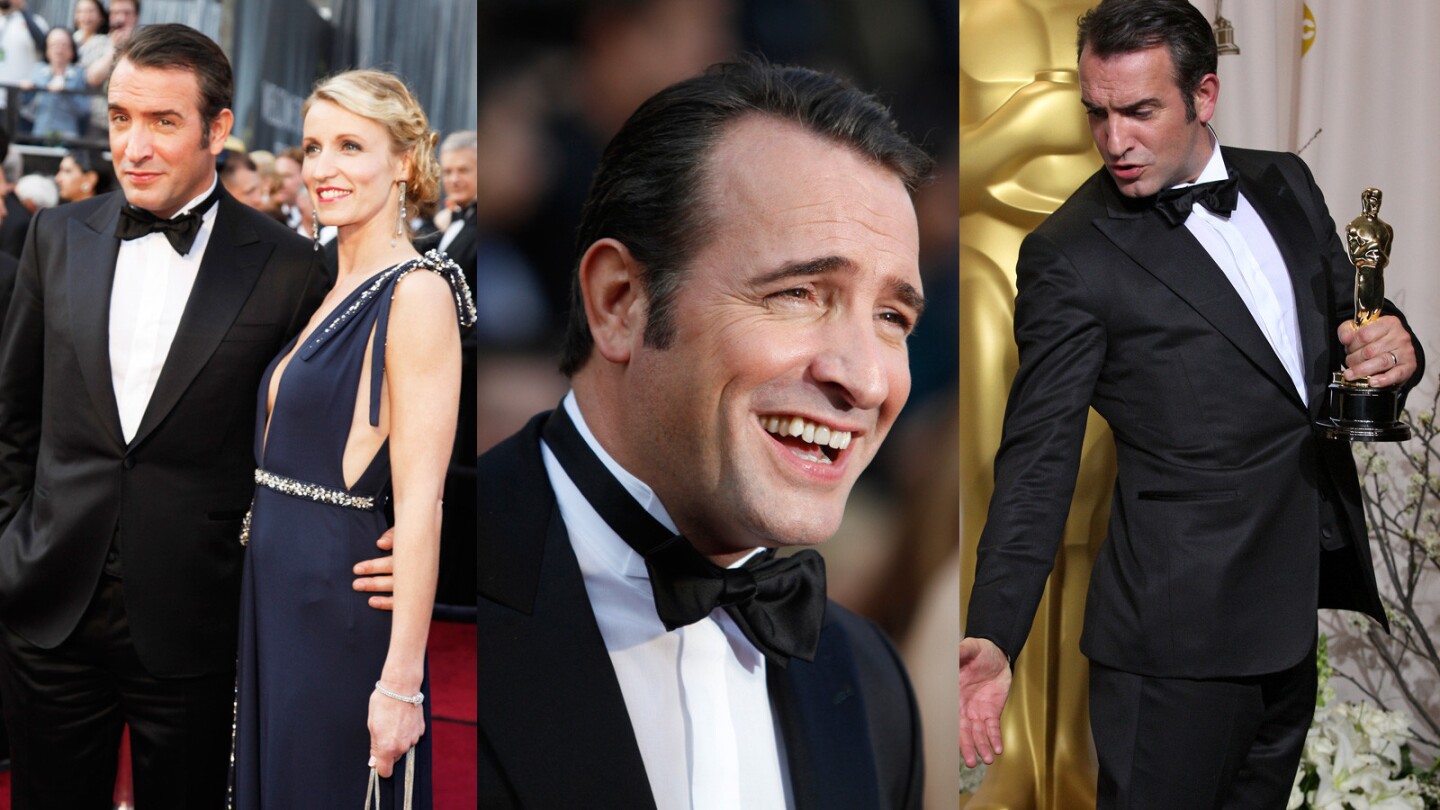 Jean Dujardin in Lanvin at the 2012 Academy Awards.
(Mark Boster / Los Angeles Times; Allen J. Schaben / Los Angeles Times (right))
Colin Firth wore a black, shawl collar Tom Ford tuxedo to the 2011 Academy Awards, the year he won an Oscar for "The King's Speech."


( Jay L. Clendenin / Los Aneles Times (left); Robert Gauthier / Los Angeles (center); Kirk McKoy / Los Angeles Times (righ); )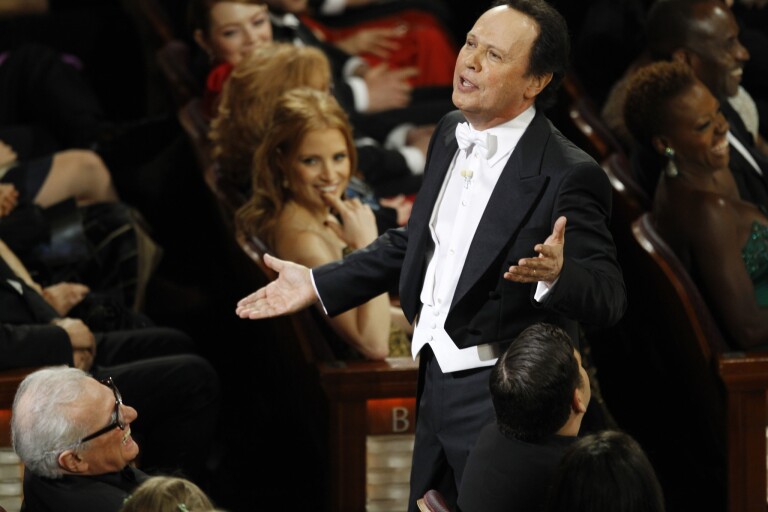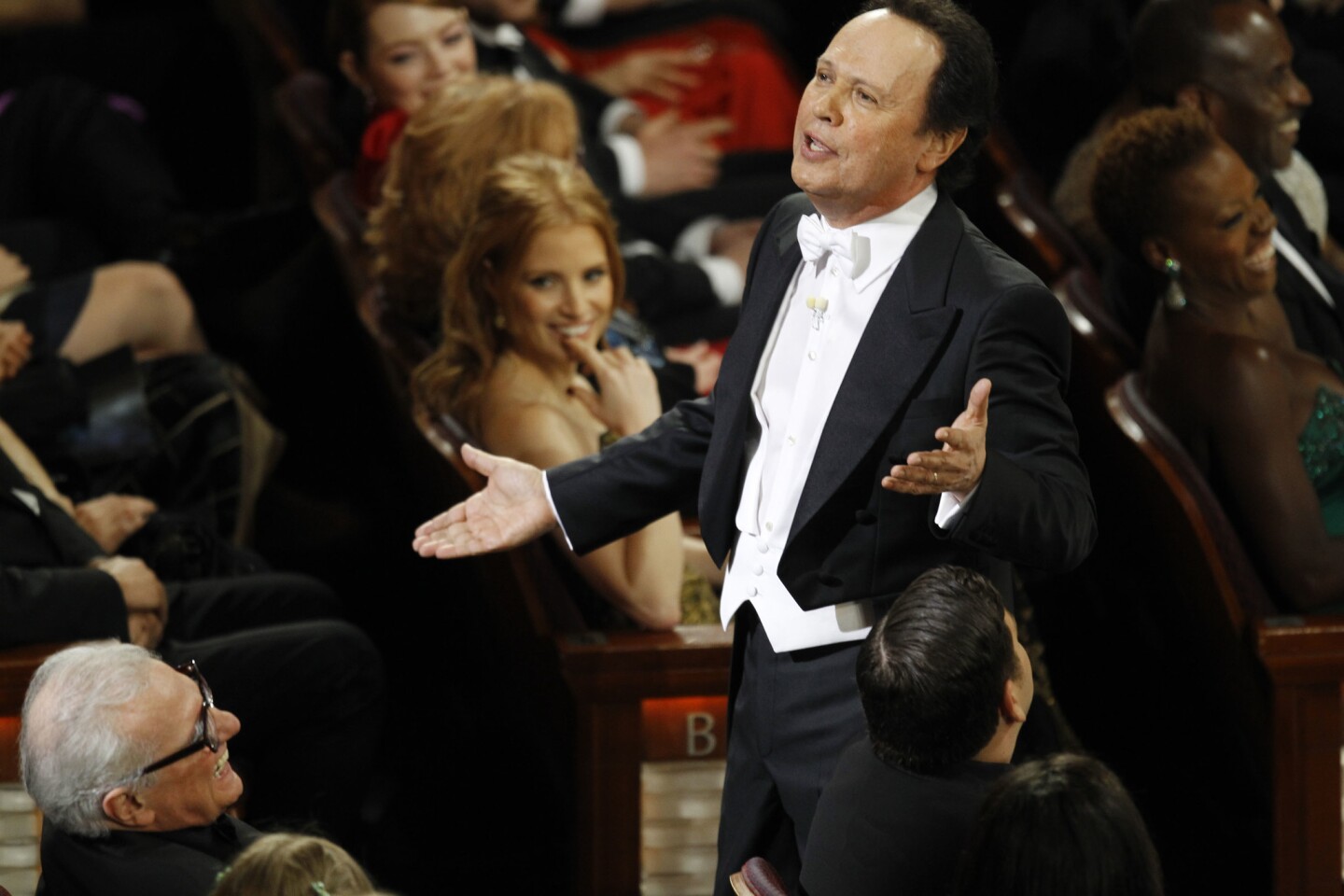 Billy Crystal, shown here hosting the Academy Awards for the ninth time in 2012, wore multiple made-to-measure Giorgio Armani suits over the years. Here he's wearing white tie and tails in wool and cashmere.
(Robert Gauthier / Los Angeles Times)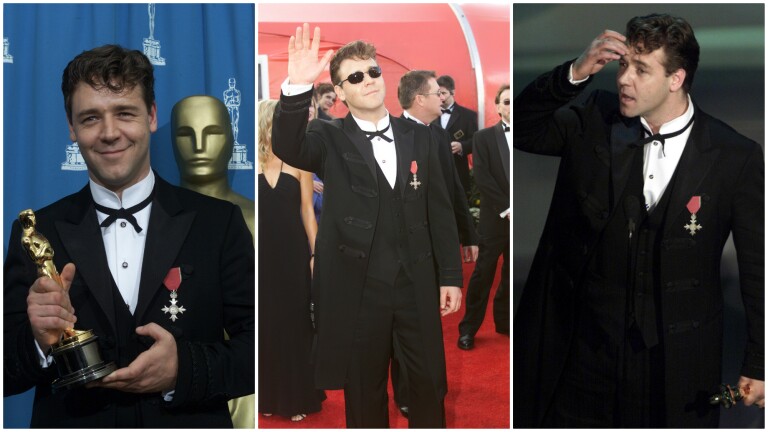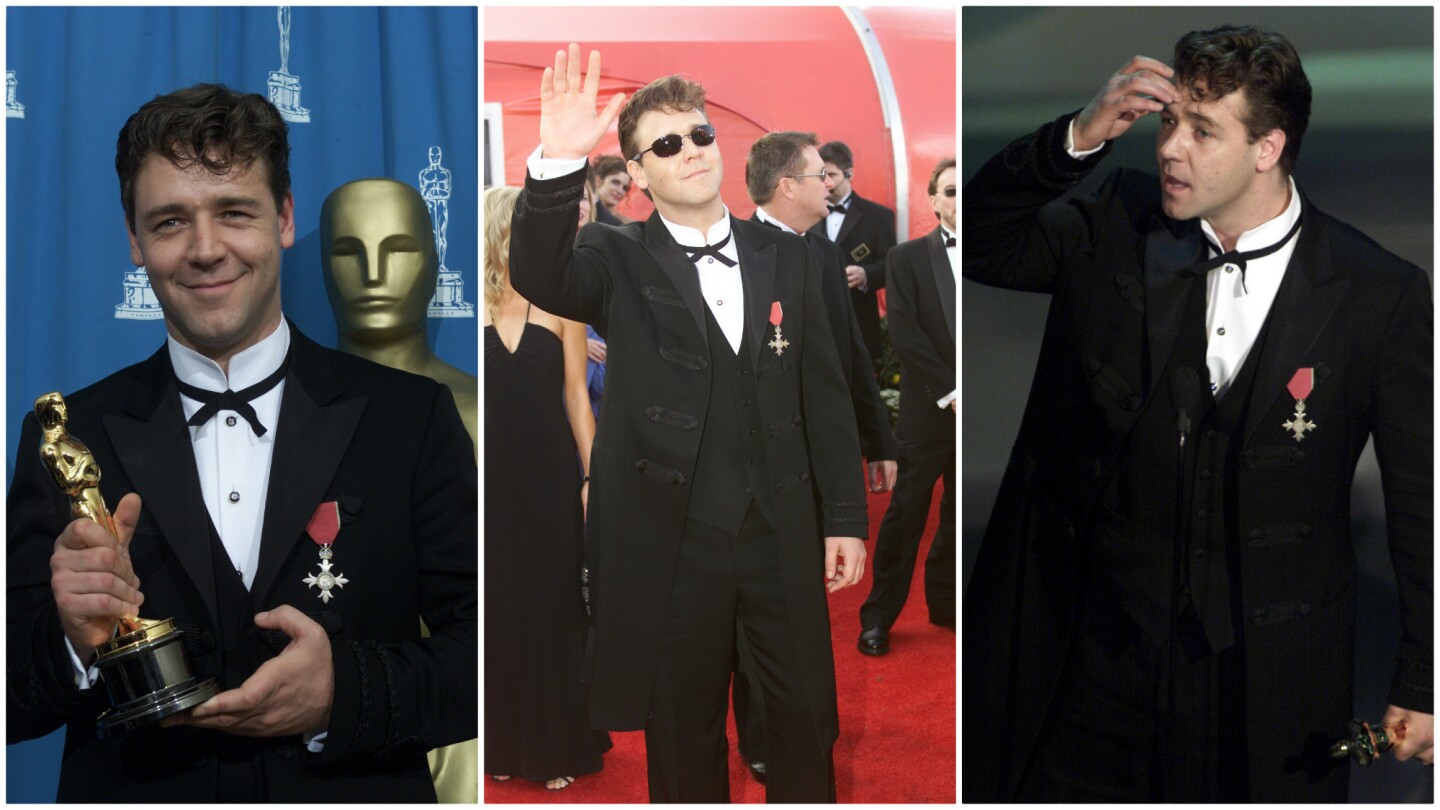 Russell Crowe, who won the 2011 lead actor Oscar for "Gladiator," collaborated with Giorgio Armani on the design of his knee-length, Edwardian-style made-to-measure tuxedo that included ornate black-on-black braiding on the cuffs and button closures.
(From left, Wally Skalij/Los Angeles Times, Ken Hively/Los Angeles Times, Timothy A. Clary/AFP)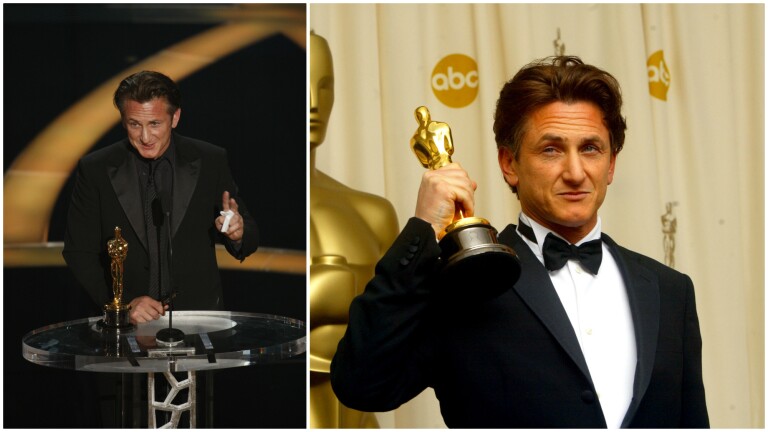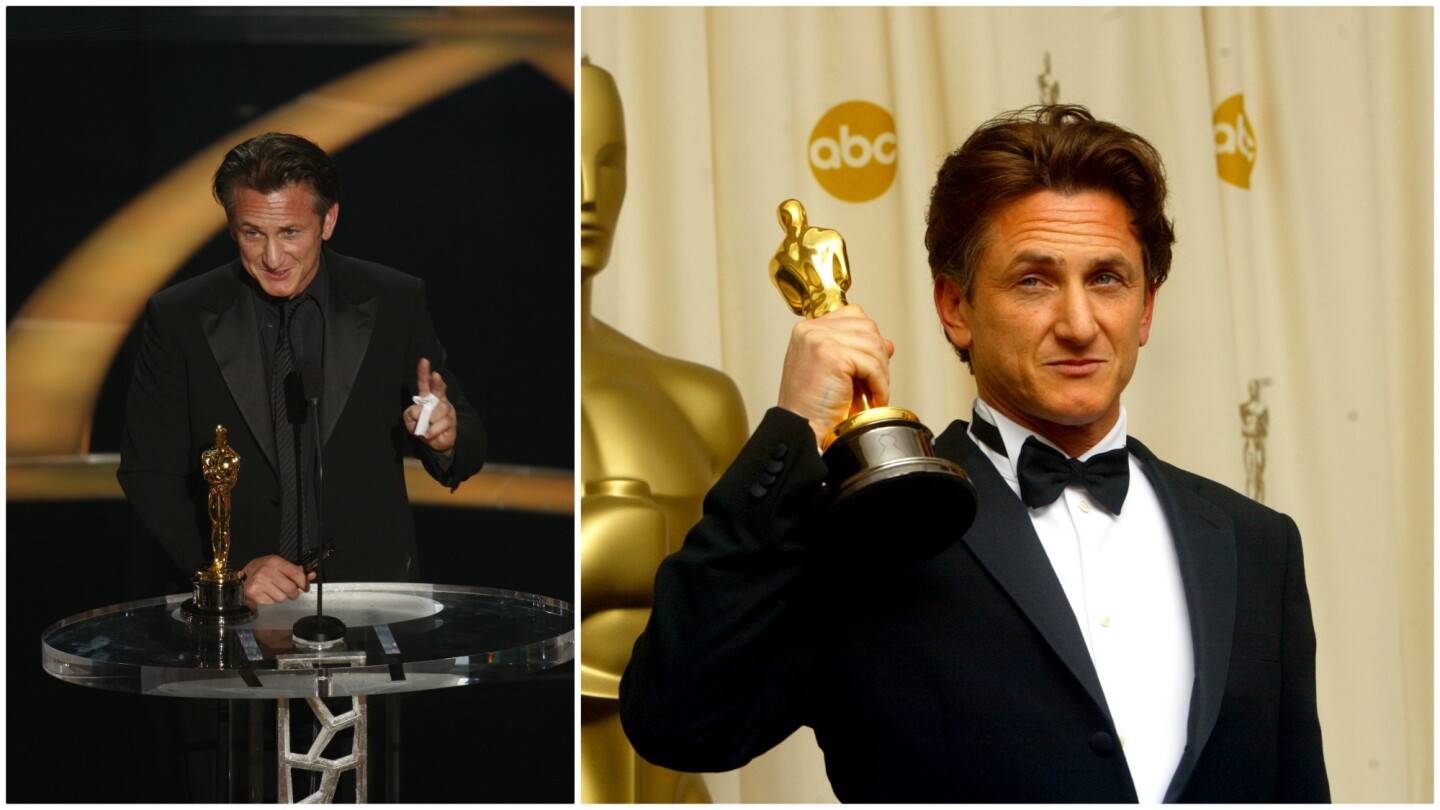 Sean Penn was wearing Giorgio Armani for both his best actor Oscar wins, first in 2004 (for "Mystic River"), right, and again in 2009 (for "Milk").
(Mark Boster (L) and Lawrence K. Ho (R)/Los Angeles Times)
On the men's side? Not so much. Compared with the couture-level confections worn by the ladies, what the guys wear comes across as a parade of penguin-suit sameness, with differences measured in millimeters and lapel shapes and a color palette that rarely strays from the darkest shades of blue or black. Don't believe us? Try to remember what Leonardo DiCaprio was wearing when he took the stage to accept his Academy Award for "The Revenant" less than 365 days ago. Can you recall the color or cut of his jacket? Can you remember if he was sporting a traditional formal bow tie or a long, four-in-hand necktie? Or was he even wearing formalwear at all?
Consider it an achievement if you knew, with any reasonable degree of certainty, that DiCaprio wore a classic black tuxedo. But it's highly unlikely you'd remember, specifically, that it was a made-to-measure black, textured-fabric, peak-lapel tuxedo by Giorgio Armani. Now try the same thing with 2015's lead actor winner. Even if you managed to come up with the name — Eddie Redmayne for "The Theory of Everything" — chances are nearly nil you remembered (without an Internet assist, anyway) that he won wearing a navy-blue Alexander McQueen tuxedo with a contrasting black peak lapel and a black bow tie.
Dial it back one more year and even if we threatened you with an endless loop of his Lincoln commercials, you'd probably still be hard-pressed to form a mental image of Matthew McConaughey accepting his 2014 Academy Award for "Dallas Buyers Club," much less recall the fact that he did so wearing a white Dolce & Gabbana tuxedo jacket, black waistcoat, black tuxedo trousers, white dress shirt and black bow tie.
On the other hand, McConaughey's wardrobe choice might very well have caught your attention, especially because he's the only leading actor winner since 1996 to win while wearing a white tuxedo jacket. That's just one of the things that came to light after taking a look back at the winner's-circle wardrobe, specifically the men who took home leading actor Academy Awards between 1996 and 2016, to see what might have been missed while spilling ink and slinging pixels on the women's gowns.
And, as it turns out, the winners have a good deal more in common than winning hardware. For starters, 67% of those lead actor winners (14 in all) showed up in a classic black tuxedo the year they took home Oscar gold. Five went with shades of blue — joining Redmayne in the blue-man group were Daniel Day-Lewis (in Domenico Vacca in 2013), Jamie Foxx (wearing Ozwald Boateng in 2005), Adrien Brody (in Ermenegildo Zegna in 2003) and Denzel Washington (in Giorgio Armani in 2002). One (Day-Lewis in Paul Smith in 2008) wore a brown suit.
Over those same two decades, the black bow tie was the overwhelming (and wholly unsurprising) neckwear of choice, accessorizing 57% of lead actor winners, with just over half (52%) favoring tuxedo jackets with peak lapels (as opposed to notch lapel or shawl collar styles). And the tux shirt preferences are pretty black-and-white, as in, a whopping 85% of winners opted for a traditional white shirt, and just two shirting mavericks (Sean Penn in 2008 and Philip Seymour Hoffman in 2006) bet on black.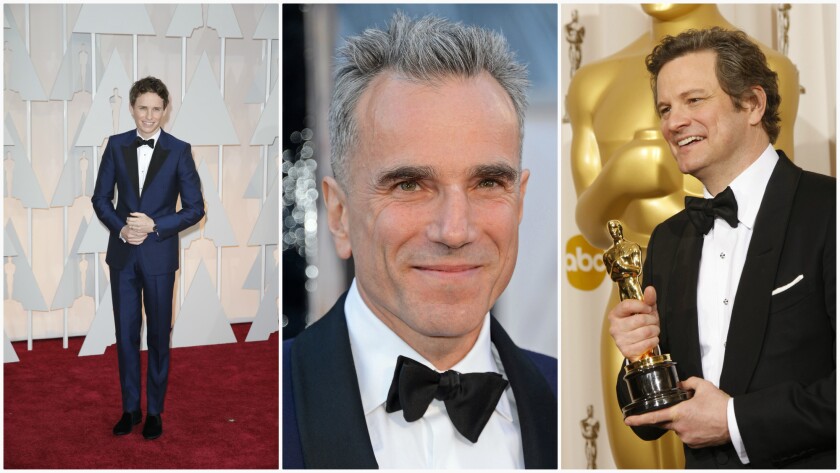 And, while the provenance of the tuxedos was truly varied (Cerruti, Valentino, Calvin Klein, Gucci, Lanvin, Hugo Boss and Tom Ford were all in the mix as well as the aforementioned labels; the only tux we couldn't identify with any degree of certainty was the one worn by Hoffman in 2006), one name appeared most frequently: Giorgio Armani.
The 42-year-old Italian luxury label ended up being the tuxedo of choice for an impressive 38% of the lead actor Oscar winners since 1996. Tied for second, with two tuxes each were Cerruti (Jack Nicholson in 1998 and Anthony Hopkins in 1992) and Domenico Vacca (who, in addition to Day-Lewis' threads in 2013, also provided the tuxedo Forest Whitaker wore in 2007).
In addition to DiCaprio last year, the Armani wearers include Sean Penn (who wore the label when he won in 2004 and again in 2009), Denzel Washington (2002), Russell Crowe (2001), Kevin Spacey (2000), Roberto Benigni (1999) and Geoffrey Rush (in 1997).
Additionally, in that same period, 33% of the supporting actor winners took home trophies while wearing Armani tuxedos: George Clooney (in 2006), Chris Cooper (2003), Benicio Del Toro (2001), James Coburn (1999), Robin Williams (1998), Cuba Gooding Jr. (1997) and Spacey (1996). (And don't even get us started with Billy Crystal and the multiple made-to-measure Armani outfits he wore during his nine times hosting the ceremony.)
For the superstitious sort, those crunched numbers might push a classic black Giorgio Armani tuxedo (peak lapels, worn with a white dress shirt and black bow tie) into "lucky tux" territory — the kind of thing future nominees should keep in mind when suiting up for the big day. The reality, of course, is much more mundane. Much like leaving a Bond film determined to order all future martinis "shaken not stirred," when a guy chooses to shrug into an Armani tuxedo he's seen worn by so many winners, it's building self-confidence. And that will put an actor in the wardrobe winner's circle every time.
No acceptance speech necessary.
For more musings on all things fashion and style, follow me at @ARTschorn.
ALSO:
Glint, glimmer, green — and Kerry Washington — rule the Oscars red carpet
Uncork the burgundy! Five Fall/Winter trends straight from the NYFW runways
Political statements are on-trend on the runways of New York Fashion Week
---