A look at the sketches behind your favorite Oscar gowns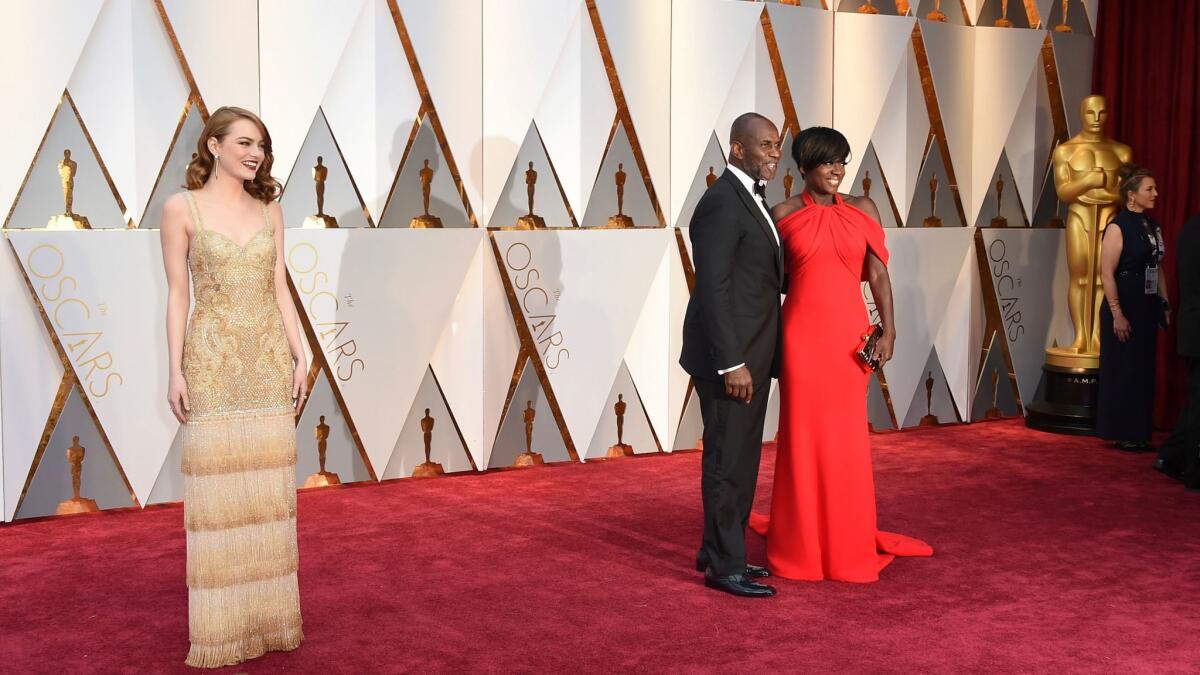 Cameras flash, spectators ooh and ahh, and suddenly, a procession of gowns appear worn by the stars of the moment — or at least, those fortunate enough to make it to the awards season's finish line, the Academy Awards.
On Sunday on the plush red carpet in front of the Dolby Theatre, the energy and couture appeared almost magical, as if sprinkled with fairy dust.
However, in reality — sorry, Cinderella — all of those dresses were not created by a magical fairy godmother. Rather, there's a long process at many fashion houses that went into selecting and creating those standout gowns worn at the Academy Awards.
We've gathered some sketches from stylists as well as designer ateliers, where all the sartorial magic begins. Below, you'll notice the original sketches behind some of your favorite dresses from Oscar night.
Look at that simply breathtaking beading of Academy Award winner Emma Stone's embellished Givenchy dress that harks back to the flapper days. According to an Instagram post from stylist Petra Flannery, the haute couture design was 1,700 hours in the making.
Ruth Negga's custom red Valentino dress was fit for a queen. This sketch portrays the full silhouette and fit of the gown. However, it's the luxurious silk and lace detailing that takes the dress royally to the next level.
Taraji P. Henson wore a custom off-the-shoulder navy velvet Alberta Ferretti gown that was pure Old Hollywood glamour. If velvet ever had a varsity team, it easily would invite this dress to be its captain. This sketch shows you all of the va-va-voom and personality a dress can have — even without the star wearing it.
Viola Davis, who isn't afraid of wearing bold colors, looked stunning in her custom red Armani Privé vermilion silk gown with a high neckline that falls into draped shoulders and pleated detailing on the bodice. This classic dress is fiery red and fit for an Oscar winner, but beware, the sketch just might make you envious.
On the red carpet, Michelle Williams wore a custom Louis Vuitton that oozed old-school Hollywood style. This sketch shows the silhouette along with the crystals and pearls that were embroidered to the tulle of the dress designed by Nicolas Ghesquière. This gown is a work of art.
Brie Larson's gown was another red carpet delight. To the Academy Awards, Larson wore a custom strapless, black velvet ruffled gown by Oscar de la Renta. Even the sketch, posted on stylist Cristina Ehrlich's Instagram page, is a show-stopper. (Check out the handwritten note, detailing the placement of a "Cartier brooch.") A strapless dress plus a dramatic ruffle plus Brie Larson equals a big win for Oscar de la Renta.
A retro rewind and glamorous gowns for the ages at the Oscars
We know what went wrong on stage. Here's the worst (and best) of the Oscars red carpet
Get the look: Here are the major beauty and hair trends from the Oscars