Get the look: Here are the major beauty and hair trends from the Oscars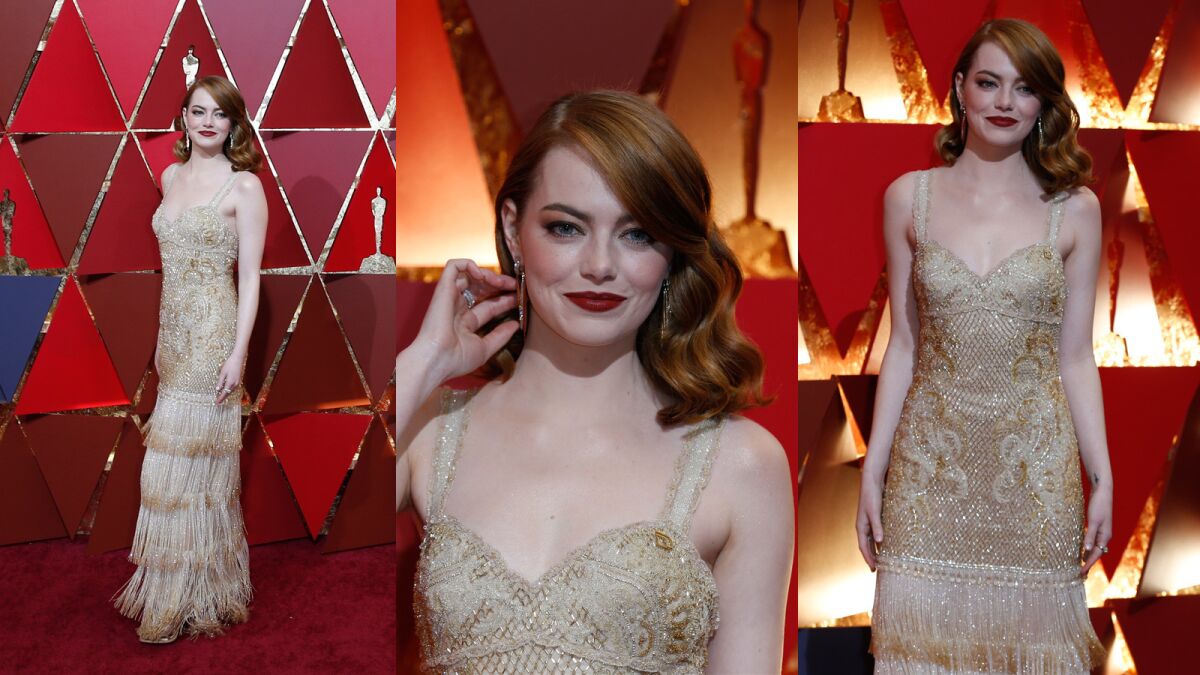 The red carpet is a place where actresses are often referred to as goddesses because of their glittering gowns, flowing hair, chiseled cheekbones or statuesque frame (sometimes it's because of all of the above). As it was Sunday at the 89th Academy Awards, where when it came to hair and makeup, goddess accurately summed up the night's beauty.
Palettes of nude, bronze and peach were popular, no doubt to play off the many white and gold gowns worn.
Naomie Harris, Priyanka Chopra, Jessica Biel, Chrissy Teigen and Karlie Kloss all went for subtle golden glows, ranging from blush to bronze.
These makeup looks are super easy to wear every day, and are perfect for spring, especially the easy-to-wear shades of nude.
— Newby Hands, beauty director for Net-a-Porter's Porter Magazine
Makeup artist Pati Dubroff applied two nude hues from Laura Mercier to Chopra's lips, Velour Lovers Lip Colour in Sensual and Lip Parfait Creamy Colour Balm in Amaretto Swirl, to achieve the sexy blush shade so prevalent at the awards show.
"These makeup looks are super easy to wear every day, and are perfect for spring, especially the easy-to-wear shades of nude," said Newby Hands, beauty director for Net-a-Porter's Porter Magazine.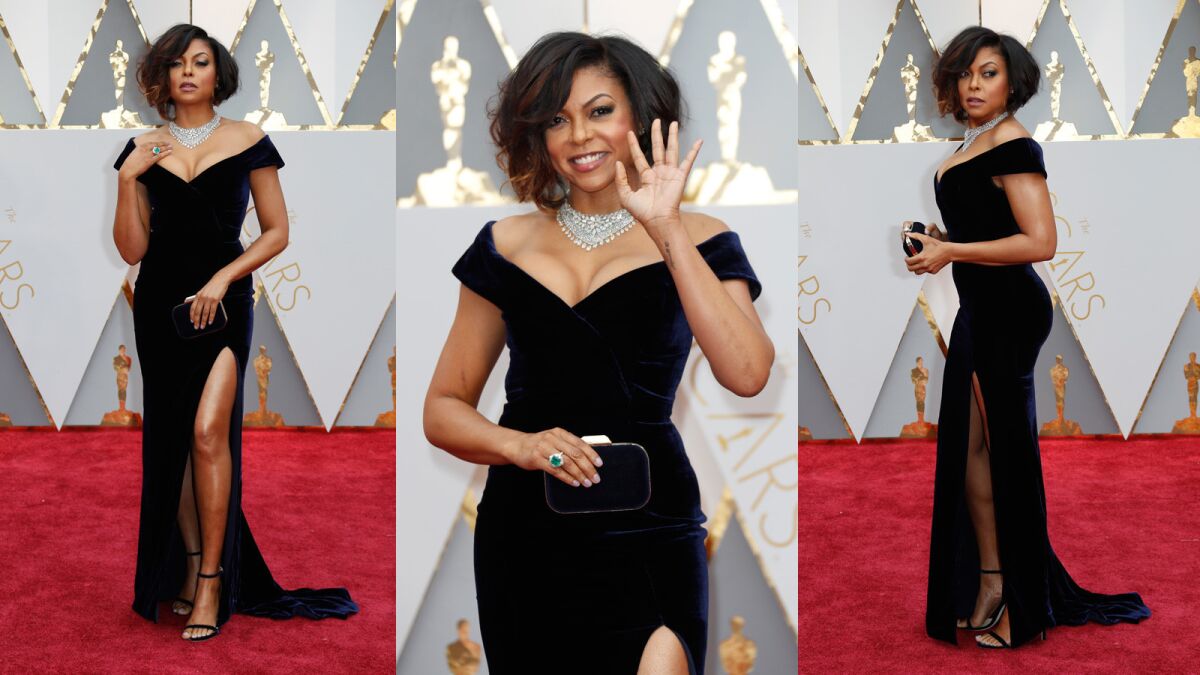 "In terms or peach, it is the shade that every makeup artist uses as their secret weapon, as it helps the skin look fresh and the eyes look bright," Hands added. "It flatters almost every skin tone. You can achieve this look by blending peach shadow over the eyelid and finishing it with black liquid liner and black mascara. The French call this the St. Tropez eye, because it looks so pretty, summery and polished."
When the makeup wasn't nude or peach, it dipped into the deeper end of the palette, bringing burgundy and intense ruby hues to the forefront.
No one showcased this better than Ruth Negga, whose stunning red Valentino gown clearly set the tone for a look that is no doubt already topping many best dressed lists.
The custom-made headpiece by L.A.-based Irene Neuwirth using Gemfields rubies sat atop her cropped curly hair like a crown, and the intense burgundy tones of her makeup effortlessly anchored the glittering accessory and the drop earrings and ring that accompanied them.
"My inspiration was 'fierce pagan goddess,'" said Negga's makeup artist, Mélanie Inglessis. "We agreed on an earthy matte, smoky eye and a matte ruby lip. We went for a full look."
In addition to the burgundy Inglessis painted on Negga's lips (a combo of Chanel Precision Lip Definer in Rouge Profound with Chanel Rouge Allure Ink Matte Liquid Lip Colour in Expérimenté), the makeup artist also brushed burgundy mascara on the actress' eyelashes.
"I always love a burgundy mascara on the bottom lashes and classic black on the top," she said. "I used Chanel Inimitable Intense Mascara in Rouge Noir and Noir."
Another deep burgundy beauty moment that turned heads was Emma Stone's lip color, a hue called Mona by Nars Cosmetics that her makeup artist, Rachel Goodwin, describes as "brick" and also a shade that set a nice contrast to Stone's gold Givenchy gown.
The goddess moment continued with the tousled, loose and flowing hair that so many actresses opted for. Whether worn up or down, the key was effortless and practically undone. And in step with Negga, Salma Hayek and Janelle Monáe also wore goddess-worthy jeweled hair accessories.
And when it came to the actual hair, Isabelle Huppert, Kirsten Dunst, Alicia Vikander, Brie Larson and Nicole Kidman all went for perfectly imperfect styles with a less formal vibe.
"Many actresses opted for soft, romantic, uncontrived hairstyles which had a young and playful feeling," said Tina Malhotra, a hairstylist at L'Appartement Hair Salon in New York. "I found it refreshing to see how many women let loose when it came to their hair."
Taraji P. Henson's hairstylist, Tymothe Wallace (for Dove hair care), created a glamorous bob he says was inspired by Diahann Carroll. Dunst sported a similar style with her hair tucked up into a textured, tousled bob, making her '50s-inspired gown feel more modern.
Halle Berry's hair wasn't as tousled as it was a bit wild and a far cry from the gamine pixie cut she made famous back in the late 1990s.
Celebrity hairstylist Castillo gave Berry this new look using MOP curl cream and the T3 Featherweight Luxe blow dryer with a diffuser.
"Halle wanted to create a wild and free look with her natural hair," said the hairstylist. "It was unconventional for the red carpet but a look that perfectly suits Halle's wild and free spirit."
More free-spirited styles were seen on others. Scarlett Johansson sported shaved sides and a dollop of longer hair that curled just so atop her head.
And Charlize Theron's punk-inspired ponytail, created by Enzo Angileri using GHD brand tools, had a frothy wave similar to Johannson's but clearly served one purpose: to keep her hair off her face to show the enormous Chopard diamond earrings dangling from her ear lobes.
That was a goddess and true Hollywood moment if there ever was one.
ALSO
A retro rewind and glamorous gowns for the ages at the Oscars
Guess from the dress: An Academy Award red-carpet cutout quiz
When it comes to dressing lead actor winners, give the gold medal to Giorgio Armani