The Owl Bureau, a new Highland Park bookshop, builds on creating community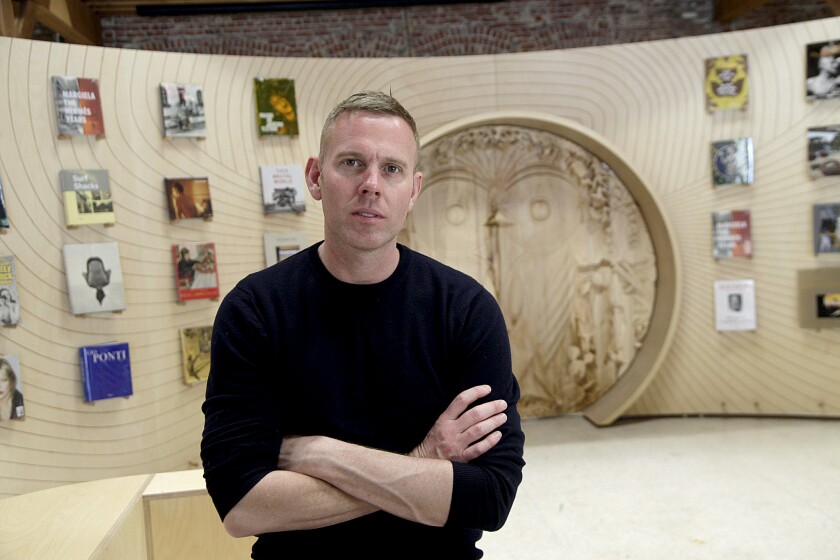 The Owl Bureau, a visually stimulating, curvilinear design feast at 5634 N. Figueroa St., isn't merely a place to buy books at the hands of Richard Christiansen, recent Highland Park transplant and founder of Chandelier Creative, a full-service advertising and media agency with bicoastal offices servicing clients such as Cartier, Smartwater, Lululemon and Old Navy.
Think of it as being more of an aesthetically exquisite community center. At least that's what Christiansen wants you to believe. With design conceived by the Parisian architecture duo of Studio K.O., tomes curated by Christiansen and Mast Books, and details handcrafted by L.A. artisans and makers, the bookshop debuts this month in one of the city's buzziest neighborhoods.
"We wanted to create a center for culture and creative people to come together on this side of Los Angeles," said Christiansen, who, upon moving west from New York, missed "that idea of putting your finger into the socket of electricity of creative people," not to mention the ability to buy a copy of French Vogue without driving an hour.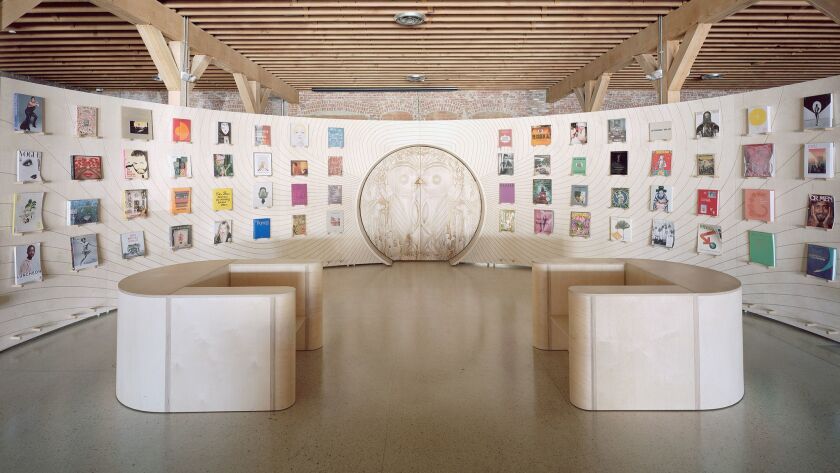 "There are a lot of coffee shops, a lot of libraries and other places to go on my side of L.A.," he said, "but I didn't feel like anyone was wrapping their arms around all these amazing creative people here in California, the doorstep of the world's imagination, and doing it through design and art and fashion."
Over the decades, books have played an enormous role in Christiansen's own life and career trajectory. The tomes he's collected since his first purchase — Herb Ritts' "Notorious" from the Gallery of Modern Art in Brisbane, Australia, as a "pimply 16-year-old looking for art" — "have become like best friends," he said. "The photographers I grew up lusting over, the architects and artists I went to when I needed inspiration, that place I went to when I was sad or when I was excited."
Christiansen travels often and said he rarely returns without a suitcase of published works. His own collection is at the heart of Chandelier's New York offices, a library thousands strong, ranging from auction catalogs and Mario Testino volumes to Japanese art direction books and a Le Corbusier collection featuring his work in Chandigarh, India. However, Christiansen found the ever-younger members of his staff weren't utilizing it to the max as they're "quite tethered to digital, to Instagram, to Pinterest and all these amazing platforms, which are amazing but that give everyone superficial knowledge of everything but not deep knowledge of what they geek out on."
Christiansen was inspired to do something about that when he spotted the sign of the shuttered Owl Rexall drugstore over his boyfriend's shoulder while dining at Cafe Birdie in Highland Park.
As a longtime collector of owls, he said he immediately felt a connection, and when he discovered the drugstore's owner, Hong Kong immigrant Mei Cheung, also collected owls and acted as a lightning rod for the community in her time it sealed the deal. Honoring that legacy with an incubator to create a groundswell of culture locally — and open people's minds to new visuals and ideas — felt right, Christiansen said.
To that end, expect a robust schedule of happenings in the 1,500-square-foot shop (the large 1920s building also holds Chandelier's L.A. offices) to create two-way conversation, build creative bridges and galvanize people to take action.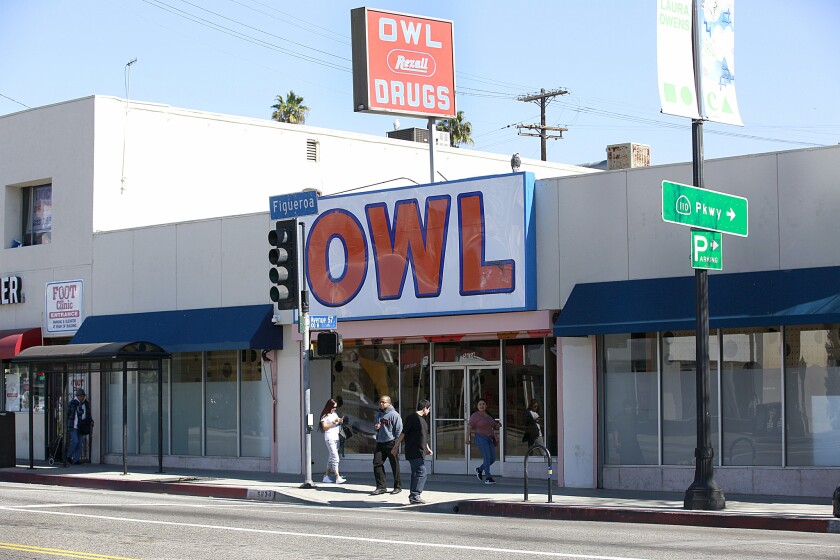 To start, on Saturday, the prolific French architecture and interiors photographer François Halard, a hero of Christiansen's, opens the Owl with a celebration to preview his forthcoming Rizzoli publications. It represents the first of many signings, talks, retrospectives, launches and series, such as "Truth-Tellers and Troublemakers," continuing a Chandelier Creative series from New York.
"I could not refuse this opportunity," said Halard. "I love books. I love the work of my friends at Studio K.O., and I love the idea of a new East L.A. artistic development. It is like a family reunion to me." (A special installation of Halard's photography around Pierre Bergé's and Yves Saint Laurent's estate and its Jardin Majorelle can be viewed by appointment at Christiansen's home, Flamingo Estate, which was also designed by Studio K.O.)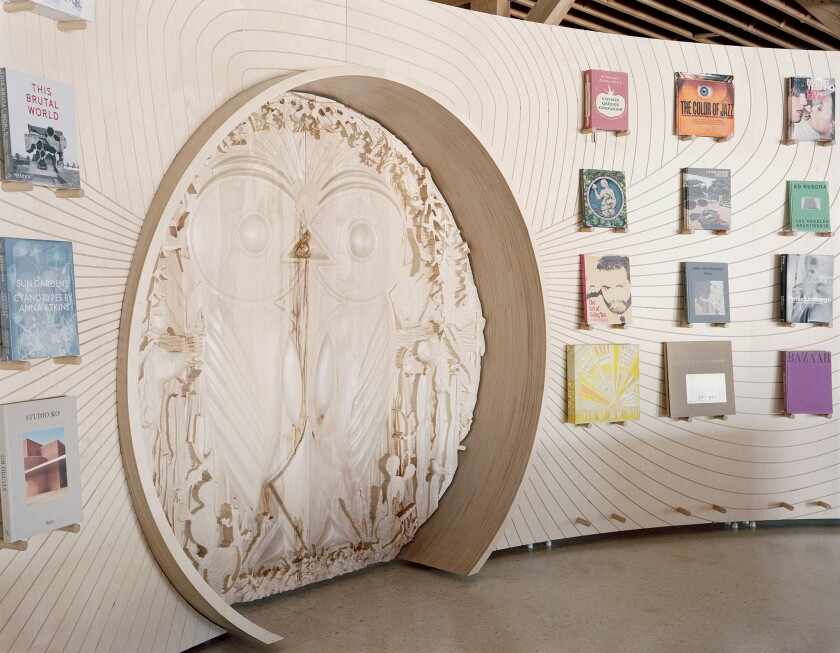 Another future initiative will be donating some proceeds from the bookshop to creative local projects — "anyone fighting for beauty or creativity in the world," Christiansen said. "I'm determined to build a community of people who share these values. I want to activate them, do projects with them, and put their skills to use."
After all, in creating the Owl Bureau, he did just that. The starting point for the design was a photo that Studio K.O.'s Karl Fournier and Olivier Marty showed him of Picasso with the eyes cut out. He said they told him, "It should be circles. An owl has circles, and we're looking at the world through your eyes."
In a statement to The Times, the architects said, "We used the idea of the owl as a powerful animal evocation like in 'Twin Peaks.' We wanted it to be sculpted in a very stylish fashion."
Circles became the visual device informing all, from gracefully curving loveseats and bookshelves (handcrafted by Waka Waka's Shin Okuda in California oak) to doors representing a gate of dreams.
L.A.'s MachineHistories co-founder Steven Joyner conceived that statement. "When we saw Shin was working with a lot of tangent arcs and circles, it seemed natural to make the wall a tangent arc with a circle door," Joyner said.
It layers various 3-D models of desert life nodding to Southern California: bees and cocker spaniels (referencing Christiansen's apiculture hobby and his pets); cacti, flowers and palm trees; the sun and mountains; and the Owl logo fashioned from two kissing birds in profile, drawn by L.A. designer Miller McCormick.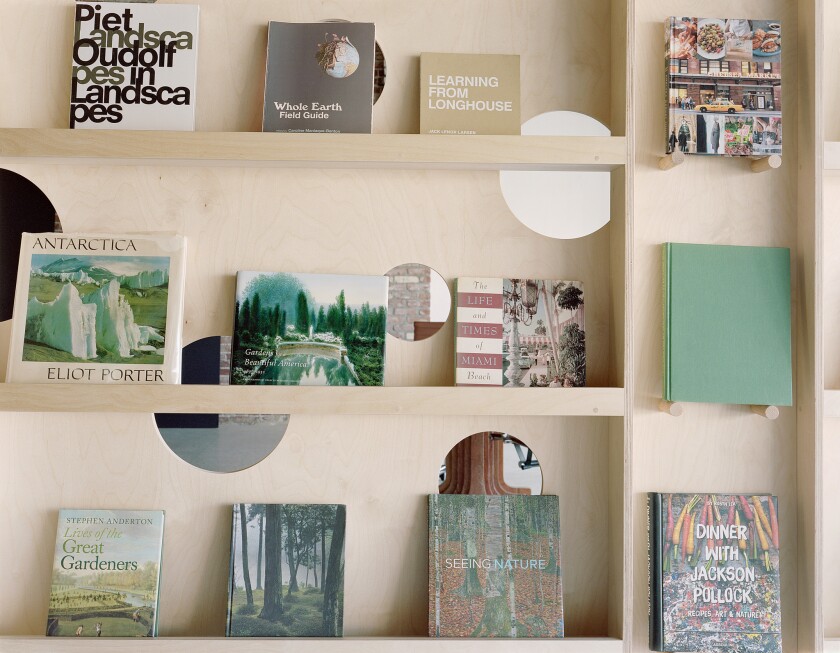 "We wanted the doors to convey a metaphoric reflection of Los Angeles, a veritable cornucopia of dense geometries with treasures hidden in plain sight," Joyner said. Mexican American L.A. artist Abel Macias "added rocket fuel" by way of vibrant murals below the original drugstore signage, a space to be made over each year.
Additionally, an artist-in-residence program awards a select talent the upstairs studio for 12 months. First is Heath Ceramics alum Alex Reed, who's "on the verge of greatness," said Christiansen, and who, in addition to creating a body of work that will be sold inside the shop, is crafting "weird and wonderful" glasses, teacups and Brutalist chalices for the coffee and vino served after-hours and at events (and, eventually, all day, once a liquor license is secured).
Energetically, inspiration came from Tokyo's Daikanyama T-Site, "the nirvana of creative bookstores. You can sit with a beautiful glass of wine and indulge your senses in this space between what Starbucks has become for people and a member's club," Christiansen said. "It felt so unusual to be welcomed somewhere warmly and have it not feel transactional, not be rushed to buy something, instead being allowed to soak it up."
In this spirit, the for-sale selection at the Owl is museum-like and inviting, comprising 100-plus titles from Christiansen's personal collection plus a thousand others curated alongside New York's Mast Books whose interiors titles have long attracted him because they feel, he said, "super tasteful and really, really smart, yet not so academic that I don't feel welcomed." They're arranged with covers, not spines, out to fuel dialogue, and the selection changes weekly, curated as a mood board with itinerant themes — from roses to Italian furniture.
As the Owl represents a strong effort to inspire and rescue print media, it embraces the new too, reinventing the daily media diet with a playful fusion of the two. Christiansen uses Instagram (@owlbureau) to share a daily image from a particular page, framed in a circle, alongside his personal motto, "letting it out into the world again" to hopefully inspire people.
His goal? To add richness and depth to the "fast food" that fills much of our day, he said, adding in a romantic tone, "I feel as though these books represent an amazing visual 10-course meal and a diet of incredible culture."
For fashion news, follow us at @latimesimage on Twitter.
---