A star-studded, black-tie gala with a John Legend set marks the opening of Palisades Village
Leave it to Rick Caruso, the developer responsible for the shopping-center-as-neighborhood-streetscape artifice of the Grove in Los Angeles and the Americana at Brand in Glendale, to throw a grand-opening party for his latest retail project, Palisades Village, gussied up as an over-the-top, star-studded, black-tie gala. At times Thursday night, the affair felt like a Comedy Central roast, an awards show, a wedding reception and a mini concert by freshly minted EGOT John Legend all at once.
The event began with a cocktail-hour musical performance by the Martini Kings on the premises of the 125,000-square-foot Pacific Palisades shopping center, which officially opens to the public Saturday, before moving on to a sit-down dinner catered by Wolfgang Puck on the temporarily closed-off street in the development near the new Bay movie theater.
Before dinner, Katherine Ho, the USC student who recently vaulted into the public eye for her contributions to the "Crazy Rich Asians" soundtrack, sang the national anthem (during which, for the record, no one appeared to take a knee) and a rabbi and priest gave their blessings.
Kevin Nealon, the "Saturday Night Live" alumnus and former honorary mayor of Pacific Palisades, took the reins from there, serving as a master of ceremonies and, to humorous effect, he seemed all too well aware he was basically presiding over a mall opening.
"A lot of people say, 'How do you know Rick? How did you get roped into doing this?'" quipped Nealon. "Well, I do a lot of these black-tie shopping experience openings. I'm the best at it, and Rick saw me at the opening of a strip mall down at Pico and Barrington. It was actually not a strip mall; it was more of the opening of a nail salon, and Rick was coming out from getting a mani-pedi. And we talked and he told me about this and I said, 'Call me when it's ready,' never thinking it would be ready. But, heh, heh, it is ready as you can see."
Later, Nealon told the guests that it was important for him to do well in his role for the evening. "Here's why, ladies and gentlemen; because this is like being a comic on a cruise ship," he said. "If you bomb on a cruise ship, you've got to stay in your cabin for the rest of the cruise. If I bomb here, if I don't get a standing ovation, I can't come back to this great shopping experience here. I'll have to stay at home."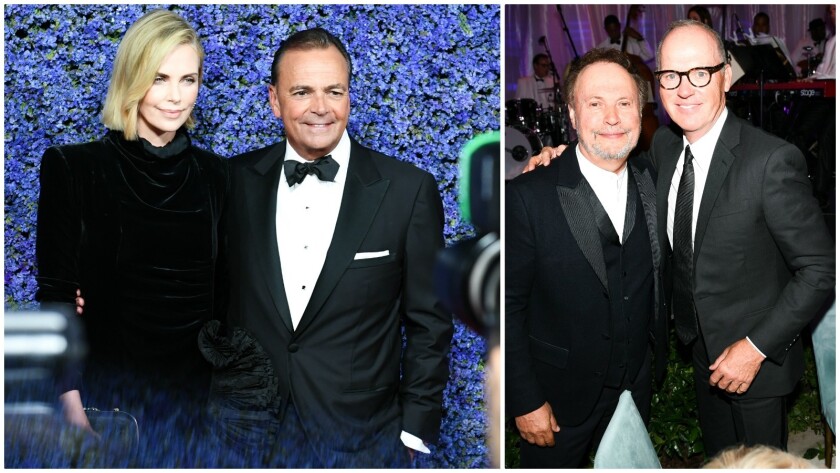 The evening also included an on-stage appearance by Billy Crystal and his wife, Janice, current honorary co-mayors of Pacific Palisades; a brief video presentation about the years-long development (including a time-lapse clip that managed to convey the complexity of the three-acre construction project); and, finally, comments by Caruso himself.
After effusively thanking Los Angeles Mayor Eric Garcetti, who appeared to be the only "mayor" not in attendance, the L.A. City Council, city staffers and his own staff for helping get the project across the finish line, Caruso shared some of the statistics involved with the development.
It involved "102 architects, engineers and designers, 3,000 construction jobs, 2 million hours, 30,000 cubic yards of concrete, 120,000 cubic yards of soil, which we donated down the street [and] which created a city park," he said. "98% of the demolition waste here was recycled, 45 tenants, about a thousand permanent jobs, 77 different tree and plant species, eight first to brick-and-mortar tenants that came off the digital world [and] 20 women-owned businesses … and this is the first ground-up business district in the state of California to be certified LEED Gold."
Taking a page from the Hollywood awards show playbook, Caruso took the opportunity to hand out some serious trophy-like hardware.
"I've created the Steadfast Awards," he said, explaining that the award was named for the nine-foot-tall, 1,000-pound sculpture of a man standing, hand-over-heart, on the main street of his new retail development.
"I wanted to commemorate the hard work of the people who actually get their hands dirty, who create these places," Caruso said. He bestowed the awards to a handful of Caruso employees as well as a couple of key contractors, including the man responsible for the aforementioned 30,000 cubic yards of concrete. ("You've got to love a guy named Vinnie who pours concrete," Caruso said before calling Vinnie Bazurto to the stage. "Who knows how many of my family are buried down there.")
After the roast-turned-awards-show dinner, Legend took the evening out on a high note by hitting the stage for a half-hour performance that had guests enthusiastically up on their feet and dancing between the tables. His set was followed by a fireworks display (a celebratory signature for Caruso properties) and post-event performance by Jason McGee & the Choir.
In addition to Nealon and Crystal, celebrity celebrants included Charlize Theron, Rita Wilson, filmmaker Jon M. Chu, Molly Sims and Kate Beckinsale.
On the way in to the party, guest Mindy Kaling told The Times that the stores she was most excited about were the Paige denim store and the Jennifer Meyer store, the latter being the jewelry designer's first-ever bricks-and-mortar boutique.
"I'm a fan of both," Kaling said, quickly taking in the shopping center. "Oh and wait — is that a See's candy store? I'm a fan of that too."
Another celebrity guest, Michael Keaton, said he wasn't familiar enough with the tenant mix to pick a favorite, but he did say that he wasn't a fan of one of Caruso's most high-profile projects.
"I'm not a Grove guy," Keaton said. "I was in the Grove once for about 30 seconds and I was like, 'See ya. Bye!' It was just too many people."
If the shopping experience at Palisades Village turns out to be a fraction as much fun as the grand-opening gala was, Keaton will probably need to steer clear of this one too.
Palisades Village opening-day celebration, 10 a.m. to 8 p.m. Saturday, 15225 Palisades Village Lane, Pacific Palisades.
For more musings on all things fashion and style, follow me at @ARTschorn
---