California pot czar Lori Ajax tapped as keynote speaker of Palm Springs Cannabis Film Festival & Summit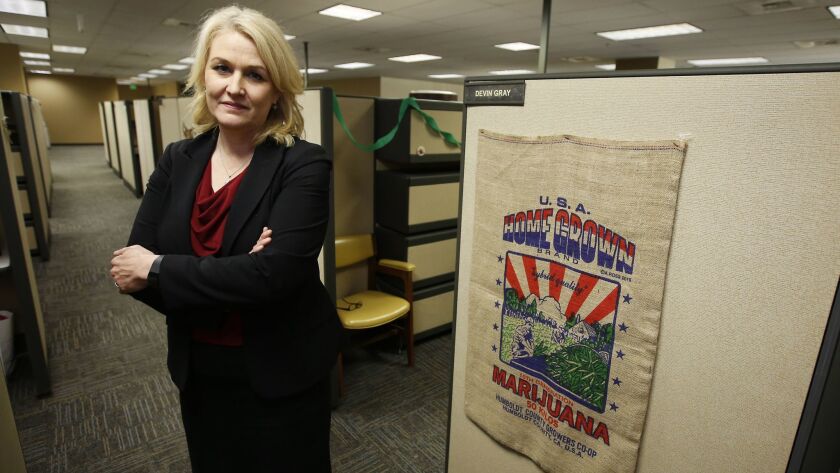 The Palm Springs Cultural Center has organized a three-day, cannabis-themed series of events including panel discussions, yoga classes and film screenings scheduled for April 19-21.
The aim of the inaugural Palm Springs Cannabis Film Festival & Summit, according to organizers, is to "take on the debate [over cannabis] with a progressive attitude towards eroding stereotypes and clichés to discover the life-enhancing potential of this remarkable yet controversial plant."
To that end, festival directors Giacomina Marie and Paul Palodichuk have put together a program that offers something for everyone on the stoner spectrum from the casual enthusiast/film buff (screenings of films such as "The Emperor of Hemp" and "Mary Janes: The Women of Weed") to the traveler or entrepreneur (tourism seminars and business-focused panel discussions on insurance and municipal regulations in the Coachella Valley).
The lineup of speakers includes veterinarian Gary Richter, who will speak about pets and cannabis; Dr. Ira Price, the event's medical keynote speaker (whose work focuses on natural pain solutions and cannabinoid therapeutics); and the state of California keynote Lori Ajax, the chief of the California Bureau of Cannabis Control, the state's top pot regulator, who is scheduled to speak April 21.
Tickets for the event range from $15 (to attend a single film screening) to $249 for a mega pass that allows access to just about everything the three-day event has to offer. (You'll have to pony up $20 a piece for the Higher Ground Yoga classes.)
Additional information, including a list of events and a link to purchase tickets, can be found at the festival's website www.pscff.org.
♦ ♦ ♦ ♦ ♦ ♦ ♦ ♦ ♦ ♦
Palm Springs Cannabis Film Festival & Summit
Where: Palm Springs Cultural Center, 2300 E. Baristo Road, Palm Springs.
When: April 19-21
Admission: $15-$249
Info: (760) 898-9602, www.pscff.org
For more on cannabis commerce and culture, follow me at @ARTschorn.
---