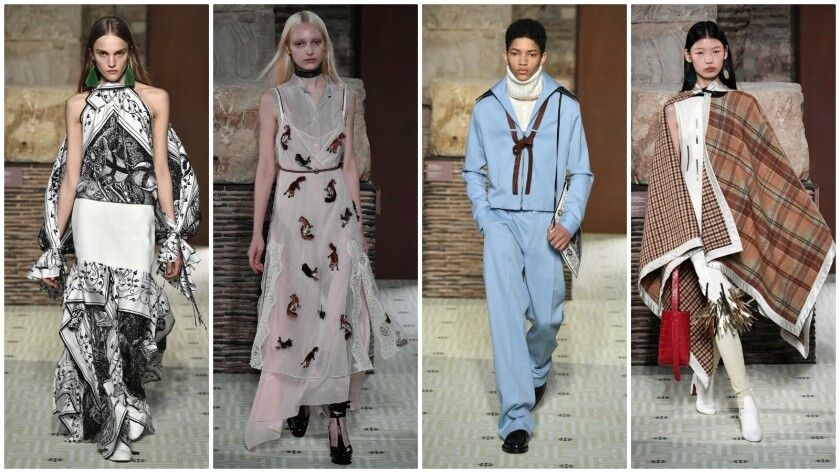 The 13th century Musée de Cluny in Paris' 5th arrondissement, where Lanvin presented its fall and winter 2019 runway collection Wednesday, seemed a wholly appropriate place for France's oldest continuously operating fashion house to kick off its newest chapter. Whether the brand's new designer Bruno Sialelli is the appropriate one to write that chapter remains to be seen.
Before tackling that question though, it's worth recapping a little bit of the recent turmoil at the label that traces its roots to the hat shop opened by milliner Jeanne Lanvin in 1889. By all accounts, it began in October 2015, when Alber Elbaz, the beloved designer, standard-bearer of elegance and glamour and the man responsible for breathing new life into the label, was unexpectedly sacked after 14 years at the helm.
Elbaz's successor, Bouchra Jarrar, had a decidedly shorter tenure -- just 16 months – and the designer following her, Oliver Lapidus, remained on the job for half that long before exiting the label in March of last year. The women's line had been designed in-house since then. (The men's line had been under the purview of Lucas Ossendrijver, whose own 13-year tenure at the houses ended in November of last year.)
In January, the label's majority stakeholder Fosun Fashion Group announced that the 31-year-old Sialelli, a relative unknown who had previously been the head of menswear at Loewe, had been appointed creative director for both men's and women's at Lanvin.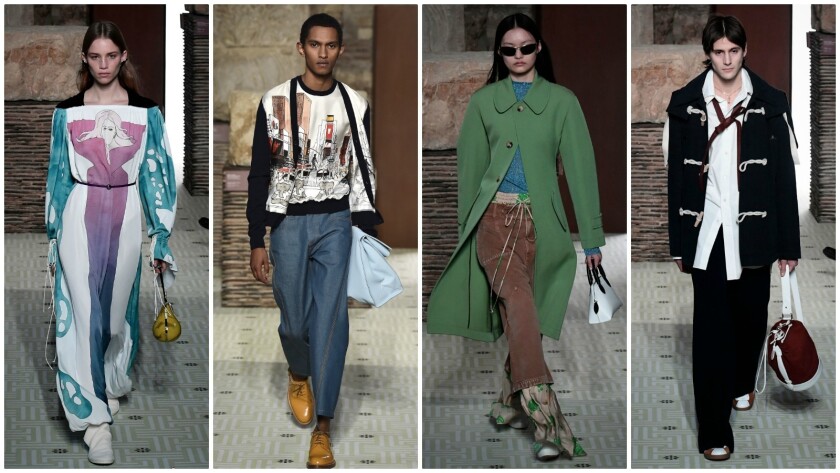 Fast-forward five weeks and the fashion flock was sitting — with bated breath and pens poised — in a medieval museum as the first collection with Sialelli at the helm came down the catwalk. And, well, there was a lot to take in.
There were maritime references by way of sailor-style tops, duffle coats and sloping nor'easter hats, equestrian references (riding boots and jackets). There were images and text plucked from medieval illuminated manuscripts and printed on billowy silk that was crafted into skirts, dresses (knotted at the shoulder and wrist, leaving the arms exposed) and layered under workwear-sturdy trousers so that exposed flourishes of flounce extended beyond the hem and fluttered at the ankle. There were chunky Fair Isle knits too – as well as clan tartans draped as capes or wrapped as skirts, and an ankle-length overcoat in a Norwegian blanket pattern with contrast-taped notch lapels.
Elsewhere in the collection, tufted hares and foxes gamboled across transparent tulle, and Babar (yes, that Babar — Cécile and Jean de Brunhoff's beloved King of the Elephants) could be spotted (sitting cross-legged in a city park no less) on a crew neck twin set. A color palette rooted in navy blue and mahogany brown served up hues that further stoked the sense of whimsy; avocado green, banana yellow and a pale shade of cornflower blue.
That color, which longtime fans of the brand know as Lanvin blue, is one of the house codes (according to brand lore, it was inspired by a Fra Angelico fresco in Florence, Italy, that Lanvin saw in the 1920s). Other references to the history of the house could be found in the JL initials (for Jeanne Lanvin) on intarsia knit sweaters and a graphic print of the brand's Paul Iribe-designed mother-and-child logo.
No, the first runway collection from Sialelli didn't exude the elegance, grace and glamour that earned it a regular place on the red carpet in the Elbaz era. Yes, some of the pieces felt like more Wes Anderson than high fashion. But the child-like vibe of the fox-and-hare dresses, cornflower-blue sailor tops and Babar twin sets actually has a deeper connection to the brand's history than glamour does. Lanvin first branched out of hat-making and into making clothes – children's clothes – after her daughter Marguerite was born (they're the two depicted holding hands in the logo).
And, here's the thing: Brands evolve and change over time – even the ones fortunate enough to have one person with a clear vision at the creative helm for half a century (as was the case with Fendi and its long-running relationship with Karl Lagerfeld). Times change too; a decade ago you'd probably have been laughed out of Paris Fashion Week for suggesting that the storied house of Dior would send buffalo plaids and bucket hats down the runway, yet here we are. And, after four designers in four years, it probably seems like it's inevitable that Sialelli will be the next casualty headed for a date with the Lanvin buzzsaw. (At this point, lasting beyond two ready-to-wear collections will be considered an unmitigated success.)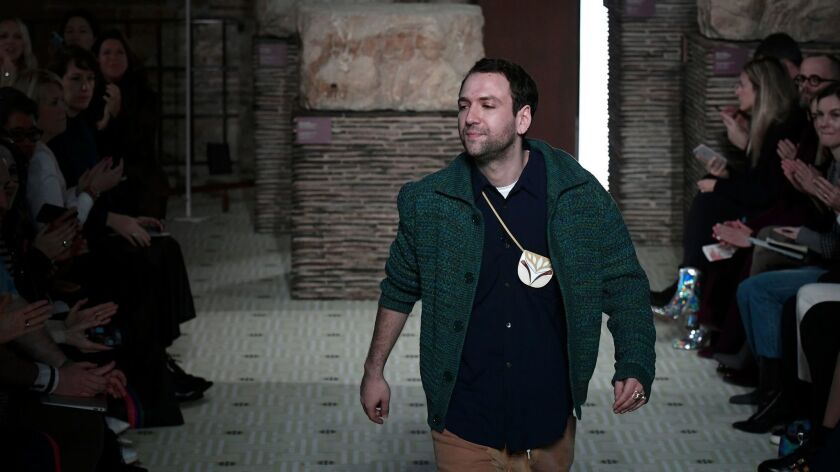 But something about his debut collection for the house makes me think it isn't. He's clearly both paying homage to the roots of the brand and moving it in a more accessible, every-day-wearable direction. If there's any major complaint here it's not about his stewardship of a heritage brand but rather the all-synapses-firing, kitchen-sink feeling of too many competing inspirations all at once.
Picking up on the medieval references in the collection – as well as the venue Sialelli chose – you remember what came after the Middle Ages, right? A little thing called the Renaissance.
And maybe, just maybe, that's the chapter Sialelli is beginning to write in the long history of the house of Lanvin.
Time will tell.
For more musings on all things fashion and style, follow me at @ARTschorn
---