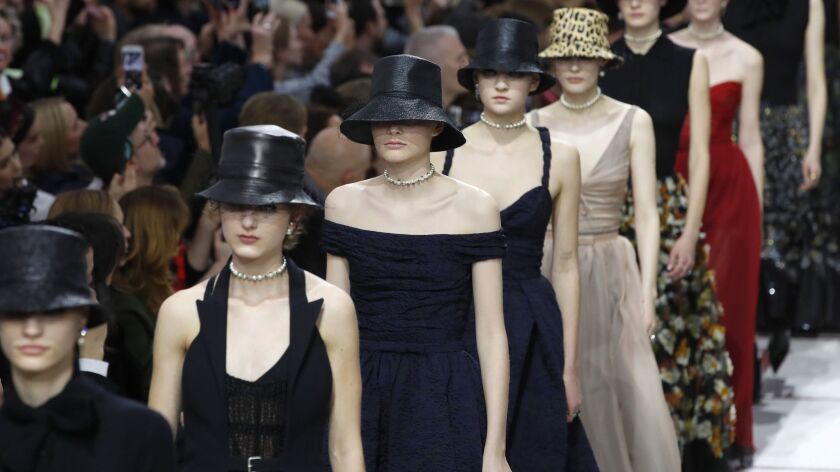 Reporting from Paris —
For her fall and winter 2019 women's ready-to-wear collection for Dior, artistic/creative director Maria Grazia Chiuri did a 180-degree pirouette away from last season's soft, sea-of-beige, ultra-feminine "après-danse" vibe, filling the runway with clothes that had a rebellious, subversive edge.
Chiuri cited Teddy Girls — the female counterpoint to the Teddy Boys (a British subculture of the post-WWII 1950s) — as a specific inspirational starting point, describing them in the show notes as "queens of a ravaged landscape … impertinent characters with wild quiffs who wore Edwardian-style men's jackets with velvet scarves, ample skirts and black leather jackets." She also name-checked Princess Margaret as her rebel muse, noting that, in 1951, the royal opted for a dress by Dior — instead of one by a British dressmaker — for her official 21st birthday portrait photographed by Cecil Beaton.
The resulting collection was dominated by a focus-pulling buffalo plaid that was used on jackets, belted blanket coats, fringe-hemmed mini-dresses, hooded pullovers and bucket hats that felt more street than runway. (Actually — and maybe this is our New England roots showing — the first thing that came to mind when that plethora of black-and-red checks came down the catwalk was "hunting season.")
The silhouettes were nearly all riffs on the wasp-waisted, round-shouldered, full-skirted Bar suit (a.k.a. "the New Look") that earned Christian Dior wide recognition in the '50s, updated with a more accessible streetwear feel. Standout examples include a black, diamond-pattern-quilted skirt paired with a simple, strapless top of twisted tartan and a high-waisted skirt in menswear-suiting gray paired with this season's manifesto T-shirt silkscreened with "Sisterhood is Global" in homage to the work of feminist poet Robin Morgan. (You may remember that Chiuri's been serving up slogan tees since the "dio(r)evolution" and "We should all be feminists" T-shirts of her debut collection for the house.)
Also keying into the subculture theme was a trio of black leather biker jackets. That may feel like a distinctly American symbol of rebellion, but Chiuri traces its inclusion here back to a version by Yves Saint Laurent for Dior, which had, in turn, been inspired by the French "blousons noir," an underground culture here in the '50s and '60s.
Adding to the casual, streetwear feel of the collection were the bucket hats accessorized every look. Some were served up in the aforementioned buffalo plaid (green-and-black as well as red-and-black), while others were done in denim or black leather or leopard spots. Some were embellished with wispy black veil, which gave them an elegant feel.
One part of the collection that didn't seem to tie into the Teddy Girl / '50s subcultures inspiration at all — but is worth mentioning nonetheless — was a palm-tree Toile de Jouy design that gave a soupçon of aloha to wool jackets, short-sleeve button-front tops, denim skirts, red sequined skirts and diaphanous dresses.
The buffalo plaid pattern was also deployed across a range of gauzy tulle dresses and skirts to surprising effect. It was as if, by redeploying patterns traditionally associated with heavy-duty, hard-wearing garments onto barely there, light-as-air fabrics, Chiuri has achieved a bit of the alchemy she often refers to in her show notes. Turning pedestrian plaids and Teddy Girl trappings into covetable luxury might not exactly be turning lead into gold — but it's darn close.
For more musings on all things fashion and style, follow me at @ARTschorn
---