Review: At Thom Browne, looking back to look forward never looked better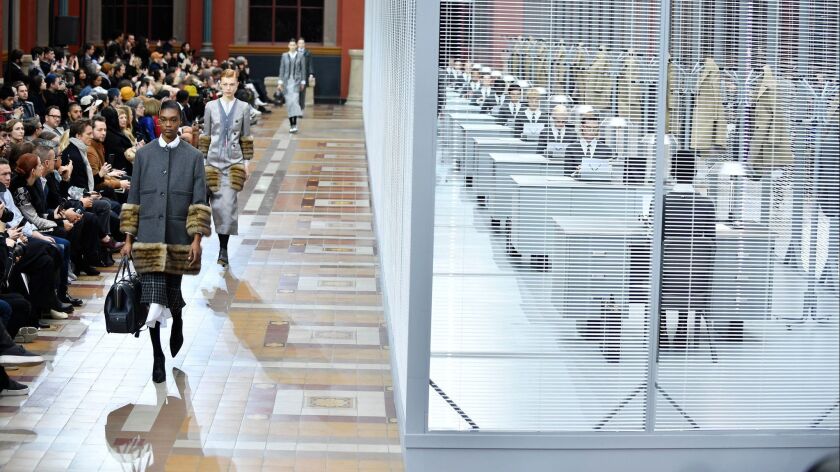 Reporting from Paris —
American designer Thom Browne has been presenting his women's collections here regularly since October 2017, and his men's since June 2010, and his over-the-top shows feel like such a natural fit, it's almost hard to imagine he of the shrunken silhouette showing in Europe for the first time (especially given that his label is now majority owned by Italian textile maker and menswear brand Ermenegildo Zegna).
The first show was in Florence, Italy, at a menswear trade show called Pitti Uomo, in January 2009. And it clearly resonated with Browne because he chose to commemorate the 10th anniversary of that show by restaging it – sort of.
For the record:
1:05 PM, Mar. 11, 2019An earlier version of this post incorrectly identified the person whose likeness appeared on several pieces in the collection. It was Lady Una Troubridge as depicted in a Romaine Brooks portrait, not Brooks as originally stated.
In the original performance, a cadre of suited men sat at identical gray office desks clacking away at identical gray manual typewriters, the anonymous worker bees in their impeccably tailored gray suits. This time around it was women doing the synchronized entering and exiting, standing and sitting and clickity clacking of typewriter keys. At the beginning of the show they entered their glassed-in office clad in identical beige overcoats which they removed and hung on identical coatracks at precisely the same moment, donning them – again, at precisely the same time – before leaving.
When they returned to their desks toward the end of the runway show they looked to be dressed the same as they had been previously. But they weren't really: This time the beige coats and gray suits only looked like two different garments but were actually trompe l'oeil dresses. That it wasn't at all obvious until they actually sat down at their desks (and we're not even sure that some in attendance noticed even then) is a testament to the skilled craftsmanship.
The rest of the collection that unspooled around the glassed-in office started with the tailored-suit silhouette and added couture-level details and embellishments from there. There were gray tweed suits with gray-on-gray flower blossoms – some appeared to be satin-stitch embroidery, others printed or painted – inlays and intarsia knits and radiant gold-bullion-embroidered tweed suit dresses and trousers (Browne is clearly having a kid-in-a-candy-store moment with Zegna's ability to bring his dreamed-of fabrics to life).
The visage of a blunt-banged, monocle-sporting woman appeared in beaded embroidery on a tuxedo dress and her framed portrait could be seen sitting on the tanker-style desks in the typing pool. Who is she? Gender-bending sculptor Lady Una Troubridge as depicted in a portrait by artist Romaine Brooks.
A subtle nod, perhaps, to the increasingly prevalent notion of gender fluidity, or a recognition that the definitions of what is – or isn't – menswear or women's wear is increasingly slippery. Or even simply the realization that the anonymous "man in the gray flannel suit" is no longer limited to the masculine.
The fall and winter 2019 women's collection makes one thing as clear as the walls of that glassed-in office though; when it comes to creating couture-level clothes with the sensibility of tailored menswear, it'd be hard to find an equal in Thom Browne.
For more musings on all things fashion and style, follow me at @ARTschorn
---