Paris Fashion Week: Balmain's spring and summer 2019 collection has (Egyptian) mummy issues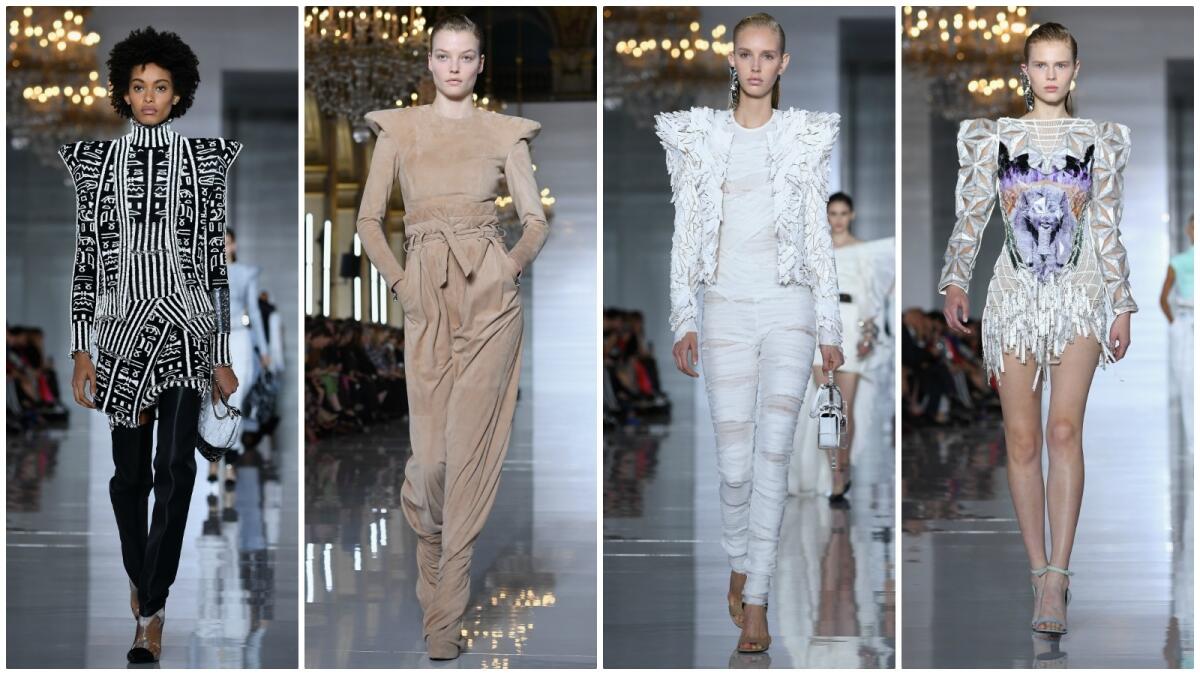 Reporting from Paris —
Balmain's creative director Olivier Rousteing is an earnest and enthusiastic fellow, traits that serve him well most of the time. However, the mining of ancient Egyptian motifs for his spring and summer 2019 collection was not one of those times.
The show notes cast the collection, which was presented here Friday, as being inspired by two incongruous aspects of Paris' history. The first is its role as a global fashion capital ("I believe that it's our incomparable heritage of couture and its high standards of tailoring, intricate sculpting and embellishment that distinguish us ..."), explaining that the collection was designed to pay homage to the City of Light by seeing how far he and his design team could riff on those elements. (Spoiler alert: pretty far.)
The second aspect is the designer's fascination with "the impressive obelisks, pyramids and columns that date from Napoleon's campaigns and adorn the city's most iconic public spaces." The most prominent of these is the Luxor Obelisk, a 3,300-year-old, 75-foot-tall, hieroglyph-covered granite column, which has stood at the center of the Place de la Concorde since 1836.
The first of these inspirations could be seen in the sculptural dresses that fanned out in pleated semicircles from wrist to shoulder (some in fabric, others in silver chain mail) with geometric shards of glass and metal meticulously assembled like a milky glass mirror that had been shattered and reassembled like a jigsaw puzzle. Glittery pieces of metal cinched waists, enclosed upper torsos and piled atop severely strong shoulders.
The strong-shouldered silhouette could also be seen in many of the Egyptian-inspired pieces, including the hieroglyphics-pattern black-and-white tops and one of the geometric-glass dresses emblazoned with the stylized image of a pharaoh on the front.
So far, so good with the ancient Egypt references, but what took the collection into Halloween costume territory — and we mean this literally — were the assortment of pieces inspired by the gauzy bandages that wrap mummies. These included a pair of trousers that looked as if they'd been fitted onto the model from a roll of Charmin; a wrapped and draped cold-shouldered tulle top; and a strong-shouldered bandage dress so barely there, a gauzy James Perse T-shirt seems like chain mail by comparison.
Although Rousteing's exercise in envelope-pushing was an unabashed success on the technical side, when it came to the ancient Egypt side of the equation, the mummy-bandage look felt more cartoonish than couture.
For more musings on all things fashion and style, follow me at @ARTschorn