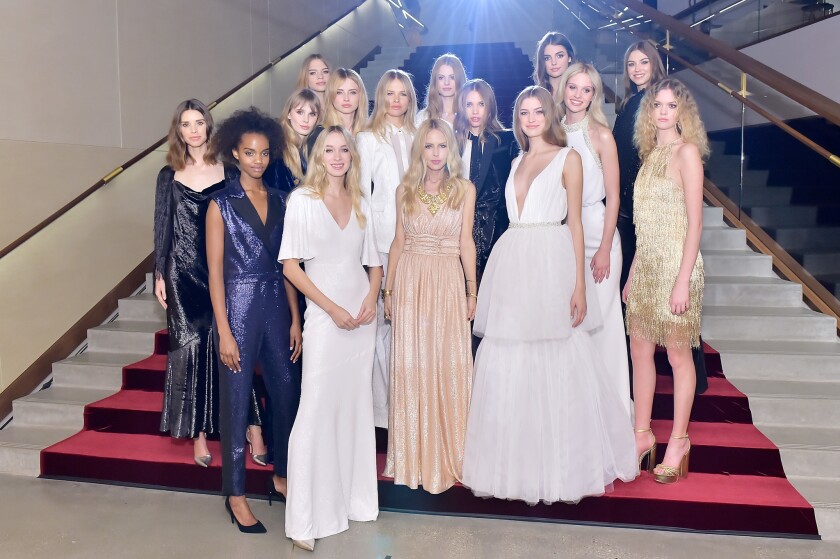 When it comes to the way women dress and explore the world around them, stylist-turned-designer Rachel Zoe offers sophisticated looks, most often about her love for California and New York — but in those eras before fast fashion, smartphones and Auto-Tune. In Zoe's world, glamour is everything.
Her latest collection for fall 2018, as well as several bridal looks shown at the Jeremy Hotel in West Hollywood on Feb. 5, certainly weren't exceptions to Zoe's playbook.
But unlike her spring '18 California love-in, Zoe's autumn looks are about New York Rachel, but with numerous fringe moments as well as splendid velvet pieces in jewel tones and several striking suits, many with wide-leg pants. Excluding the white wedding attire presented, the ready-to-wear looks Zoe offered were dripping in Big Apple glam.
Before dinner at the Jeremy, guests, including Paris Hilton and Kris Jenner, sat at long tables to take in Zoe's latest looks. Model after model delicately walked down a draped staircase. In a chat before the show, Zoe billed the collection as a harmonious exploration of femininity and masculinity.
"I've always tried to find the balance between masculine and feminine dressing," Zoe said, "and trying to find out how I could feel as cool and glamorous in a tux as I could if I was wearing a sexy slip dress. So in this collection, I'm doing both."
Standouts included a sapphire velvet tuxedo; a black-and-blue tux jumpsuit; a gold metal and bead-embroidered suede bomber jacket; and a black sparkly pantsuit, white top and what appeared to be a sequined scarf, a look a modern-day Barbra Streisand would love.
---
Some of Rachel Zoe's fall '18 looks
Please consider subscribing today to support stories like this one. Get full access to our signature journalism for just 99 cents for the first four weeks. Already a subscriber? Your support makes our work possible. Thank you.
---