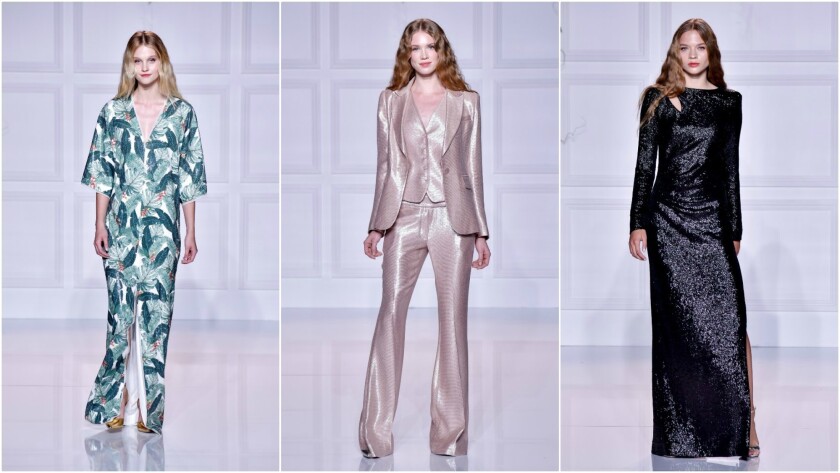 Instead of referencing a well-spent summer respite in Saint-Tropez, France, or the Manhattan woman who weekends in the Hamptons — the New York-born Rachel Zoe found inspiration for her 27th ready-to-wear collection here at home.
"It's about this," Zoe said before her Tuesday night fashion show and dinner at the Sunset Tower Hotel in West Hollywood. And the "this" she was referring to?
"It's about California," continued Zoe, wearing a sequin floor-length caftan from her spring 2018 collection with a palm print and a statement knot necklace by David Webb with diamonds, coral beads, gold and platinum. "It's about Palm Springs. It's about desert. It's about that moment when you're driving in the car and Tom Petty is blasting or the [Red Hot] Chili Peppers or the Doors and you're driving to Palm Springs. I think so many people around the world are fascinated by the life here. I wanted to bring that to life for people who don't live here or do live here or dream to be here."
Zoe offered shining example after example of all that's colorful, sultry, ultra-feminine and sexy about the Golden State, told through a series of standout daytime and evening looks, including dresses, flared trousers and tuxedo jackets in vibrant SoCal hues: bright green, coral, Champagne, desert pink — and of course, white.
Helping her to bring "some of that California magic to life," sartorially speaking, were handmade organza flowers, sculpted ruffles, bright sequins and crystal embellishments.
But don't think Zoe's day-after-Labor Day presentation was a remix of Beach Boys-era good vibrations. And it didn't really have the same feeling of her February showcase of high-glam Hollywood looks for fall 2017. (That occasion marked Zoe's first time showing in L.A.)
Instead, she laser-focused on a specific California through line, the modern-day Southern California woman who's perhaps juggling a family life while running the world but isn't too busy to take in the intense beauty of her SoCal surroundings; the woman who goes out in a sexy cactus flower sequin printed gown or liquid blush metallic three-piece suit. It was definitely a design taste that differed a bit from the too-many-to-name brands that have shown their California-centric or Hollywood-specific dreams on runways here in recent years.
Among our favorites from Zoe were a chambray three-piece tuxedo with shorts instead of pants (come on, it's California after all), a suit with an all-over palm leaf print (which also covered other garments such as a sleeveless top and the aforementioned caftan) and a sexy floor-length black fluid sequin side-slit evening gown.
Zoe was also inspired by some of the work of photographer Slim Aarons, who was known for capturing pristine, poolside Palm Springs beauties (and the men who served them).
I want to be a part of the magic moment.

— Rachel Zoe
As a bonus, the star-studded audience — which included Jessica Alba, Nicole Richie, Molly Sims, Goldie Hawn, Erica Pelosini and Chrissy Teigen seated at long dinner tables on the hotel's patio — was given a preview of Zoe's new bridal collection.
"I want to be a part of the magic moment," Zoe said earlier in the evening. "And I want to be a part of that moment in an easy, effortless way and make a collection that is true to who I am as a designer and for the women that I think about and the women who inspire me.… What's happened is that people have been getting married in my dresses for the last few years, and I wasn't even making bridal. So I said, 'Why don't I tiptoe into bridal, but not in that traditional way?'"
With U2's classic song "One" playing in the background, models hit the runway wearing white dresses that were not at all big ball gowns. (Also in the mix was a standout white sequin tuxedo.)
However, the bridal looks overall were in Zoe's classic style, mixing bohemian and simple elegance in off-the-shoulder midi dresses, backless column gowns and ethereal standouts with one-shoulder silhouettes, sculptural ruffles and pearl-encrusted trim. And perhaps lucky for the bride-to-be, Zoe's bridal collection, which ranges from $595 to $1,000, will be delivered in 2018 in time for a springtime desert wedding.
Please consider subscribing today to support stories like this one. Already a subscriber? Your support makes our work possible. Thank you. Get full access to our signature journalism for just 99 cents for the first four weeks.
Fashion Videos
Follow me on Twitter at @marquesharper.
ALSO
Rachel Zoe's L.A. runway debut sparkles with Hollywood glamour — and lots of sequins
Rachel Zoe sets 'pop-in shop' in East Hampton, N.Y., spring 2018 fashion show in L.A.
---