Designer Rachel Zoe unveils her spring 2019 ready-to-wear collection and her third bridal collection to celebrity friends and other guests at an intimate dinner and fashion show at the Hotel Bel-Air in Los Angeles.
Love was in the air when Rachel Zoe conjured her latest fashion collection. The Los Angeles-based stylist-turned-designer channeled her fondness for springtime in Paris along with the inspiring style of French women into her romantic but easy-to-wear women's designs, which she presented during a fashion show and dinner at the Hotel Bel-Air in L.A. last week.
Zoe went as far as using her own kiss marks to create a signature print destined to epitomize her brand moving forward.
"I love kisses," Zoe said in a moment of calm before the runway show of her spring 2019 collection. "I love love. Everything I do comes back to love being the overriding message."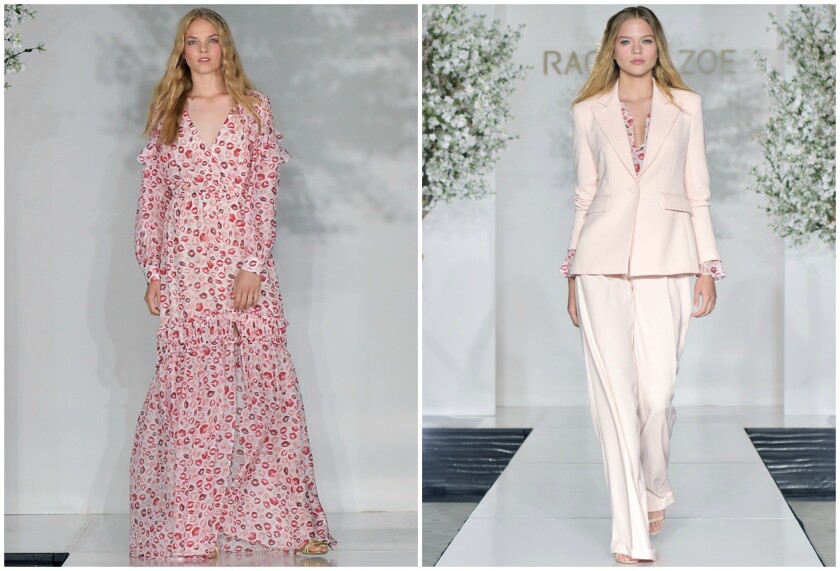 While creating her 31st ready-to-wear collection, Zoe alternated lipsticks from Chanel, Tom Ford and Charlotte Tilbury before pressing her smacker on a swatch of fabric. "I kept dabbing it on and kissing and dabbing it on and kissing," she said.
What resulted was a delicate chiffon printed with Zoe's kisses in varying shades of pink and red, which was planted (in an allover print) on a maxi dress with a plunging neckline as well as on a frilly blouse peeking from underneath a polished suit with a peak lapel and wide-leg pants.
"Not only am I wearing pink," Zoe said, pointing to her floor-length sequined dress, "but there is actually an overriding pink story in the show." (That theme was apparent right down to the pre-show cocktails.)
Although Zoe regularly goes back to maxi-dresses, caftans and languid suits as recognizable silhouettes in her collections, she ventured into new territory with splashes of color, particularly a palette of pastels. She adhered primarily to solid hues but complemented the kiss print with a vivid pattern of pink flowers and verdant leaves stitched from thousands of sequins.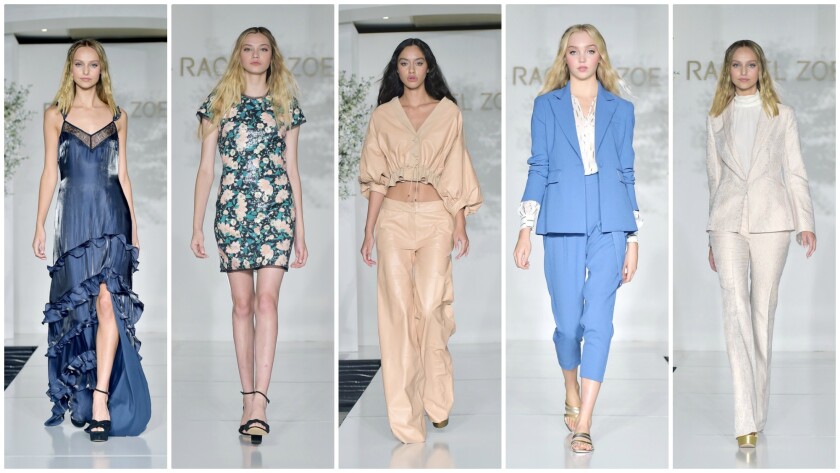 Inspired by French style, Zoe also offered standouts such as a blouson-sleeve jacket crafted from paper-thin blush pink leather and an ivory snake-embossed tuxedo with flares.
"There's nothing I don't love about French-girl style," Zoe said before the show. "If I was in the middle of the country and saw a French woman, I would know. They have a cool, easy, confident, powerful, effortless way of dressing that looks like they just throw on the thing, but they look the best in the room always."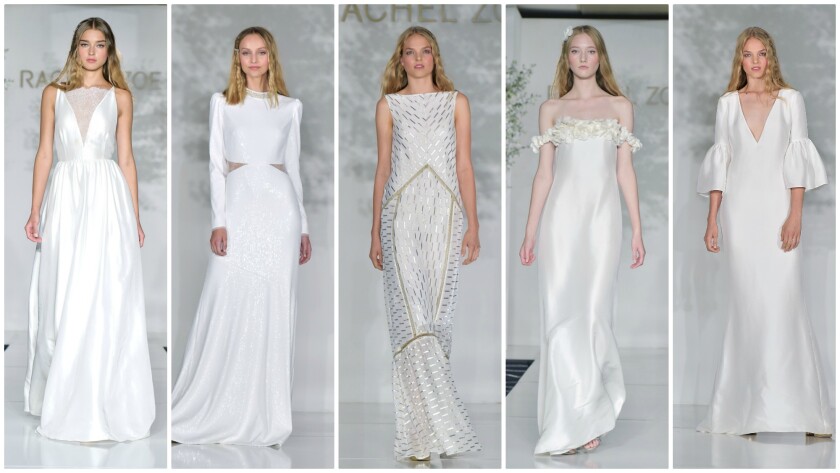 Zoe also instilled that Gallic flair into gowns for her third bridal collection. In one of her runway looks, a modern bride would be able to slyly reveal toned legs through the back slit of a dupioni silk gown with sculpted sleeves.
Another fresh Zoe design was an elegant sequined column, which evoked a Jackie Onassis vibe, thanks to an embellished round collar. However, it gave a nod to tradition-bucking millennials with its sheer panels baring the small of the back.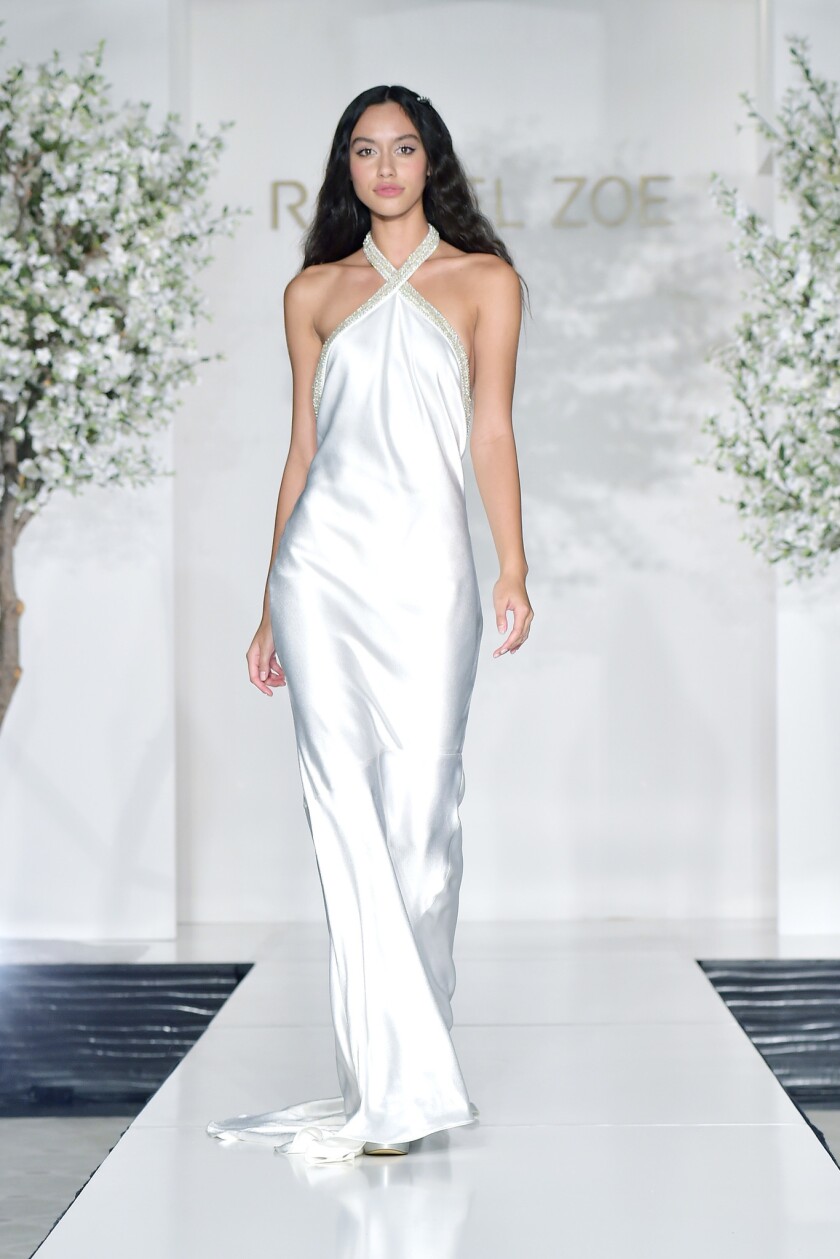 In a sign of her growth as a designer, Zoe said she streamlined her spring 2019 collection, only showing half the number of outfits on the runway that she had featured in her inaugural season. But that doesn't mean her thoughts about her female clients are different than before.
"The narrative of who I'm dressing and who I'm inspired by has not changed at all," she said, echoing a statement she previously made to The Times. "I design for the incredible women in my life that I know and many that I don't know."
Several of those women, including actresses Jessica Alba, Victoria Justice, Chloe Bennet and Jessica Capshaw, as well as designers Monique Lhuillier, Rachel Roy and Jennifer Meyer, joined Zoe for dinner of burrata salad, Wagyu beef and Scottish salmon, served at a pair of long tables under starburst chandeliers during the runway presentation.
---