Ready to take a dip? Designer Rebecca Minkoff introduces swimwear for women
While explaining why she recently opted to present her spring 2018 collection through a series of social media posts, designer Rebecca Minkoff said, "I did not feel like live streaming my birth as part of my fashion show."
Minkoff gave birth to her third child, Nico Valentine Bellour, on Feb. 10 during New York Fashion Week. "Once we said, 'We're not going to have a show if I can't be there. What could we do?' I began to think, 'What actually matters?'"
Instead, Minkoff decided to feature "inspirational" and "fearless" women including Women's March organizers Sarah Sophie Flicker, Paola Mendoza and Nantasha Williams clad in pieces from the line. The digital campaign is part of the brand's new "RM Superwomen" platform. "I was becoming nauseous with the lack of female support within my industry," Minkoff said. "I began to think, 'What could I do to change that conversation?'" One initiative includes profiling strong women in the fashion industry and beyond this year.
Although Minkoff's moniker may be emblazoned on all that she creates, the designer doesn't claim to be the only one hard at work on her mini-empire. She used the pronoun "we" as often as "I" when discussing her eponymous brand, which first launched in 2005 with a self-proclaimed tiny ready-to-wear collection and one bag. "I'm not the be-all, end-all," Minkoff said of her company, which has grown to feature nearly every women's lifestyle category, including swimwear introduced in February. "There are a lot of people who go into making this successful."
Minkoff's democratic approach factors into every decision she makes, right down to each collection's fit. With her new swimwear line, which was a year and a half in the making, Minkoff wanted to create "an inclusive line that fits different girls and the different lifestyles they lead." The collection's aesthetic was inspired by the brand's pre-existing ready-to-wear prints as well as a sense of practicality. "We did a lot of surveys internally," she said, adding that she asked her millennial workforce questions such as "How tiny do you want the butt to be? What colors do you usually want each season?"
The collection, which was made in Los Angeles from Italian fabric, is available at Rebecca Minkoff stores in Los Angeles, New York, San Francisco and Chicago in addition to being sold at www.rebeccaminkoff.com. The line consists of one- and two-piece sets with separates sold individually, which allows shoppers on the hunt for swimwear to mix and match. All pieces retail for less than $200, and can be styled a variety of ways.
"Our bestselling bag has convertibility," Minkoff said. "So we said, 'What would a swimsuit look like that had convertibility?' We were able to work with our manufacturer on a solid on one side, a print on the other, or straps that can be worn as a halter or on the shoulder."
Born and raised in San Diego, Minkoff said she's "definitely a California girl at heart." However, she designed the new collection from her New York office. "I was like, 'Cool. I'll be wearing these," she laughed, "when it's not zero degrees out," referencing the long stretch of winter temperatures that hit the East Coast this year.
With good reason, Minkoff is always thinking ahead. As one of the earliest adopters of the "see-now, buy-now" model, Minkoff said her company won't turn back, although its approach may "evolve" down the line. "We might take the show on the road," she said. (The brand already did last year with a splashy presentation at the Grove in Los Angeles.) "We're playing with the format, but we'll never go back to showing something that the consumer can't get within a 30-day window," she said.
As for what's on the horizon, the Rebecca Minkoff brand is branching into eyewear at the end of this year. Minkoff also hinted that a podcast could be in her future. First, she'll spend some time bonding with her newborn son. "I'll take it easy," said the mother of three. "I'll be hibernating with the baby."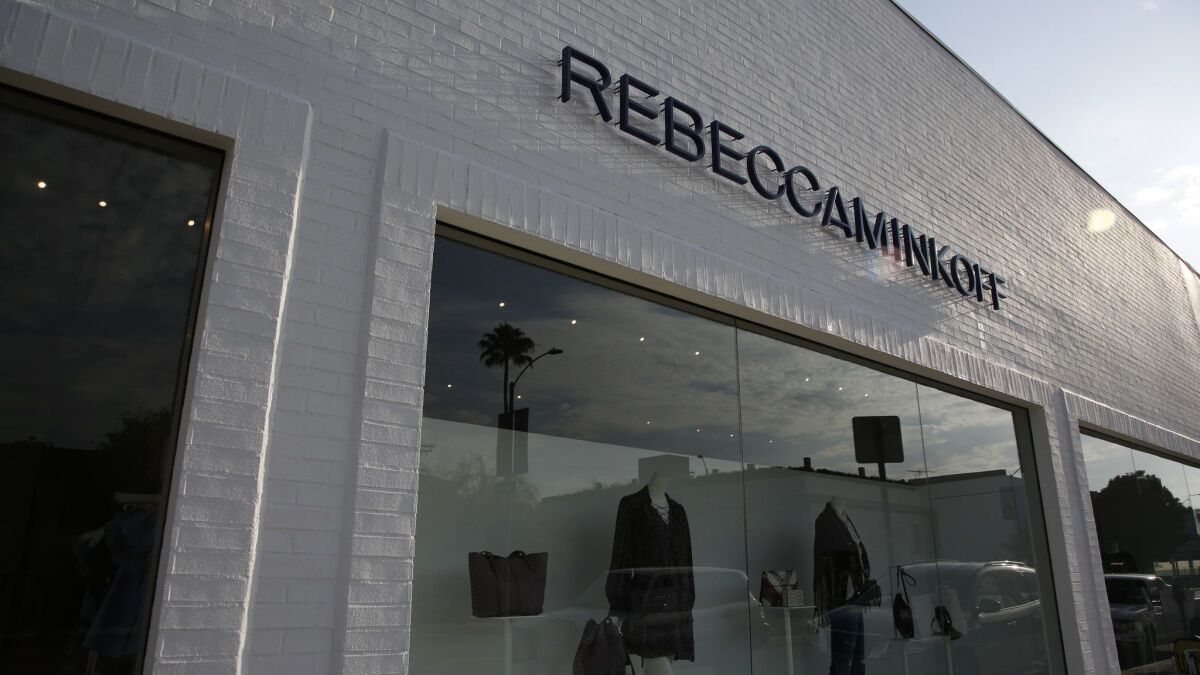 For fashion news, follow us at @latimesimage on Twitter.