Retail Happenings: Balenciaga plants a flagship on Rodeo Drive; Sleepy Jones pops up in Venice
The Kering-owned luxury label Balenciaga has picked Beverly Hills as the home of its second U.S. flagship store, a 1,883-square-foot maison at 353 N. Rodeo Drive, between the Gucci and Salvatore Ferragamo boutiques, that officially opened its doors on Saturday.
The new space, the first flagship to open under the creative direction of Demna Gvasalia, showcases the brand's men's and women's apparel offerings as well as its eyewear and accessories collections against a backdrop of spare, minimalist gray concrete, glass and aluminum walls and fixtures with warm accents of polished rosewood (for display tables) and brown leather upholstery (topping concrete benches). The brand's heritage is referenced in details that include fitting rooms appointed in cotton twill and red thread accents (emulating the toiles used in the ateliers) and wall hangings and carpeting meant to evoke the look of namesake designer Cristóbal Balenciaga's original Parisian couture house.
While the boutique is just one of 10 flagship Balenciaga stores worldwide (the other stateside one is located in New York City) and is a new addition to the retail mix on Beverly Hills' fabled shopping thoroughfare, it isn't totally new to the neighborhood, as it replaces the brand's previous digs on Melrose Place, which opened in 2008 when designer Nicolas Ghesquière was at the helm. It closed its doors July 5.
Balenciaga, 353 N. Rodeo Drive, Beverly Hills, www.balenciaga.com/us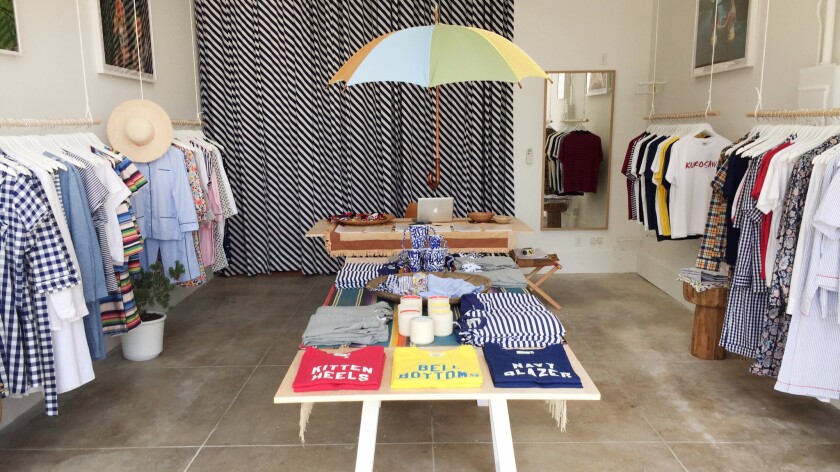 The luxury pajama and lounge-wear label Sleepy Jones, which already has a permanent retail presence in Santa Monica, has apparently decided it wants to wake up in the Venice Beach neighborhood this summer. To that end, the brand that Andy Spade, Anthony Sperduti and Chad Buri launched three years ago has opened a roughly 500-square-foot pop-up shop on California Avenue next door to Salt & Straw ice cream shop.
In addition to the brand's signature sleepwear for men and women, the temporary space will stock a range of coverups and caftans appropriate for the beach-bound sun and surf crowd. Also in the mix are some seriously festive footwear in the form of canvas espadrilles printed with bright, bold strokes of color, the result of a tripartite collaboration between the brand, New York City-based shoe label Soludos and Los Angeles-based artist and illustrator Mary Matson.
The pop-up, which opened its doors on June 28, pops back down on July 31 – after which the sleepyheads of Venice will, once again, have to travel to Santa Monica to feed their jones for all things Sleepy Jones.
Sleepy Jones Venice Pop-Up, 529 California Ave., Venice, sleepyjones.com
Related:
Saint Laurent doubles down on Costa Mesa, Raquel Allegra opens in L.A.
Balenciaga's new designer comes with a Kanye West stamp of approval
Roll over and say 'good morning' to Sleepy Jones
For more musings on all things fashion and style, follow me @ARTschorn.
---