Bella Thorne thanks the haters with her capsule collection; Rebecca Taylor stylists curate a box of fashion for you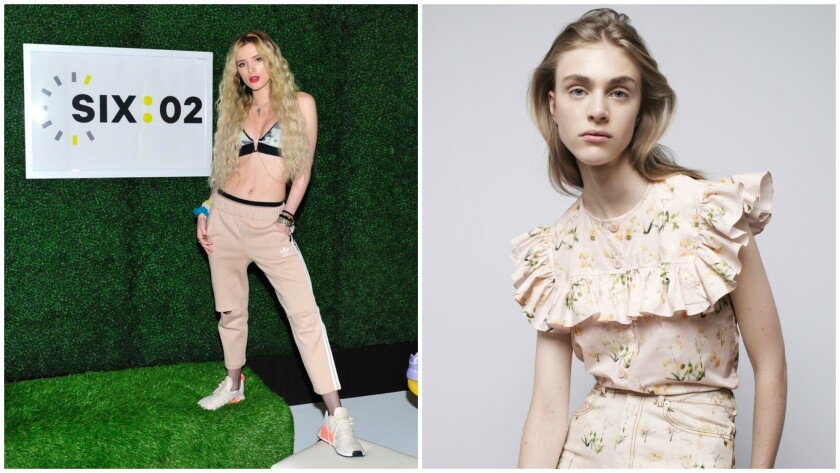 This is what's happening on the local style scene: Get personalized fashion selections from a designer personal stylist, keep your eye out for brands from Canada and France that have expanded to Los Angeles, and learn about an innovative fashion campaign featuring Bella Thorne targeting Internet trolls.
---
Bella Thorne fashionably thanks the haters
To Bella Thorne, the perfect athleisure outfit consists of joggers over fishnet stockings, a bra and body jewelry.
"You want to wear something comfy, but that's also cute and stylish," said the singer and actress, currently starring in the Freeform series "Famous In Love."
Thorne was at a studio space in Hollywood earlier this month, unveiling her new ad campaign for her Thank You Haters capsule collection for Six:02, the athleisure e-tailer that sells brands such as Adidas by Stella McCartney, Fenty Puma by Rihanna and Free People. In the video campaign, Thorne calls out people she labels "haters." She said the campaign is especially relevant given how cyberbullying is often in the news these days and a pop-culture hot topic also explored on the Netflix series "13 Reasons Why."
"It's such a big deal now because social media is the biggest it's ever been," Thorne said. "You can't not talk about [cyberbullying] because it's right there."
Six:02 released the capsule of tees and hats as part of the campaign. Selections, which cost $25 for hats and $30 for tees, are available at www.six02.com.
---
Victoire brings a slice of Europe to Malibu
If you like niche European designers such as Pomandère and Tataborello but aren't planning a hop over the pond soon, consider making a visit to Victoire, a new Malibu Country Mart boutique that has stores in European locations including Paris, Lyon, Biarritz and St.-Tropez as well as St. Barth's in the Caribbean.
The multi-label retailer is known for its tightly edited offerings that reflect a let's-go-to-the-French-Riviera sensibility, such as gingham capri pants, billowing empire-waist dresses and thigh-grazing skirts. Selections at the boutique range from $150 to $1,300.
Victoire, Malibu Country Mart, 23410 Civic Center Way, Malibu, monvictoire.fr
---
Oak + Fort offers minimalist aesthetics
Vancouver-based brand Oak + Fort opened its first Los Angeles store selling men's and women's clothes and accessories in April at Westfield Century City, which is turning into a retail hotbed after an $850-million renovation.
Min Kang, cofounder of the brand known for its ultra-clean lines and minimalist aesthetic, said her goal when she launched the company six years ago with husband Arjuna Thiagarajah was to "make clothes that were minimal and fashion forward but still affordable."
"When I was younger, I spent most of my money on clothes," Kang said. "It made my life unbalanced. This line is aimed for people who appreciate simple, high-quality pieces that will fit their budget." (The line is priced from $30 to $150.)
Strong sellers include roomy summer wide-legged jumpsuits and striped shirt dresses as well as cotton hoodies and cropped trousers.
Oak + Fort, Westfield Century City, 10250 Santa Monica Blvd. www.oakandfort.com
---
Rebecca Taylor tailors shopping just for you
New York designer Rebecca Taylor understands the challenges of shopping: limited time to browse in stores or the paralyzing confusion of going online. Her new Taylor To You initiative was launched to make things easier for shoppers. How does it work?
"Our stylists will curate a box of items specifically selected for a customer and send them overnight. She keeps what she wants and returns the rest," said Taylor, cofounder and creative director of her eponymous brand.
Like other stylist-curated fashion boxes, the choices are based on a specific set of questions about size, lifestyle, favorite colors, budget and what parts of the body a shopper wants to accentuate (or, conversely, hide). And the result: a brand stylist will interpret the findings and pick out between five and seven pieces.
"We liked the idea of someone thinking it through and preparing what could be a total surprise," said Janice Sullivan, president of Rebecca Taylor and chief executive of the brand's holding company, CLG. "Women are discovering pieces they never might have put on otherwise."
Taylor To You is available to new and existing customers. There's a $25 stylist fee that is applied to any purchase from the box. Prices in the collection range from $125 to $1,995. For more information, send an e-mail to customerservice@rebeccataylor.com.
---
Fashion Videos
Already a subscriber? Thank you for your support. If you are not, please consider subscribing today. Get full access to our signature journalism for just 99 cents for the first four weeks.
For fashion news, follow us at @latimesimage on Twitter.
ALSO
Dior gets dusty and delicate, wild and woolly in the canyons of Calabasas
William Murray Golf is full of random, unexpected delights – just like Bill Murray
Opening Ceremony, Wiz Khalifa to headline Made L.A.'s return to DTLA
---