William Murray Golf is full of random, unexpected delights – just like Bill Murray
Bill Murray wears a William Murray Golf short bearing the "Old Fashioned"design on the field after the Chicago Cubs defeated the Cleveland Indians 8-7 in Game Seven of the 2016 World Series at Progressive Field on November 2, 2016 in Cleveland, Ohio.
(Ezra Shaw / Getty Images)
William Murray Golf brand ambassador Pat Perez wears a polo shirt with the "Sandy Tiles" pattern at the 2017 RBC Heritage at Harbour Town Golf Links in Hilton Head Island, South Carolina. Pat Perez
(Jared C. Tilton / Getty Images)
Bill Murray wears a multi-pocket vest while attending a game between the Arizona Wildcats and the Xavier Musketeers during the 2017 NCAA Men's Basketball Tournament West. The actor's penchant for utility vests has inspired a Spring 2018 William Murray Golf design that includes a rear pocket suitable for stowing golf balls.
(Ezra Shaw / Getty Images)
Actor and comedy legend Bill Murray has earned an off-screen reputation for being nearly everywhere and nowhere all at once. An enthusiastic photo-bomber of engagement pictures, crasher of bachelor parties and impromptu guest bartender, he seems to operate at his own speed and by his own rules — if not in his own universe — just about everywhere but the golf course.
So I wasn't holding out much hope that the Murricane would touch down in a Playa Vista conference room last month to review spring 2018 designs for the collection that bears his name. ("Bill is notoriously unreliable and lives by his own schedule," a media representative for the label had already warned me via email. "There's a chance, but you never can be 100%.")
Launched online in September in partnership with humor and entertainment website theChive.com and the six golf-loving Murray brothers — Brian, Ed, Bill, Andy, John and Joel — William Murray Golf is a celebrity clothing line. But it's a celebrity clothing line the way Bill Murray is a celebrity: it doesn't take itself too seriously, it has heart and whimsy and performance where it counts, and it's full of random, unexpected delights.
The Murray in the mix this first Monday in April is Joel — the Los Angeles-based writer-director-actor, youngest of nine Murrays and the chief executive of Murray Bros. LLC. He's here to review proposed design ideas, which he'll then disseminate to his five brothers for comments, suggestions and tweaks.
Along the way, he and label executives, including William Murray Golf co-founder and CEO Kerry Michaels, walk me through designs, explaining the subtle (and sometimes not so subtle) references to the family, the Murray brothers' love of golf and their most famous sibling.
Now here's a look at some William Murray Golf designs and the young brand's future.
---
Plaid men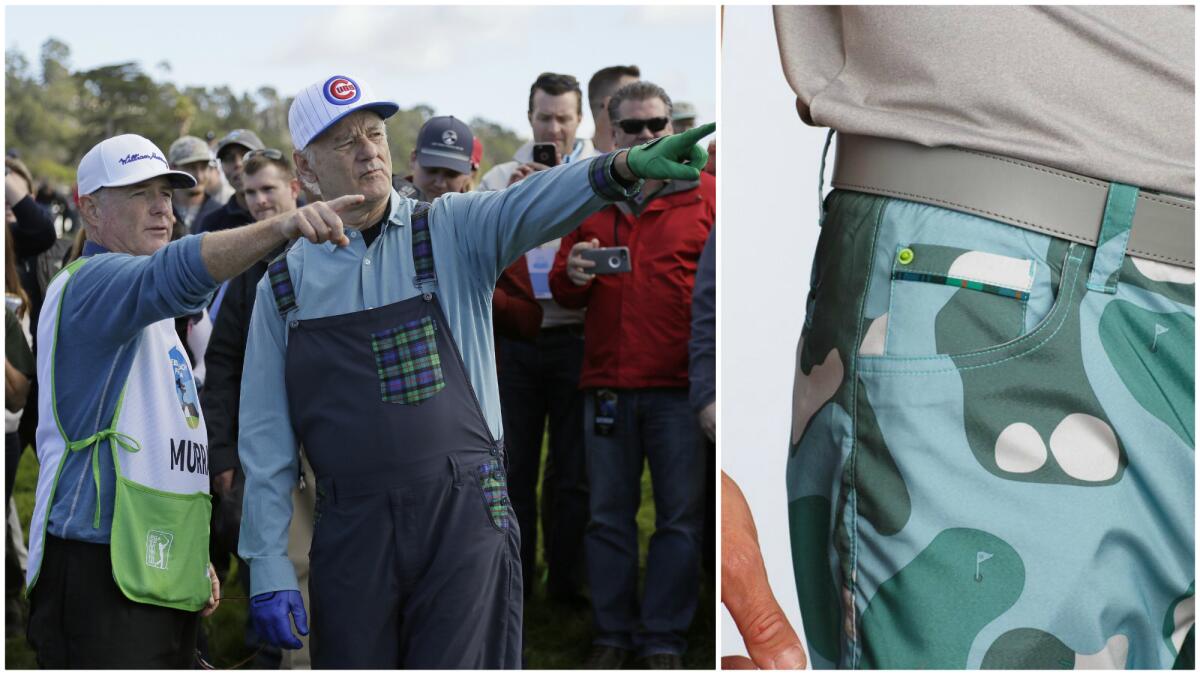 One element that ties the collection together is the green, navy blue and red Murray family tartan, a plaid pattern that appears on every garment. Some pieces, like the long-sleeve button-front shirt with four-way stretch or shorts with extra roomy pockets ("So your golf balls don't fall out when you sit in the golf cart," says Joel), are completely tarted up in the tartan. On others, the pops of plaid are barely noticeable accents — edging a single sleeve on a short-sleeve polo or the coin/ball-marker pockets of boldly patterned shorts.
---
Knocking a few over (not back)
Michaels says the polo shirt bearing the "Old Fashioned" highball glass design — it was originally inspired by the fictional "Suntory" ad campaign in Sofia Coppola's 2003 film "Lost in Translation" — was the bestseller of William Murray Golf's debut collection.
Joel points to it as a good example of how brother Bill helps the creative process.
"We all liked the design when we first saw it," Joel recounts. "But [Bill] was the one going: 'Yeah, yeah, but drinks spill, so why don't you have every eighth one spilled? Why don't you knock a couple of them over?'"
---
Rakish wrought iron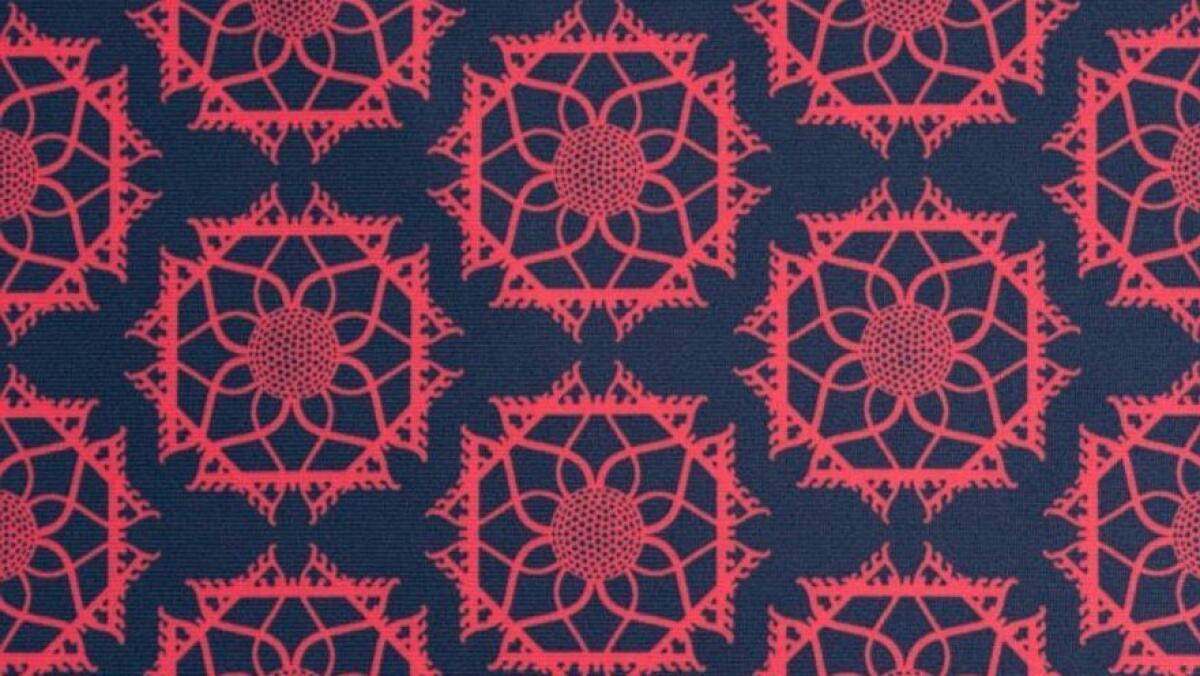 "I wear this one a lot," Joel says, as he held aloft a polo shirt with a bold, repeating pattern called "Sandy Tiles." He points to the circle in the center of a tile. "These are golf balls," he says before pointing to the edge of the tile. "And these are the ends of sand rakes.
"It sort of started out being a design that came from wrought iron," he explains. "We were talking about a certain city that was an inspiration to us. We decided we weren't going to mention the city where Billy lives. But let's just say we were looking at all this wrought iron in Charleston, and that's how it came about." (For the record, Bill is part-owner of the Charleston, S.C., RiverDogs minor league baseball team and widely reported to be a part-time resident of that city.)
---
(Exploding) mums the word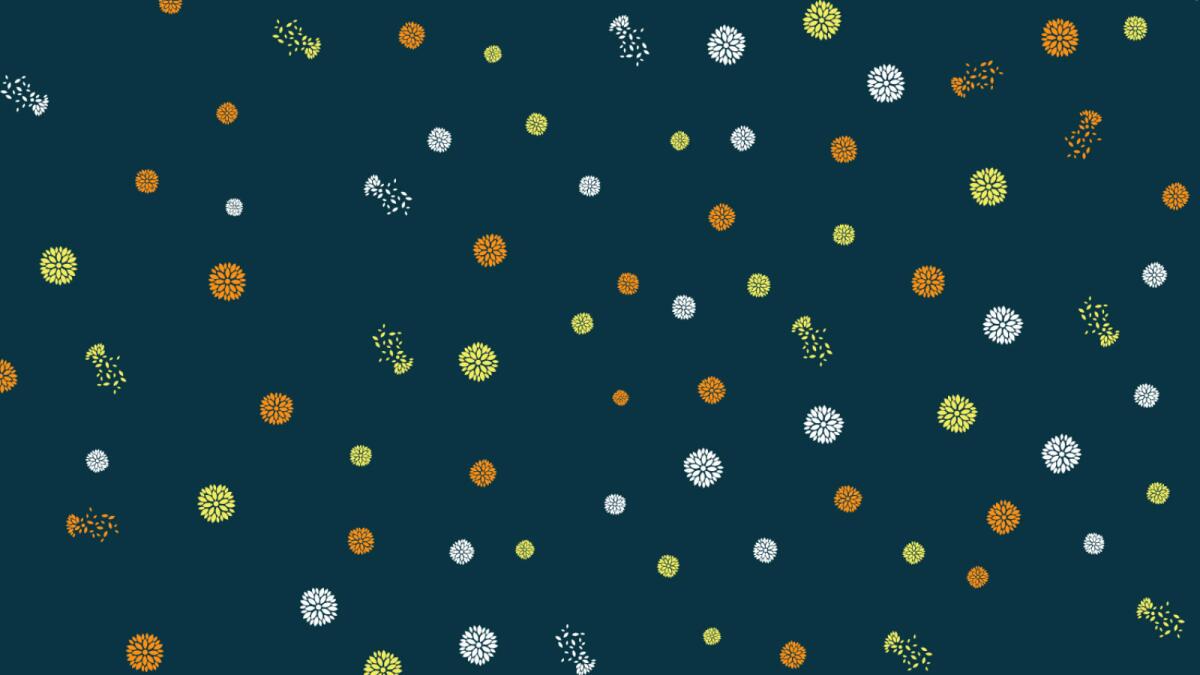 This popular pattern from the debut fall 2016 collection might look like polka dots or starbursts from afar, but a closer look reveals a floral design with the occasional exploding spray of petals. Called "Cinderella Story," it was inspired by a scene from the 1980 sports comedy "Caddyshack," in which Bill Murray's Carl Spackler tees off on a row of clubhouse mums with a serrated grass whip to great comic effect.
"We've evolved [the mum design] from our first season," Michaels explains, "and made it look a little more springy and summery — more of a Hawaiian print — but with mums so it still ties back to the movie."
The new design, "Tropical Mums," can be seen in a recently released spring 2017 polo shirt as well as a short-sleeve button-front shirt coming later in the season.
---
Getting into characters
Kind of like an all-Bill-Murray movie-character version of "Where's Waldo?," the "Playing Around" pattern, one of the new spring 2017 patterns that dropped April 25, rounds up riffs on some of Bill's most memorable characters and drops them on the golf course.
The many mini-Murrays include Spackler ("Caddyshack"), Steve Zissou (from Wes Anderson's 2004 film "The Life Aquatic With Steve Zissou," he's in the red knit cap), "Ghostbusters'" Peter Venkman (proton pack still strapped to his back) and revengeful bowling pro Ernie McCracken ("Kingpin").
And the women on the golf course?
"They're just girls," Michaels says. "It's just one of those elements you don't expect and we like to do that kind of unexpected thing."
---
Martini meets mower
"Rakes, martini glasses, whatever," Joel says of this pattern. "The idea behind it was a rake and a mower — it was one of the groundskeeper-and-his-tools inspiration stories — but people said they saw martini glasses so that adds an unexpected element of fun to it, I suppose."
---
Quirky camo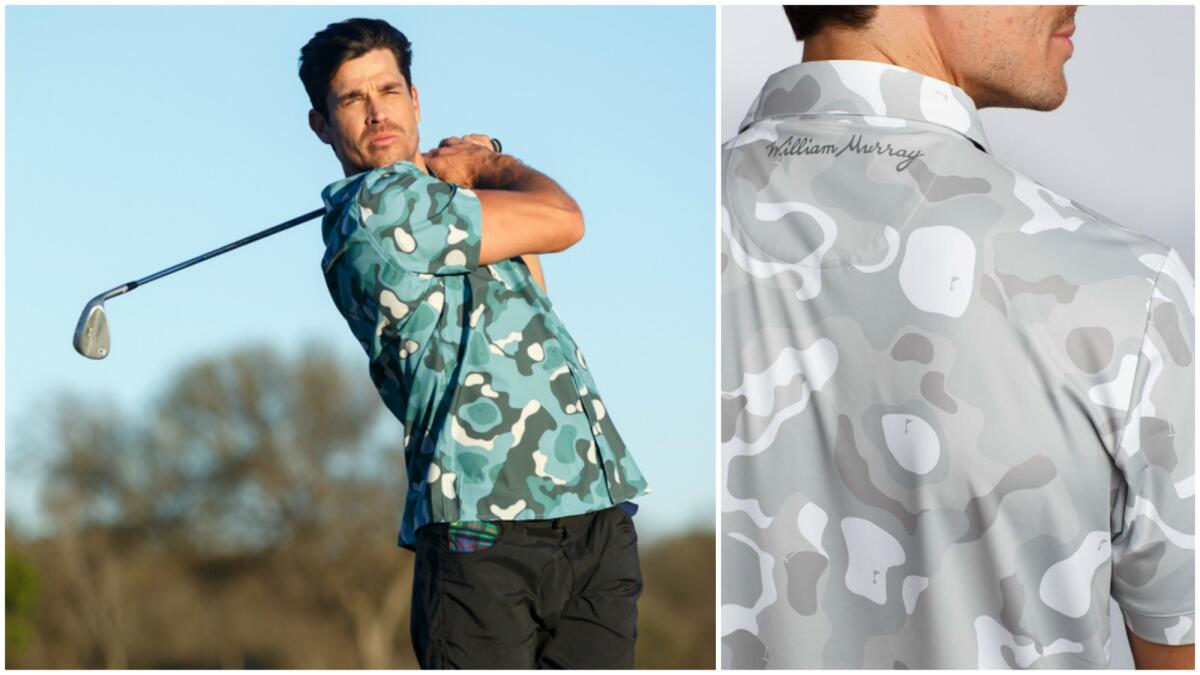 "It's your regular [camouflage pattern] except we put pin flags in it, and now it's golf-themed," Joel says of the spring 2017 design. "And if we put a couple of rakes in there, it becomes a sand trap. It's basic camo but with some fun going on."
Michaels says Bill Murray gave her some input about tweaking the design for future seasons. "He loved it," she says, "but he really wants us to try and incorporate some animal into the design. We suggested deer, but he thinks that's a little bit too expected. So what about foxes? Or alligators?"
Joel counters by suggesting "two [copulating] otters," explaining that it was a joke involving Bill's observation of the sea otters while playing at Pebble Beach in California.
---
Lake turtles, seahorses and more
In late November 2016, the brothers Murray convened at the brand's headquarters in Austin, Texas, for a design meeting ("Shockingly, even Billy got there," says Joel), and the conversation turned to memories of lakeside vacations.
"I was one of the youngest ones and I wasn't old enough to drink when a lot of them went out to the bars in Wisconsin," Joel explains. "So when the nieces and nephews woke up at the crack of dawn, it was my job — and sometimes Johnny's — to keep them quiet so everybody else could be hungover and stay in bed. We'd take them out in a rowboat to go 'turtle fishing,' and the rule was that they couldn't make any noise or they'd scare the turtles. … It was basically to see how long they could stay quiet."
That story is reflected in a proposed spring 2018 design called "Turtle Hunt" that has the brand's "faceless man" logo sitting in a rowboat alongside his golf clubs, with a turtle not far away.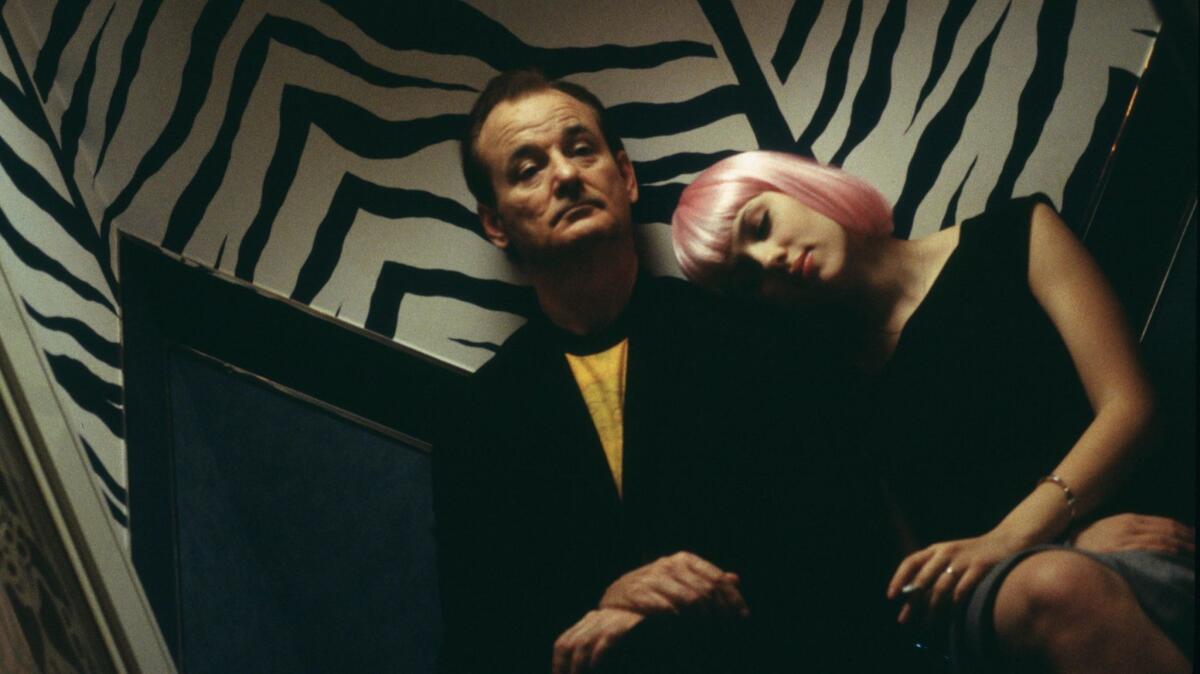 Another design under consideration is a zebra-print pattern inspired by a wallpaper in "Lost in Translation." ("Like the camo print, it's something we can put our own spin on in an authentic way," Michaels says.)
Another is an all-over print of seahorses, some of them sporting red knit caps like the ones worn by the crew of the Belafonte in "The Life Aquatic." ("Can we maybe throw a submarine in there somewhere?" asks Joel Murray.)
---
Murray-made manifest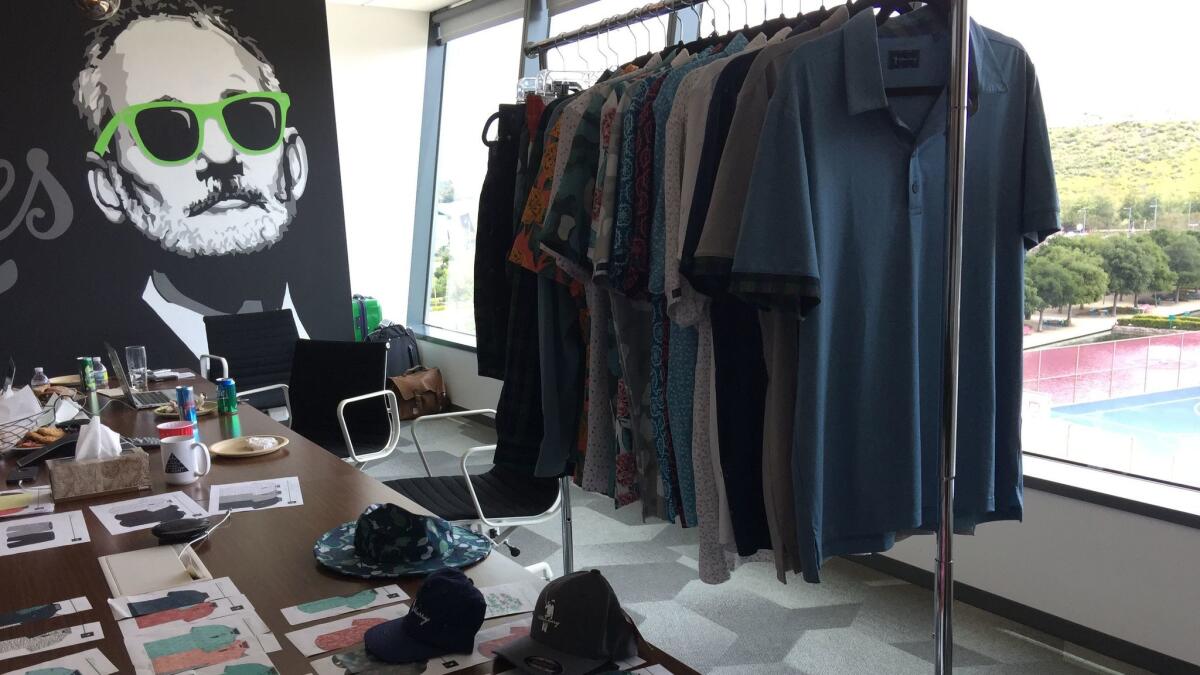 Currently the apparel offerings are available online only through williammurraygolf.com and consist of polos (retailing at $70 and $75), short- and long-sleeve button-front shirts ($80 and $90 respectively) and shorts ($70), but a performance blazer is in the works for fall 2017 and a Murray-appropriate vest is on the drawing board for spring 2018.
"One of the things we noticed when Bill was at the World Series was that he was wearing this kind of fishing vest that had all these pockets in it," Michaels says, "one for his sunglasses, one for his keys, one for his wallet. … We liked that concept and designed a vest that's a little different. It has a small front pocket, and inside there's a special spot for a cellphone or a pencil and a scorecard. And there will be a rear pocket for some golf balls."
By the time Michaels finishes talking about the vest, the realization has sunken in: Even though Bill Murray the man hadn't darkened the doorstep of the conference room in the flesh, Bill Murray the living pop-culture meme was most assuredly as palpably present in the room as anyone at the table.
For more musings on all things fashion and style, follow me at @ARTschorn.
ALSO
How to hire Bill Murray: Ted Melfi's 12-step plan for 'St. Vincent'
Opening Ceremony, Wiz Khalifa to headline Made L.A. June 9 and 10 in DTLA
Review: 'A Very Murray Christmas' belongs on an all-year-long wish list