Boston-based sneaker boutique Bodega brings its hide-and-seek retail to downtown L.A.
Bodega bowed in Los Angeles last month, but you're forgiven if you couldn't tell because, like its Boston counterpart, the sneaker boutique at the Row DTLA is tucked out of sight, effectively camouflaged by a faux bodega storefront.
Co-founder Jay Gordon said that hiding Bodega behind a bodega was an effort to put the fun and discovery back in retail.
Once you do find your way into the 8,000-square-foot space, be prepared to spend a while; Bodega is known for its hip Japanese fashion-meets-U.S. streetwear approach to retail.
"We find cool new brands from around the world and mix them in with classic U.S. names," Gordon said. Brands on hand range from the familiar (Adidas, Converse and Nike) to cult (Japanese apparel brand Minotaur and heavy-metal-inspired label Death Rites, among them) with many pieces selling out minutes after they're unpacked. Prices range from $50 to $2,000. Upcoming reveals include the Nike Air Force 1 Foamposite Pro Cupsole sneaker ($180), which is scheduled to drop at the store on Friday.
Bodega at the Row DTLA, 1320 E. 7th St., Suite 150 (enter on Alameda Street), 11 a.m. to 7 p.m. Monday through Saturday and 11 a.m. to 6 p.m. Sunday.
Tomas Maier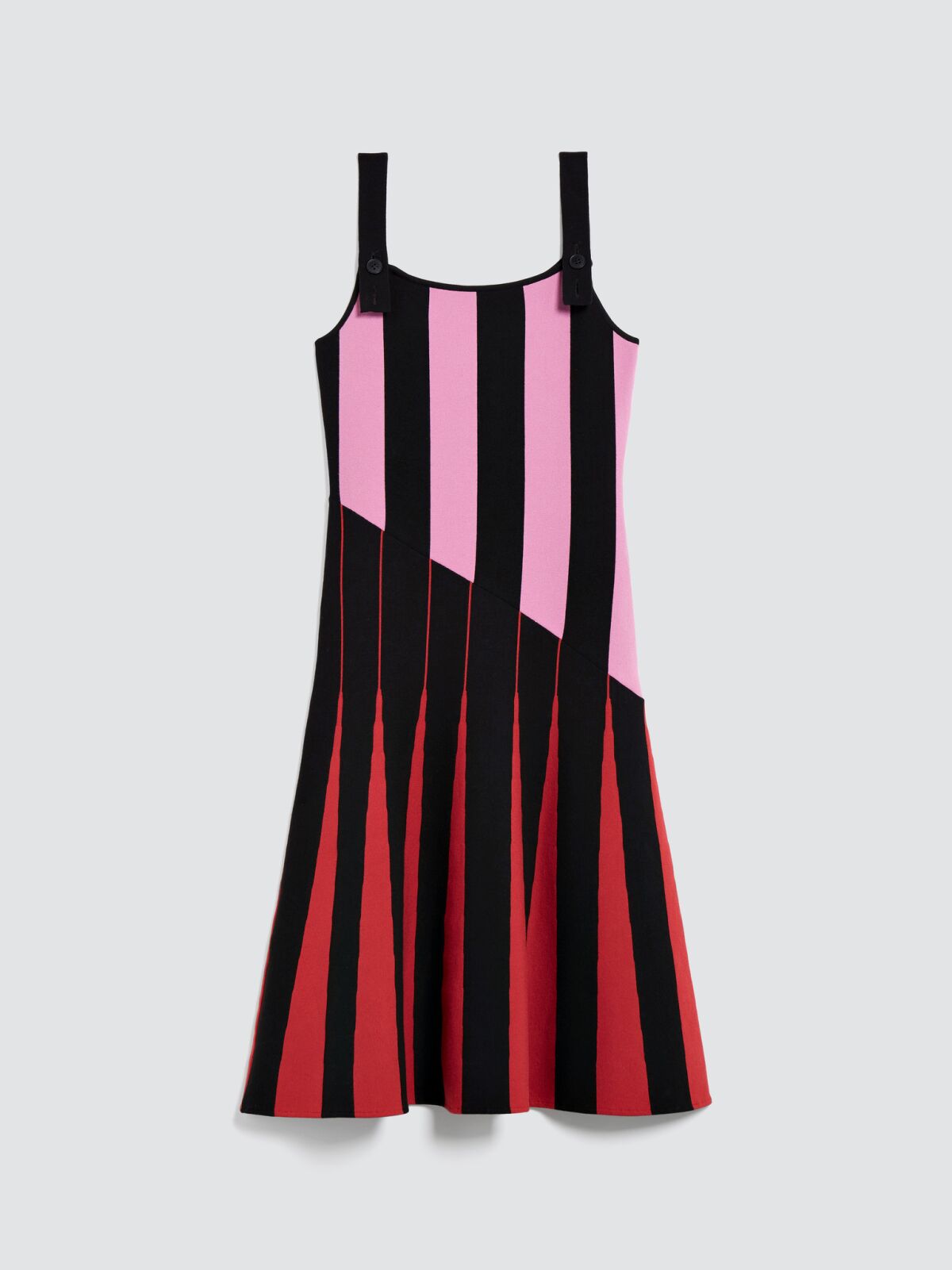 Tomas Maier brings his elevated, edgy offerings — think clogs tricked out in Mongolian lambskin — to a pop-up shop on Melrose Avenue. Housed in a 3,300-square-foot space previously occupied by an Alexander McQueen boutique, pieces from the spring and cruise 2018 collections on offer encompass ready-to-wear and accessories for men and women, which Maier selected specifically for the Los Angeles customer.
The designer (who also serves as creative director of Bottega Veneta) said the pop-up felt like a "natural location for us. The weather, the casual lifestyle and relaxed ambiance are all part of the universe I embrace with my collection."
Among the standouts: poplin shirts with adjustable sleeves, enamel jewelry and palm-print bags. As an indication of prices, his linen dresses sell for $850 while men's motorcycle pants retail for $450.
Tomas Maier, 8379 Melrose Ave., Los Angeles, through June 30.
Svala
Svala founder Helga Douglas didn't want to just do a vegan leather handbag collection. She wanted to source cool and unconventional materials (think pineapple and cork). The handbag collection, which launched late last year, is now available at a pop-up at Westfield Century City.
For her L.A.-based brand's totes, clutches, pouches and fold-overs, Douglas uses faux leather from Italy that looks like exotic skins, natural lightweight cork from Portugal and a material made from pineapple leaf fibers culled from the Philippines which is then finished in Spain. The lining of her bags is made from recycled plastic bottles.
The Svala accessories, which retail from $175 to $380, are part of a lineup at the Purist, a pop-up featuring brands such as fashion label Ramy Brook and Sea Star Beachwear.
The Purist Pop-Up, Westfield Century City, 10250 Santa Monica Blvd., through April 22.
Supermood
A new addition to local beauty shelves is Supermood, a holistic Finnish skin-care line that is now being stocked at the Gypsy05 boutiques in Malibu and West Hollywood. Adrienne Kramer, who represents the brand in the U.S., said she was drawn to its clean ingredients and quirky appeal. Products are designed for specific purposes instead of skin types. Egoboost, for example, contains chaga mushrooms and is touted as a way to add a little radiance to the face (by way of tightening up the skin); Beauty Sleep gives the overnight skin-cell repair process a boost (thanks to collagen, Hyaluron and Vitamin C); and Youth Glo uses natural fruit acids to help peel away old skin cells.
Supermood ($35 to $99), available at Gypsy05, 8811 Alden Drive, Los Angeles, and 3835 Cross Creek Road, Suite 21, Malibu, and online at bluemercury.com.
For fashion news, follow us at @latimesimage on Twitter.