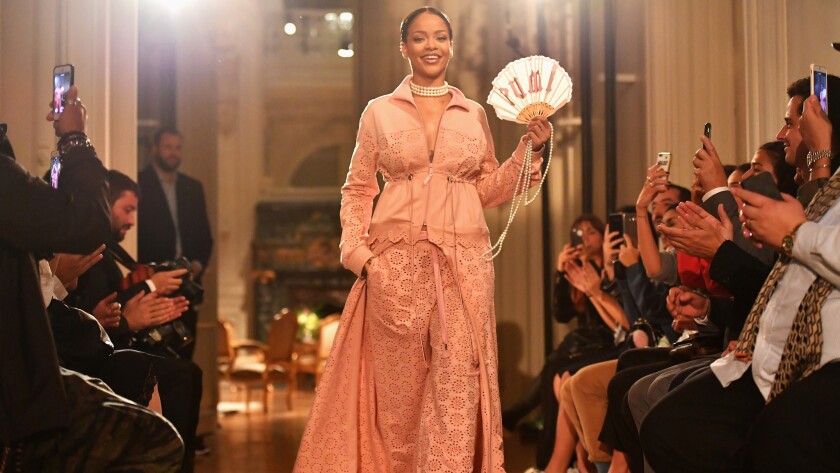 Reporting from Paris —
Rihanna closed out the second day of Paris Fashion Week here on Wednesday night with a pair of back-to-back, live-streamed-to-Tidal shows that marked her Fenty Puma by Rihanna collection's official debut in the City of Lights.
The Spring/Summer 2017 men's and women's collection, shown at the Hotel Solomon de Rothschild, was rooted in a lingerie-meets-athleisure vibe silhouette-wise and a Marie Antoinette-meets-military aesthetic color- and detail-wise. That may sound like a train wreck of influences, but the result was a flirty, feminine streetwear collection that had legs – and maybe even a pair of brass knuckles tucked in the waistband.
Grounded in a palette of beige and pale shades of pink, purple and green, the offerings included baggy drawstring track pants, hooded sweatshirts, pleated miniskirts, shimmery jumpsuits festooned with florals and baseball-style caps with veils that dangled the leaping Puma logo inches in front of the wearer's eyeballs.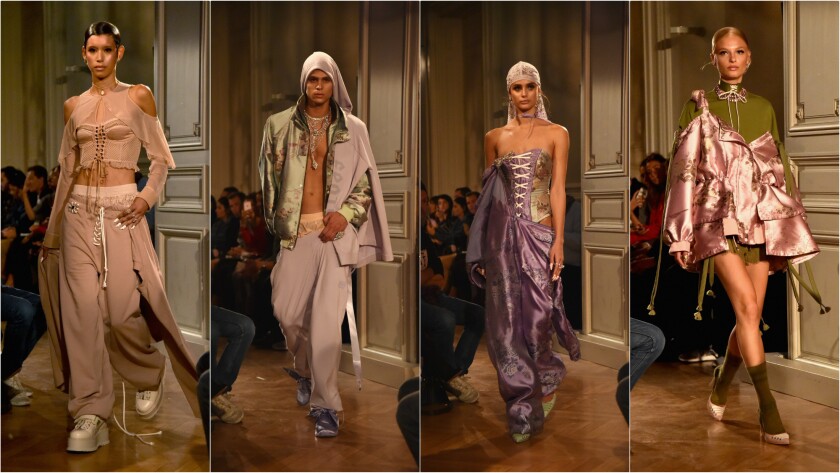 There was a whole lace and laces thing going on too; the former in doo-rags worn by the models, drawstring shorts and layered into tiered skirts, the latter crisscrossing the backs of corsets, the fronts of bustiers and the side seams of track pants. Military influences could be seen in a handful of olive drab pieces, particularly a skirt made from the kind of billowy rip-stop nylon used to make parachutes.
The catwalk collection was styled with strings and strings of pearls which added to the Marie Antoinette feel of the whole affair, wrapped around arms and wrists, slung low across the chest and multiple choker necklaces stacked so deep they resembled 18th-century collars.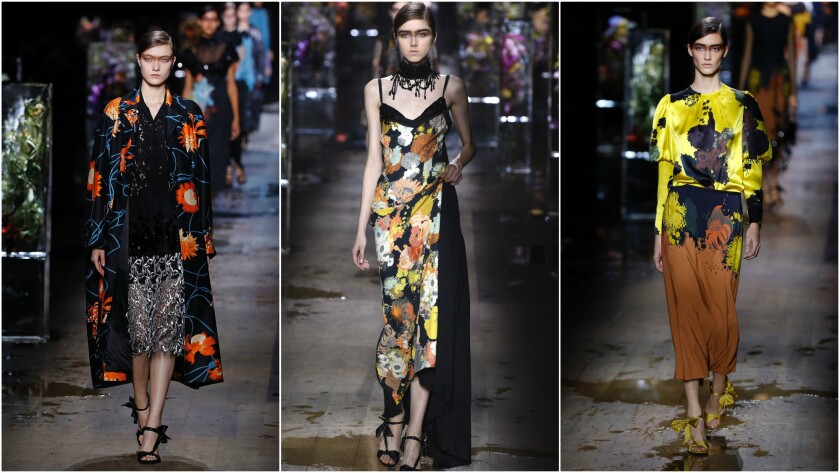 Dries Van Noten
Ri Ri and Team Puma weren't the only ones at Paris Fashion Week decorating the real estate betwixt the jaw line and collarbone; Belgian designer Dries Van Noten's floral-filled collection of earthly delights had a range of pieces in his Spring/Summer 2017 collection – from sturdy T-shirts to diaphanous dresses – that included exquisite intricate embroidery and bead work that climbed up the collar (we're not 100% sure, but in some cases the embellishments seemed to be part of the garments themselves and in other cases they appeared to be separate pieces.)
Presented against a backdrop of flowers frozen into four-foot-tall blocks of ice, Van Noten's Spring/Summer offering was a wearable bouquet heavy on the black and yellow color combinations, bursting forth from vibrant lemon yellow varsity jackets, roomy black and yellow silk shorts and yellow dresses filled with black flower blossoms so inky and free-form they could just as easily be plucked from a Rorschach test as a flower garden.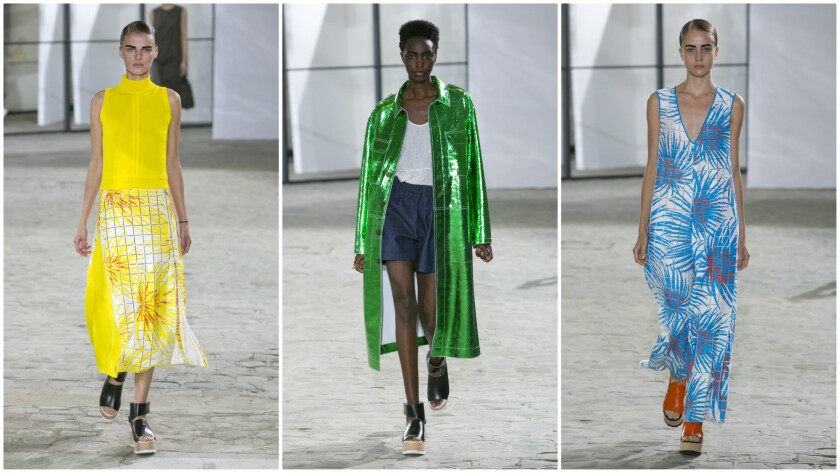 Gauchère Paris
One of the benefits — and true joys — of physically going to Paris Fashion Week (or any fashion week for that matter) is the possibility of stumbling across a new brand. And that's exactly what happened Wednesday when I popped into the Gauchère Paris presentation and discovered a perfectly L.A.-appropriate collection.
The brand was founded by German-born designer Marie-Christine Statz, whose fashion-industry CV includes stints as an assistant designer at both Narciso Rodriguez (in 2008) and Diane von Furstenberg (2009) before moving to Paris where she launched the label four years ago.
We're not sure if it's the bright, sunny colors and palm prints of the Spring/Summer 2017 collection that won us over, or the designer's easy, breezy approach — or both. All we know is that we liked it — a lot — and think it's a label worth keeping on your radar.
According to the label's website, Golden State stockists include Opening Ceremony in West Hollywood and Susan in San Francisco, and we heartily recommend giving the collection a once-over next time you find yourself in or near one of those establishments.
A clip of the runway finale of the Fenty Puma by Rihanna Spring / Summer 2017 collection presented Sept. 28 during Paris Fashion Week. Although it's only a partial clip, what it lacks in length it makes up for in showing some of the details of the n
For more musings on all things fashion and style, follow me @ARTschorn.
ALSO
Paris Fashion Week Day One: Jacquemus and Saint Laurent
Rihanna Recap of the 2016 VMAs: A lot of labels on display — but not hers
Stance sock muse Rihanna unveils first campaign as contributing creative director
---