Yes, guy rompers are a real thing. Here are 12 styles to consider
It's the season of the guy romper, and it's anyone's guess whether this men's fashion moment will blow up or quickly blow over like an L.A. summer storm. The latest fuss about these all-in-one garments started earlier this month when a small team of entrepreneurs launched the RompHim, a male equivalent of the familiar women's romper, on the crowdfunding website Kickstarter.
The RompHim set the Internet ablaze, causing people to debate and joke on social media, at work and elsewhere about the merits (and design faults) of rompers in general. And what started out as a desire for $10,000 in funding for the cheeky RompHim one-piece — it comes in polka-dot patterns and pastel hues — has now brought in more than $350,000 in seed money, with more expected.
"We were looking for something different that didn't already exist for guys," Elaine Chen, one of RompHim's founders, told GQ magazine this month. "We think this is a way for guys to have a new option in their wardrobe."
Sorry, RompHim. The one-piece for men is hardly new. It's a garment with plenty of history, including its 1964 onscreen appearance in "Goldfinger," worn by the always stylish James Bond, as well as a splashy return a few seasons ago thanks to the Mr Turk label.
Mark-Evan Blackman, an assistant professor of menswear design at the Fashion Institute of Technology in New York, sees clear antecedents of the summer '17 romper for men, mentioning the flight suits used in the Air Force starting in 1947 and coveralls worn by blue-collar workers, including painters, railroad employees and other working-class men, earlier in the 20th century.
I think it's outrageous. Who wants to see a grown man dressed like a toddler?

— Mark-Evan Blackman, assistant professor of menswear design at the Fashion Institute of Technology
When asked about the RompHim, however, Blackman had an immediate, visceral response: "I think it's outrageous. Who wants to see a grown man dressed like a toddler?"
Based on the recent buzz, there appears to be a growing audience as well as fashion interest for the all-in-one look. On the runway, jumpsuits were shown in spring/summer 2017 collections from luxury labels such as Louis Vuitton and Valentino. And some designers have been proposing "sets" — shorts and shirts in matching patterns, which offer the appearance of the RompHim but the ease of wearing separates.
Although Blackman doubts that rompers for men will take off as a full-fledged trend, certain cultural touchstones make clear why it was so hungrily embraced this spring by the media as well as shoppers. These include the current predilection for wearing garments in an ironic way as well as an acceptance of unisex clothing, especially among millennials.
So if you want to strut your stuff in a romper or jumpsuit, here are a few of our top choices. Several fashion brands have you covered (but appear to be quickly selling out of these onesie options) should you feel the romper itch this season.
---
Asos slim short jumpsuit
Asos offers a onesie that gives you a bang for your buck, including fashiony flourishes like a band collar and waist tie, but in a relaxed, dark silhouette that's welcoming for most adventurous guys. $64, us.asos.com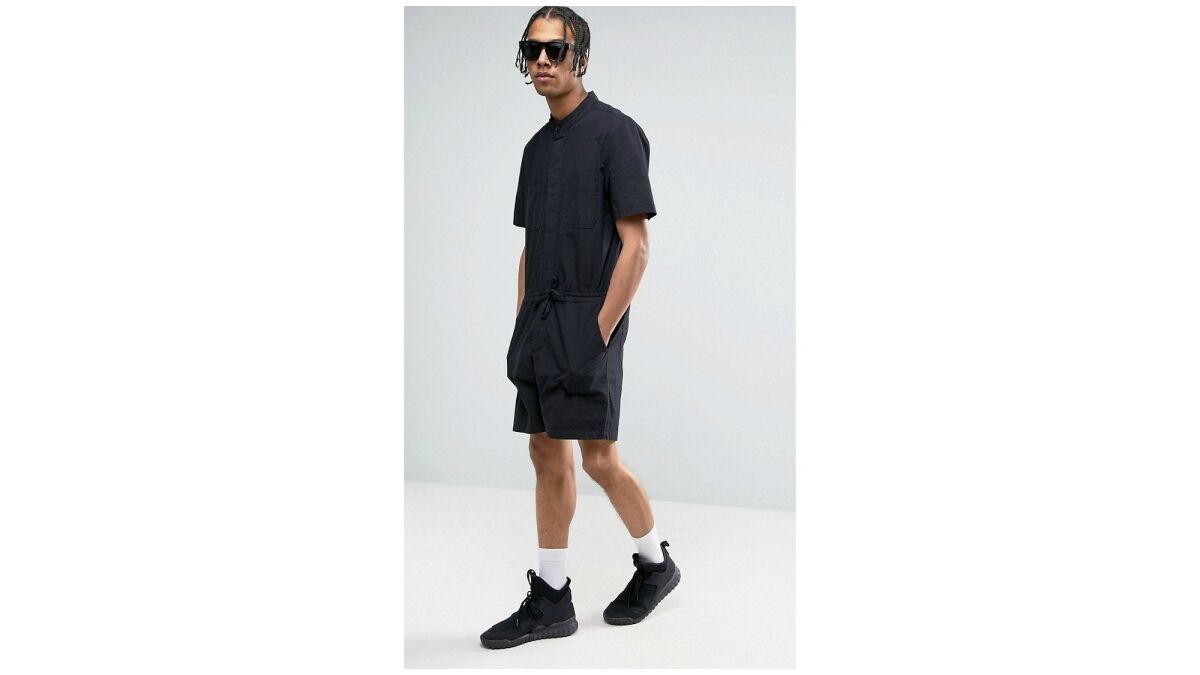 ---
Reebok ReeRomp
In response to the RompHim, Reebok is planning to release its own version of the garment. It's called the ReeRomp, a sporty take in white. $89, www.reebok.com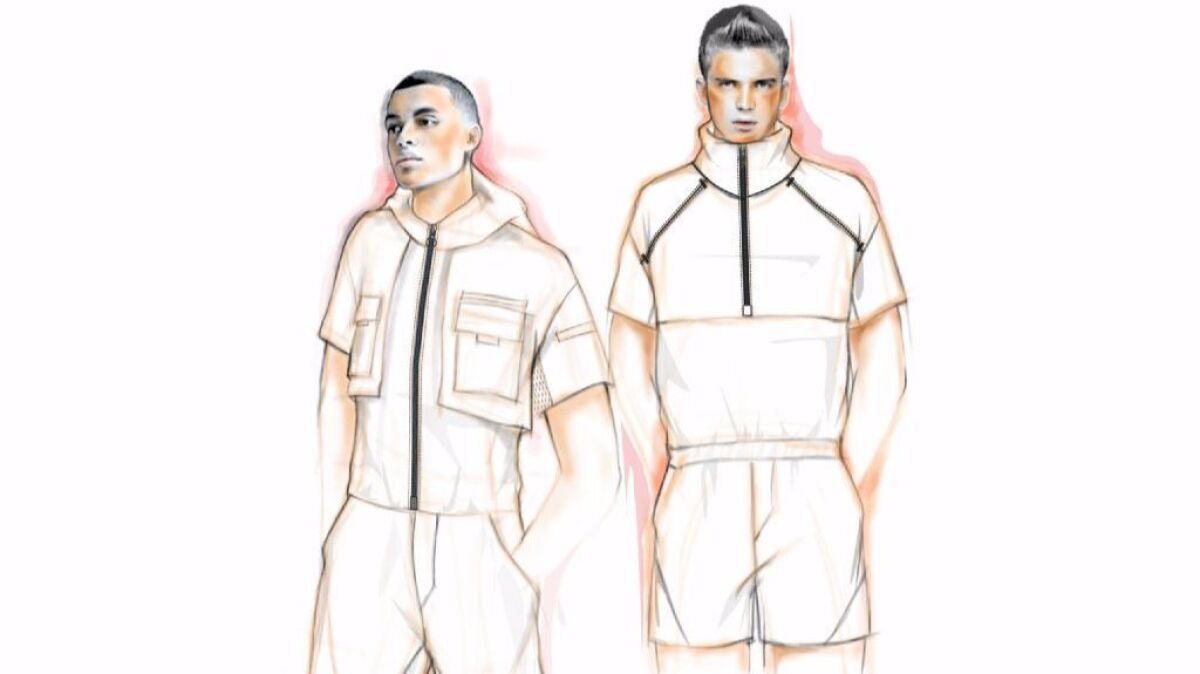 ---
Rick Owens cropped sleeveless jumpsuit
Few would accuse those who wear L.A.-to-Paris designer Rick Owens of being timid with their fashion choices, and this voluminous, apron-like jumpsuit makes that case. For guys who aren't afraid to turn some heads — and spend some money to do so — here's your best bet. $1,178, www.farfetch.com
---
Mr Turk Keller short jumpsuit
With its chest-patch pockets, beige hue and light herringbone pattern, this short jumpsuit has some serious '70s vibes but with a fun, modern feel. This one might be perfect for wearing to a pool party in Palm Springs. $348, www.mrturk.com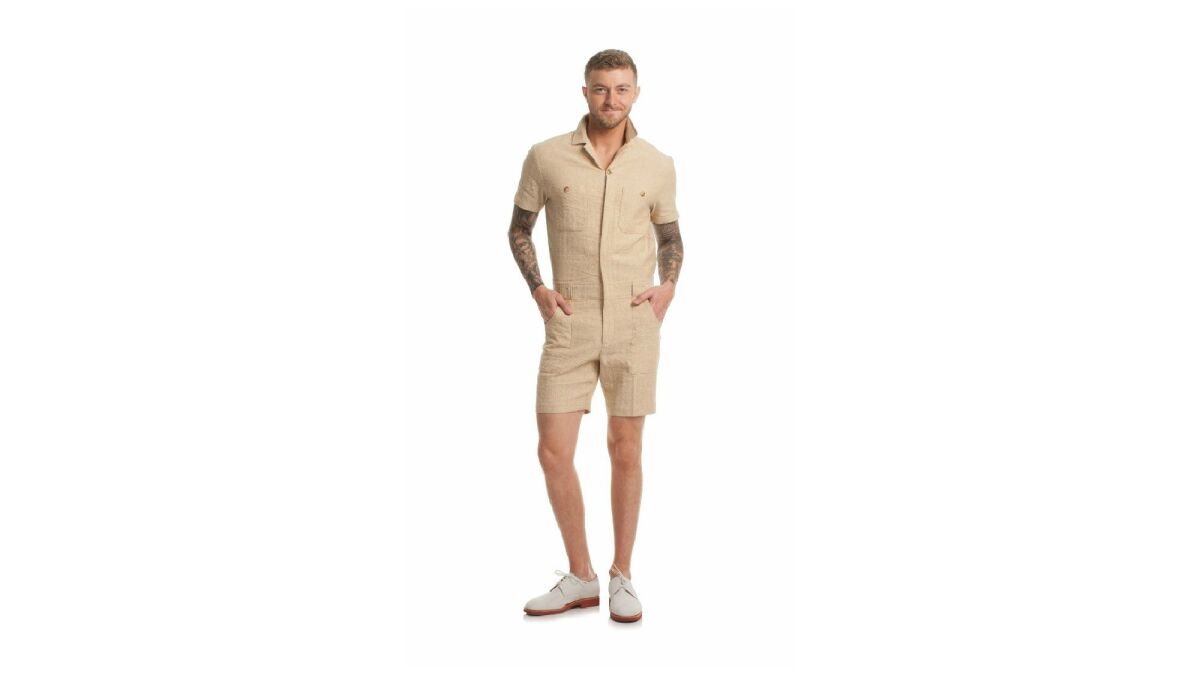 ---
Song for the Mute gabardine jumpsuit
For guys who aren't willing to really commit to the short jumpsuit/romper, here's one that splits the difference with a longer, below-the-knee hem. Short sleeves, collar and waist tie make it look easy yet not too eccentric. $819.06, songforthemute.com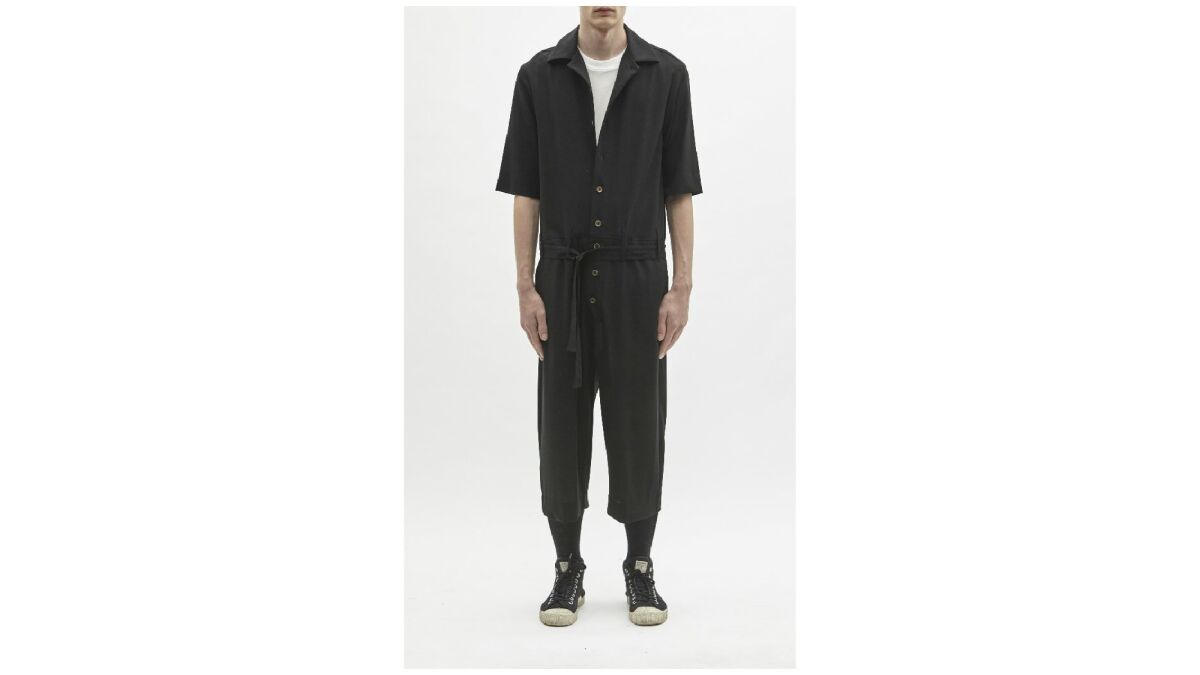 ---
Topman black denim short overalls
Although not technically a romper, coverall shorts are the romper's sartorial antecedent, and one that's much more palatable for guys who are more risk-averse. Plus, this one is pretty much ready-made for the music festival season. $89, us.topman.com
---
KTZ fringe detail jumpsuit
If you like your jumpsuits with a bit of an Air-Force-meets-apocalypse vibe, you're in luck. This one from the outré British label KTZ has plenty of pulls and pockets. And by wearing this jumpsuit, you might end up feeling ready for the end of the world (in style, of course). $1,100, www.farfetch.com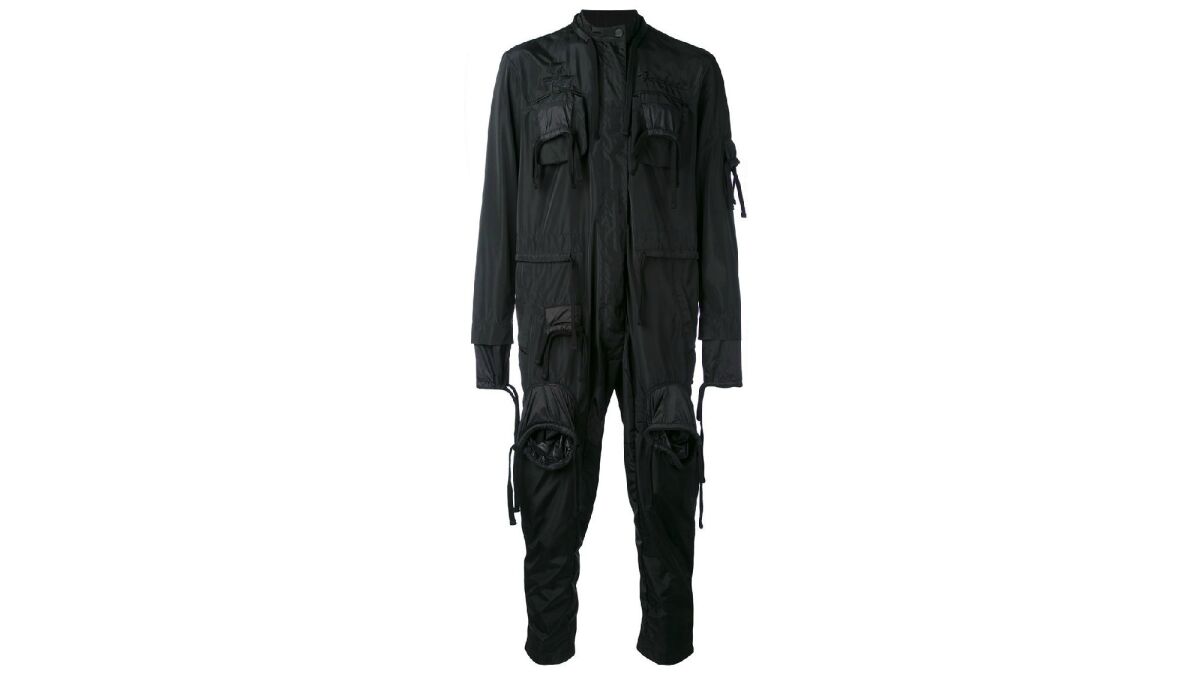 ---
NSF jumpsuit
This decidedly guy-friendly one-piece, in light gray, is tricked out with all the utilitarian details you'd want: side, chest and back pockets; a classic collar; and a button front that will make this an attractive summer option if you feel daring enough. $410, www.yoox.com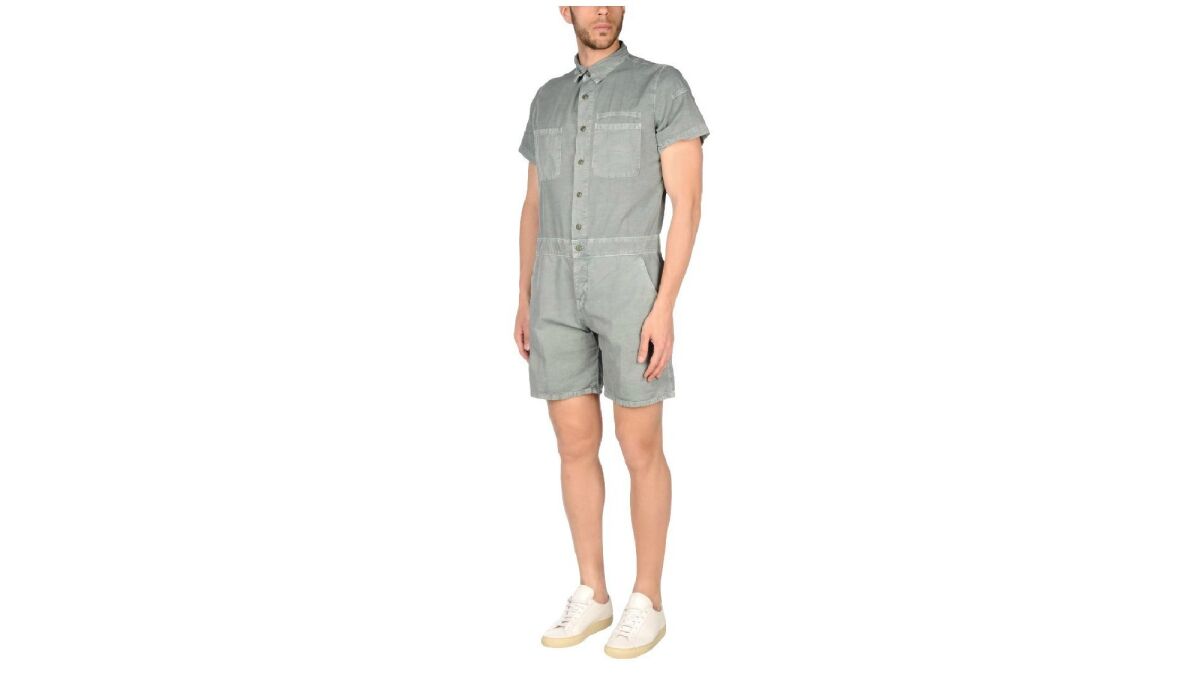 ---
Grei twill boiler suit
Inspired by 1940s coveralls, this update to the classic flight jumpsuit is made from breathable cotton but made in a dark, versatile color. It has adjustable waist tabs to help make sure it fits just the way you want, whether that be slightly oversize or nice and trim. This one is perfect for a day at the beach. $475, www.greinewyork.com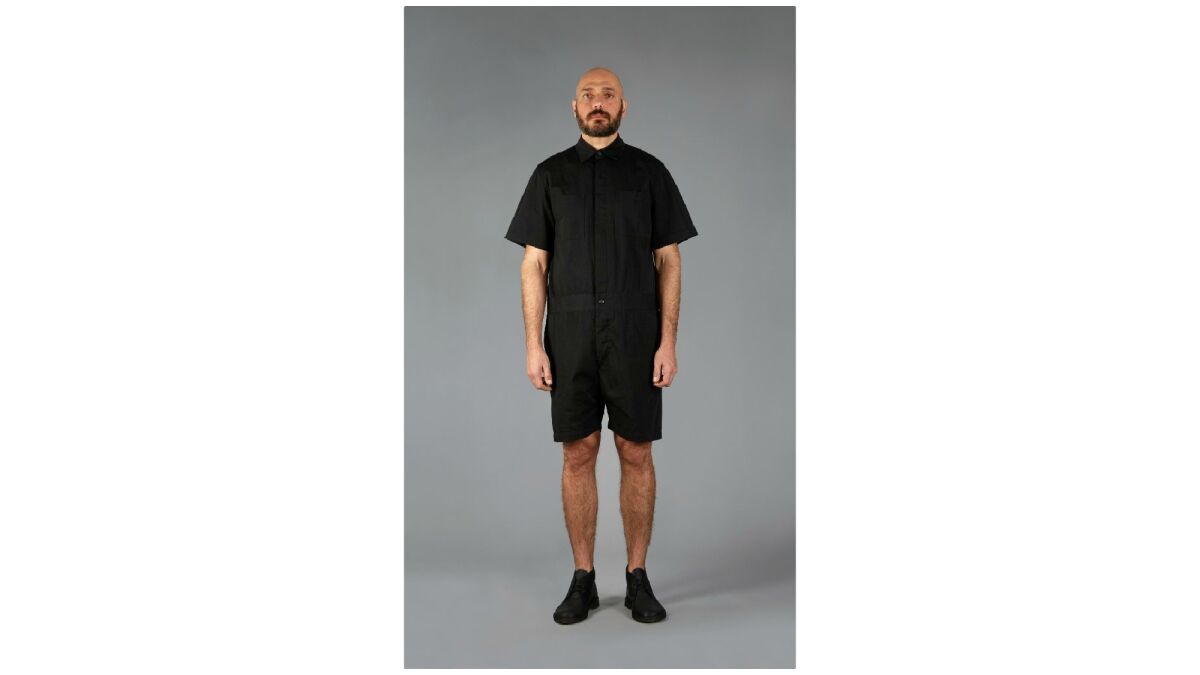 ---
Thom Browne daisy floral intarsia singlet
Thom Browne takes the male romper and gives it a high-school-gym makeover with this quirky version that would look great during a wrestling match — or maybe at a rooftop barbecue (if you're bold enough). $3,200, www.fwrd.com
---
Sheehan & Co. summer jumpsuit
With a tie-front waist, button front and long sleeves, this romper has a relaxed, lived-in design that makes it ideal for beach trips or weekends errands. The dark olive green is a solid reference to the garment's utilitarian history too. $285, sheehanandcompany.com
---
Zara denim jumpsuit
Fast-fashion retailer Zara's sleeveless version is made from shredded denim, giving off rebellious, summertime vibes fit for L.A. moments. $99.90, www.zara.com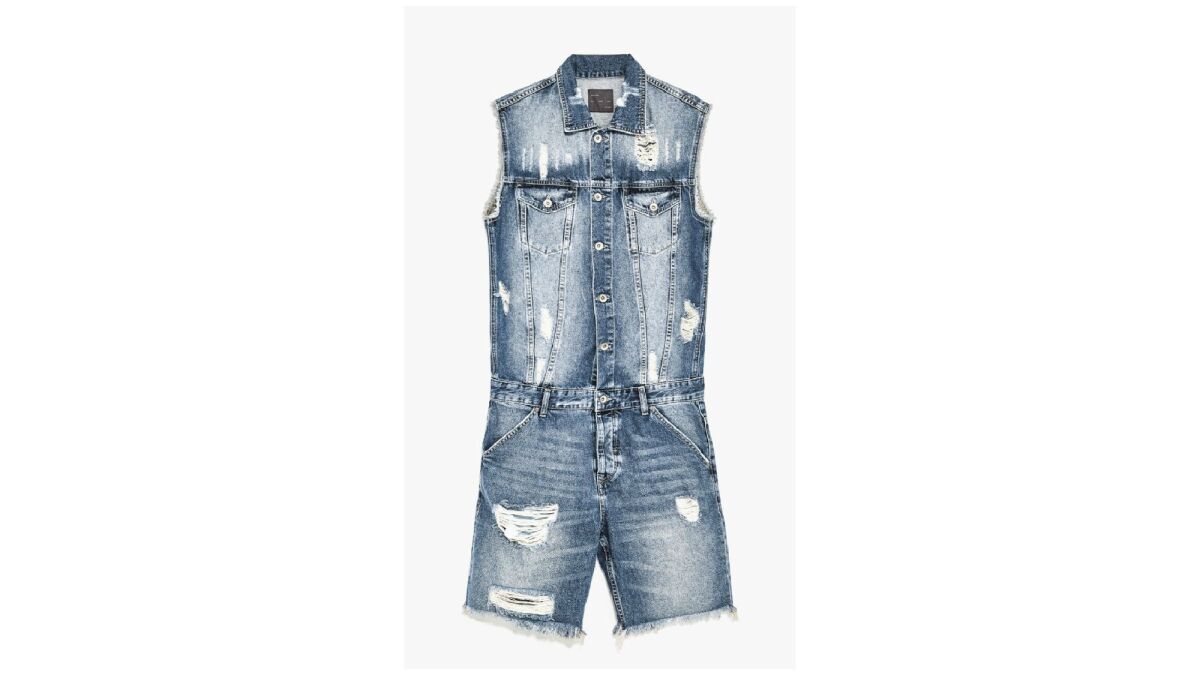 ---
Fashion Videos
For fashion news, follow us at @latimesimage on Twitter.
ALSO:
Dior's Maria Grazia Chiuri on L.A. inspiration, the importance of getting back to nature and why 'we should all be feminists'
Melania and Ivanka Trump's newsmaking style in Saudi Arabia