Here's why we're madly in love with luxe basketball sneakers
Three years ago, the word "athleisure" was added to Merriam-Webster's dictionary, defined as "casual clothing designed to be worn both for exercising and for general use." Its inclusion crystallized a growing sartorial shift: the remarkable ascent of casual, fitness-oriented apparel, which, in recent years, has displaced more formal garments like suits, ties and dress shoes as the central items of the modern wardrobe.
Not that any casual fan of fashion or, for that matter, basketball needed the new nomenclature to tell that to him or her.
Few items — not the hoodie, the track pant or the yoga leggings — encapsulate the overlap of sport and style better than the sneaker, particularly the performance-minded, aerodynamic and often high-top silhouettes typically found on NBA and college basketball courts. Once relegated to weekends or workouts, these casual shoes appear to be welcome in boardrooms and on the catwalks of luxury fashion brands. Gucci, Dior, Louis Vuitton, Prada and Valentino now regularly include sneakers in their ready-to-wear collections to woo streetwear-loving consumers, while younger brands such as Los Angeles-based labels Fear of God and John Elliott have made them a core tenet of their aesthetic philosophies. (Fear of God's highly anticipated Nike collaboration was released in January and is already sold out on Nike.com; the futuristic-looking sneakers have been worn by Laker LeBron James and others.)
I was just handed an article that said, 'The death of the sneaker may be greatly exaggerated but it's definitely on its way out.' It's from 1991.
— Elizabeth Semmelhack
Consider it official: the basketball sneaker is the new brogue — a perfect example of how millennials are reshaping the notions around luxury in the fashion market. Hence, sneakers have gone from the hardwood to high fashion and become symbolic of the way dress codes have dramatically relaxed in recent years thanks in part to Silicon Valley's global influence and the rise of major sports stars.
Today's top athletes, most of them millennials, are viewed as style icons by fans and marketers, on par with A-list celebrities and musicians by lifestyle brands. That fashionable sneakers mimicking basketball styles have gained in popularity among brands and everyday shoppers is a natural extension of this fashion moment.
Ben Osborne, editor in chief of sports news website the Bleacher Report and author of "Slam Kicks: Basketball Sneakers That Changed the Game," said it's quite logical that basketball players are making a mark on fashion because they are usually young, wealthy and influential and have exposure to famous stylists and designers.
Thanks to social media, elite athletes also have huge audiences looking to them as tastemakers. Basketball players have embraced fashion as a means of personal expression, and NBA rule changes over the years have allowed them to turn up the fashion dial. As a result, they helped spawn Instagram accounts such as Sole Collector (2 million followers), which covers basketball sneakers in-depth, and League Fits (151,000 followers), which features daily outfit choices made by athletes.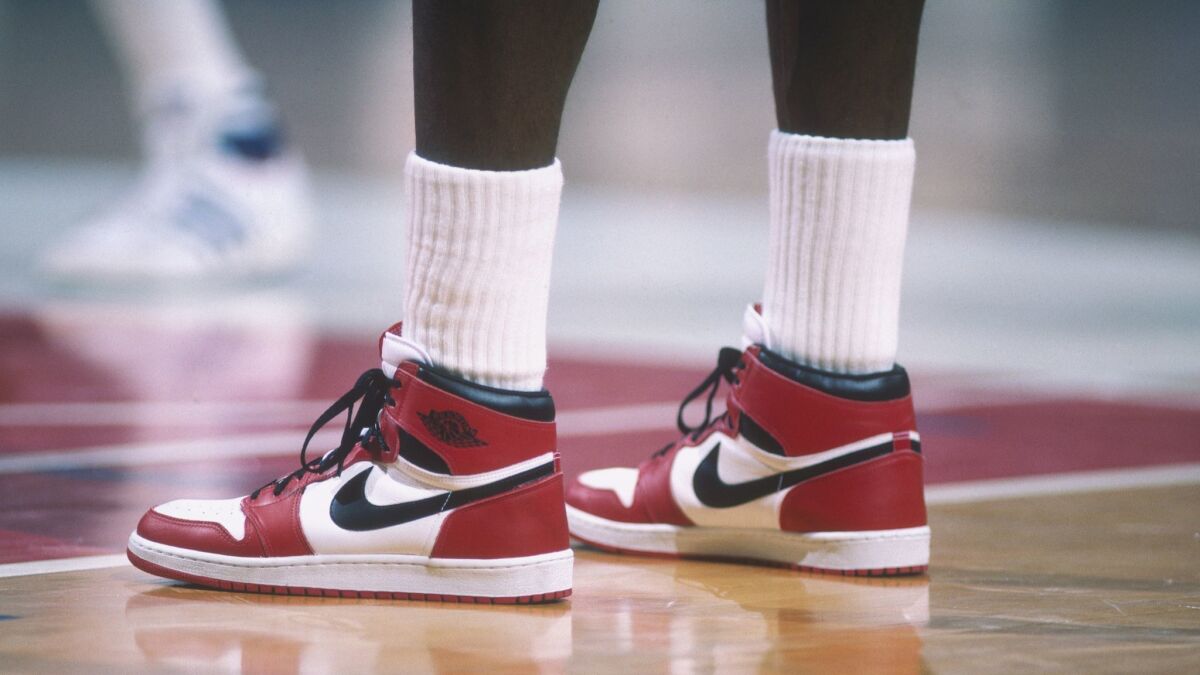 FULL COVERAGE: From Nike to Gucci, a brief history of basketball-inspired sneakers »
"There's a consumer out there who's never going to watch a runway show or read a fashion magazine," Osborne said. "But they might be influenced by an athlete. ... I'm really stating the obvious, and am happy to do so on the record. [Michael] Jordan changed everything — 1,000,000%; everything trickles to the Air Jordan."
On the heels of the Jordan Brands' successful relations with Nike are global luxury brands that realize the relevance of sneakers and the casual fashion desires of younger shoppers today. Early adopters to blend luxe and sports included Adidas, which teamed with Japanese designer Yohji Yamamoto in 2003 for its pioneering collaborative line, Y-3; designer Rick Owens released the popular sporty-goth leather lace-up, the Geobasket, in 2008; and the haute high-tops designer Riccardo Tisci pushed during his tenure at Givenchy added lavish finishings to a streetwear look. And new kicks from Gucci, Off-White, Louis Vuitton, Tom Ford and others marry luxury aesthetics and materials with influences found particularly on basketball courts and sidelines.
"In the '90s, basketball players became kind of like rock stars," Tisci said last year in an interview with Nike at the time he released his collaborative shoe. "But now, they are more than rock stars. They're superhuman — representative of historic mythology."
Elizabeth Semmelhack, senior curator at Toronto's Bata Shoe Museum and author of books including "Out of the Box: The Rise of Sneaker Culture" and "Shoes: The Meaning of Style," said that there may be an evolution in what consumers want from a sneaker, but sneakers likely will remain central to current wardrobe trends.
"From the 1970s on, each decade the sneaker takes on new and more nuanced meanings of masculinity," she said, adding in today's world you're more likely to find that a sartorial paradigm has flipped as white-collar types stick to sneakers and T-shirts from designer labels and blue-collar workers attempt to appear more upscale by wearing traditional suits.
An example of this sportswear-meets-high fashion marriage is designer Kim Jones' first runway show at Dior Men last fall. A key shoe style was a $1,000 logo-printed, high-top, lace-up shoe reminiscent of the Converse Chuck Taylor All Star, the iconic sneaker first introduced as a basketball shoe in 1917.
No matter how fashion shifts in the season or two ahead (for instance, boot-cut jeans are popping up again after years of skinny-jean dominance), fashionable sports-inspired sneakers likely are here to stay thanks to basketball stars (and their high-fashion tastes) and their fans.
"If sneakers can do the work that a high heel or a high-end business brogue has done in the past but do it more efficiently and give the wearer greater comfort, that's a hard horse to put back in the barn," Semmelhack said, adding with a laugh, "I was just handed an article that said, 'The death of the sneaker may be greatly exaggerated but it's definitely on its way out.' It's from 1991."
For fashion news, follow us at @latimesimage on Twitter.