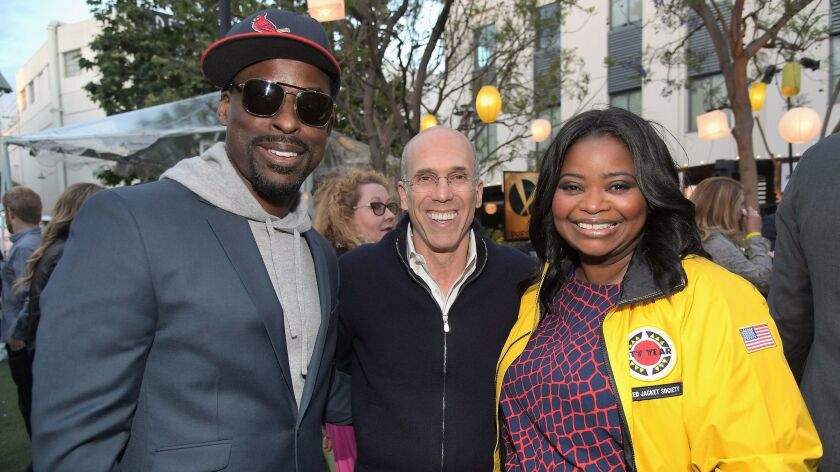 So popular is the "Spring Break: Destination Education" event that teens, tweens and their families began flooding into Sony Studios in Culver City as soon as the gates opened for the May 6 carnival-style party.
An annual fundraiser for City Year Los Angeles, the spirited "Spring Break" gathering raised $1.8 million to help keep high-needs students in school and on track to graduate.
---
The scene
"I feel the vibe," said Sterling K. Brown of NBC's "This Is Us" the minute he passed through the double line of City Year's AmeriCorps members, shouting cheers to all those entering the grounds.
Inside, cool breezes filled the night air, but no one appeared to mind the weather amid the food, games and interactive booths surrounding them. High energy marked the event, which ended with a performance by OneRepublic.
---
The crowd
Celebrities turned up en masse. Guests could barely turn around without bumping into an A-lister. Liam Hemsworth said he comes each year out of a longstanding belief in the cause.
"My father worked in child protection services," said "The Hunger Games" star.
Another regular attendee, Chord Overstreet of "Glee," said he appreciates the focus on education and especially enjoys hearing the success stories that students tell during the evening.
Standing nearby, Octavia Spencer weighed in on the importance of education. "Education got me out of poverty," said the Academy Award winner.
---
The guest list
Star power blazed throughout the party. Among the guests were Amy Schumer, Orlando Bloom, Jennifer Garner, Pharrell Williams, Emma Roberts, Brittany Snow, Bryan Cranston, Alison Brie, Natalie Martinez, Mahershala Ali, Halston Sage, Holland Roden, Jillian Rose Reed, Julie Bowen, Tracee Ellis Ross, Milo Ventimiglia, Ne-Yo, Christian Navarro, Melanie Brown, B.J. Novak, Claire Holt, Jennette McCurdy, Zoey Deutch, Ali Larter and Zendaya.
---
The formula to success
"We want to make it easy for celebrities to say 'Yes,'" said event co-chair Stacey Snider, 20th Century Fox Film chairman and chief executive. "It's casual. There are no public requirements. [We say,] 'You can walk the red carpet if you want but you don't have to. You can come for 10 minutes or you can stay for an hour. You can come in your pajamas. It's not fancy.'"
Most important, Snider said, the celebrities come to support the AmeriCorps members. "It's a validation," she said. "It says to them, 'Your work is worthy.'"
---
The numbers
Tickets for the more than 1,400 guests sold for $400 each with sponsorships ranging up to $100,000.
---
Already a subscriber? Thank you for your support. If you are not, please consider subscribing today. Get full access to our signature journalism for just 99 cents for the first four weeks.
Ellen Olivier is the founder of Society News LA.
ALSO
David Foster leads singers and musicians in festive session at 2017 Milken Institute conference
Cartier looks to L.A. — and a few famous friends of the house — to help relaunch its Panthère watch
Paris Hilton, Jamie-Lynn Sigler, Kris Jenner and Tommy Hilfiger turn out for star-studded Race to Erase MS gala
---