Q&A: Stylist Ilaria Urbinati on suit collaborations, superheroes and peak '70s style on the Cannes red carpet
From Captain America, Loki and Rocket in the Marvel Cinematic Universe to Batman, Deadpool and the young Han Solo, there's one secret weapon Hollywood's highest-profile superheroes have in common. That would be stylist Ilaria Urbinati, who has long served as a sartorial sidekick to the men behind the masks, dressing them for press tours, premieres and award shows in the kind of sharp threads that make them standouts in a sea of red-carpet sameness.
A superhero of styling set in her own right — this year, she notched No. 6 on the Hollywood Reporter's annual list of most powerful stylists — Urbinati recently launched a capsule menswear collaboration with the Little Rock, Ark., -based label Strong Suit that brings her penchant for color and subtle '70s references to an affordable assortment of suits and dress shirts.
Strong Suit by Ilaria Urbinati (suits retail from $745 to $945, dress shirts for $125) is available exclusively at shop.nordstom.com and two brick-and-mortar Nordstrom's — its new men's store in New York and the store at the Grove in Los Angeles.
We recently chatted with the L.A.-based stylist to the stars, who talked about her start in the business, how the collaborative collection addresses some of her menswear pet peeves and why the upcoming Cannes Film Festival red carpet might mean saying so long to the '70s. Here are some excerpts from that conversation.
---
How long have you been a stylist?
Probably about 15 years now. The client I still have that I've worked the longest with is Chris Evans. He was doing [press for] "The Nanny Diaries," and his publicist called me. I remember exactly where I was — furniture shopping — at the time. I'd dressed a couple of people before that, including Brendan Fraser, but it was a big deal for me at that point, even though he wasn't the Chris Evans he is now.
How did you get your start in the business?
I was in retail for a long time. I was a buyer for my aunt's store [Laura Urbinati in Sunset Plaza] for a long time, then a buyer at Satine and then Milk, and then I opened my own store, Confederacy, in the fall of 2008, which was open for five years. During my Satine days, I was hired to work on "The L Word." One of the girls from the show shopped at Satine and brought me in for an interview. And I'd never styled before. … It was mostly women, but there was one guy on the show, Eric Lively, and he won some best-dressed man on television award, and that's when I started thinking, "Maybe there's something here that I have with [dressing] men."
In addition to Chris Evans, who else are you currently working with?
I started working with Bradley Cooper about the same time as I started working with Chris, and our careers really took off at the same time. I'm still working with him now. I'm also working with Ryan Reynolds, Ben and Casey Affleck, Tom Hiddleston, Chris Evans, Armie Hammer and Rami Malek. Donald Glover is probably getting the most attention of all my clients right now.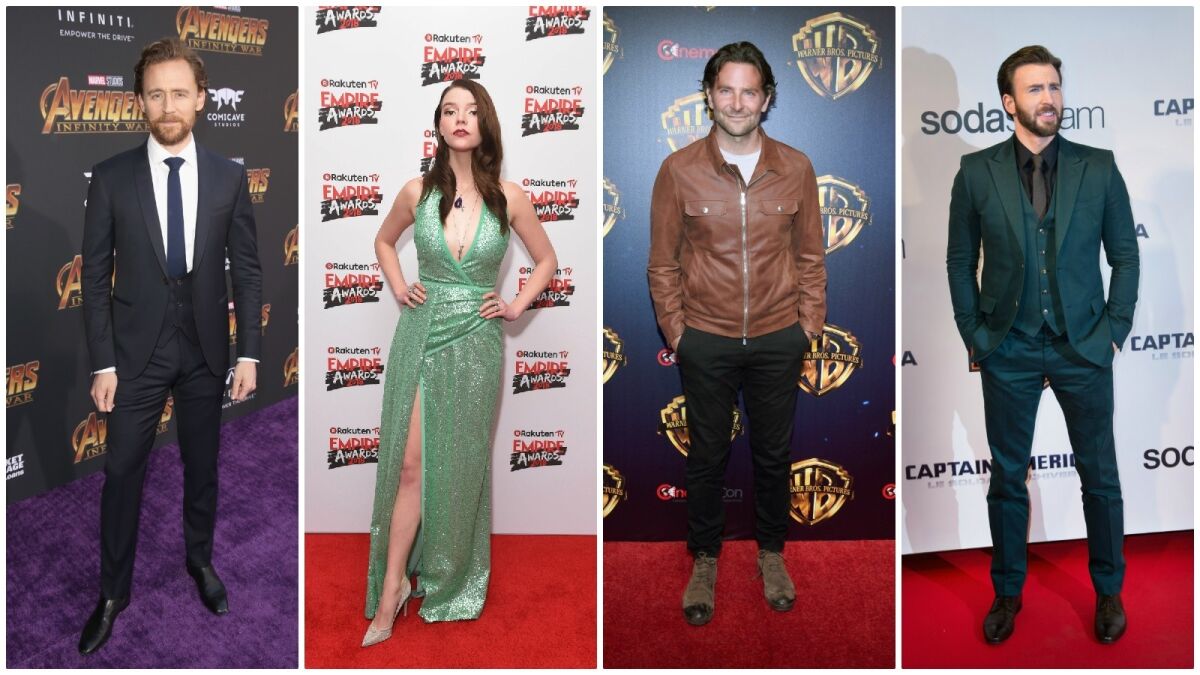 You work with some women too, right?
Yes. Shailene Woodley, Krysten Ritter, Anya Taylor-Joy and Jenny Slate.
What's the biggest difference between working with men and working with women?
With men, I get to be more creative, and it's more about my eye, because I can get my hands on anything I want. There's not a lot stopping me . … With women, I might have a whole idea about what they should be wearing, but it doesn't mean I can get those things. With [dressing] women, there are more games — more politics — involved. With the guys, I can say, "Hey, I want that red Bottega Veneta suit that went down the runway," and I can get it. With people like Donald Glover, I can go to Gucci and literally ask, "Can you make me this?" I can get custom this and custom that. Wait until you see what [Glover is] wearing to Cannes. It's a tux I've been dreaming of my whole life.
It sounds like you really enjoy the work you're doing with Donald Glover. What makes him so much fun to dress?
I'd say Donald and Rami are kind of like my muses ... I get to really go to town and get to be creative. It's very reviving for me creatively. They're so open. They can get away with a lot. Donald has his own vibe, [his own] swagger. It's very specific. Rami has that too. They're both very adventurous.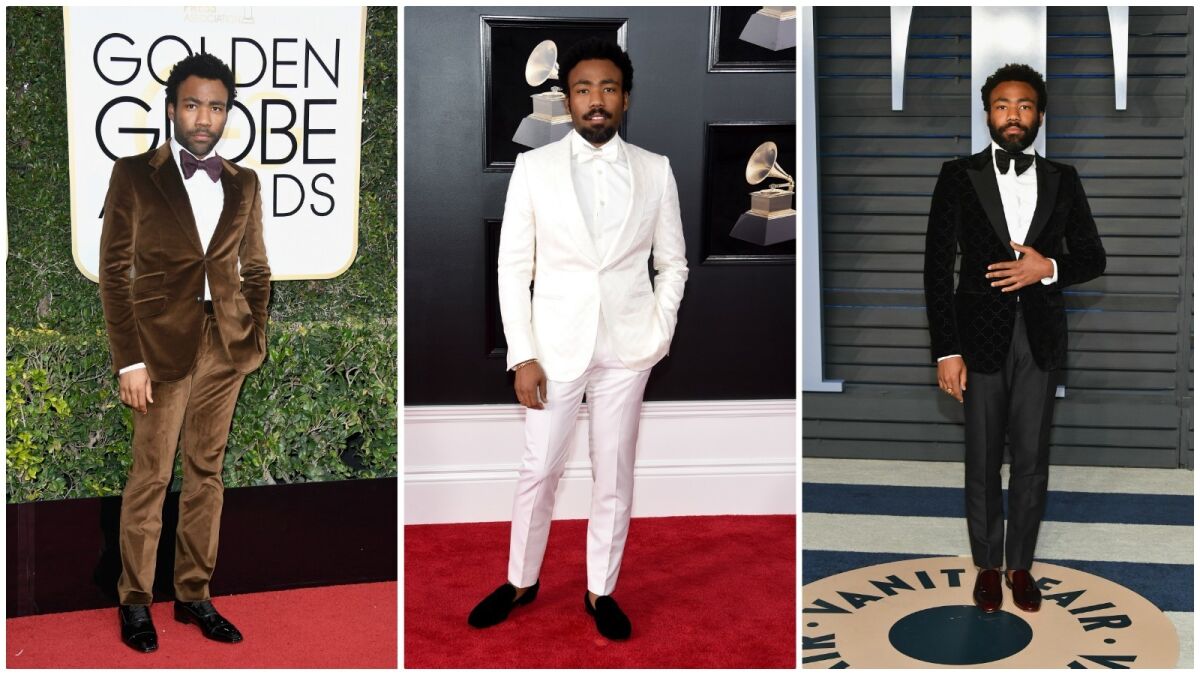 Do you have a favorite Donald Glover red-carpet moment?
The big moment for Donald was the [2017] Golden Globes Emmys in that Gucci brown velvet [tuxedo]. That probably got him the most attention of any outfit I've ever [put] on anybody. And, of course, there was the awesome white [Ermenegildo Zegna Couture] tuxedo he wore to the [2018] Grammys. With Donald, I do all these '70s looks, with silky shirts unbuttoned down to there and chains and things like you'd [usually] never do.
You mentioned the 1970s, and the Strong Suit collaboration has a definite '70s vibe. Why?
I'm just into that phase right now. As a stylist, I work in phases, and I'll get into certain things heavily. But the No. 1 thing for me is to make sure my clients all look like individual people. A really good example is that for the ["Solo: A Star Wars Story"] press [tour], I'm dressing Alden Ehrenreich, who plays Han Solo, and I'm [also] dressing Donald, who plays Lando [Calrissian]. And their styles personally could not be more different. And when you look at them, I'd hope you would never know that the same person styled them. So that's No. 1 for me always. I don't dress Ben Affleck the way I dress Tom Hiddleston, and I take a lot of pride in that. But I do go through phases that I'm into, and that does tend to seep into everyone's looks a little bit, but in a different way for [each person].
But why the '70s specifically?
I think it's a little bit of what's happening in fashion. I've been into it progressively more and more for a good three years now. … I was watching a lot of early Scorsese movies … and I'm really into what Ben Cobb is doing. He's one of my biggest inspirations right now. He's a men's editor who traipses all over Milan Fashion Week looking super '70s sleek and incredible. … But just wait. Donald's look at Cannes — the tux look — is going to be the pinnacle of this phase. It's [such a] pinnacle that I might get over [the '70s inspiration] after that. I might be able to move on.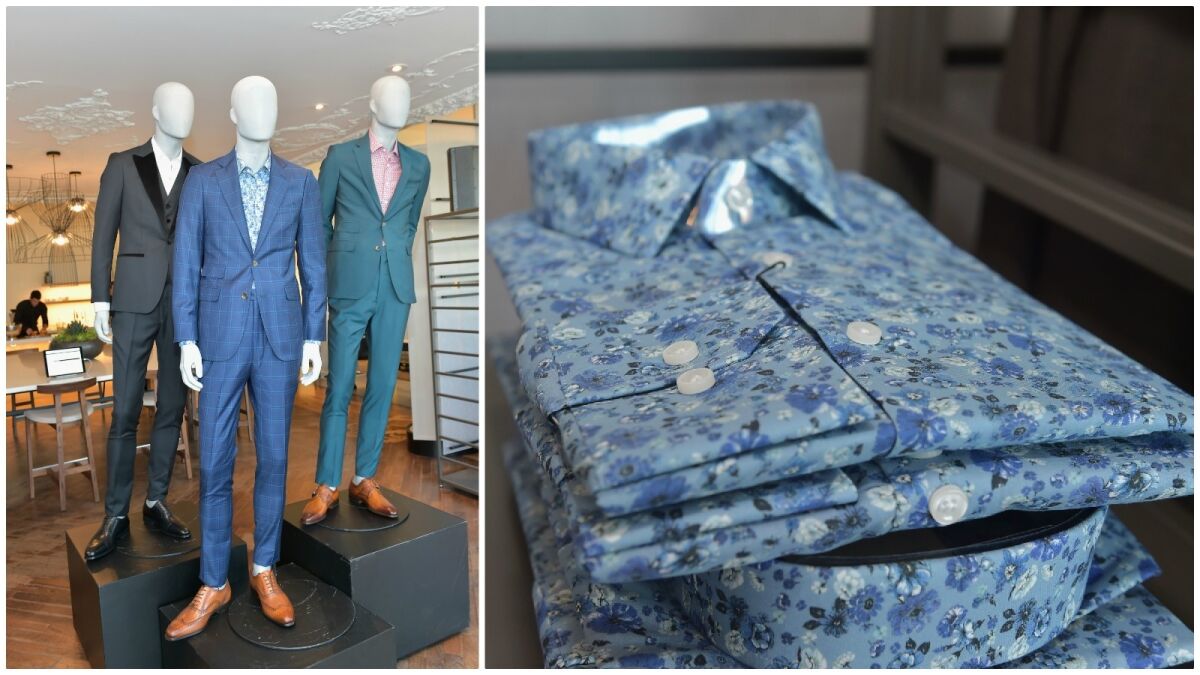 How did that '70s vibe make its way into the Strong Suit collaboration?
The printed [dress] shirts, for sure, and I did a much higher-waisted trouser. It's a good three inches higher than most pants on a suit. [And] the lapels are just a little bit wider. I didn't get too crazy, because I still wanted it to be wearable for the average guy, but there are subtle details like the ticket pocket and the all-gold hardware, the buckles and zippers.
How did your decade-plus of styling experience find its way into the Strong Suit by Ilaria Urbinati collection?
I'm dressing guys who are now on their 20th film press tour. They're doing 30 different dates, and the thing they want is a comfortable suit. That's the thing they live for. So I figured, "Why not make some?" … All the linen blazers are unstructured and unlined, and they're easy to pack and easy to wear. And they look great, because it's very relaxed looking, and the guys are comfortable and happy. And they can breathe in [the jackets].
This particular capsule collection is for spring and summer. Is there another one in the works?
We're discussing that and hoping to include both men's and women's [pieces]. That little dress I wore [to the April 26 L.A. collection launch party] Strong Suit made for me based on something I'd asked them to design. I think it would be fun to do a little suit-dress line.
Even though you've worked with some of the biggest names in Hollywood, do you have any bucket-list clients?
Absolutely, I'm a big Tom Brady fan, and I'd love to work with Conor McGregor. But my dream client of all time would have to be Bill Murray. In this job, you want to work around people you want to be around. He's the bee's knees, so I would rather pick him over whoever the next big superhero is. That's not to dis superheroes. All my clients are superheroes. I mean, I dressed both Captain America [Evans] and Batman [Affleck]. Oh, and Rocket [Cooper] and Loki [Hiddleston] too. So I'm not complaining. I love the superheroes.
For more musings on all things fashion and style, follow me at @ARTschorn.
---