Cannabis, fashion brand cross-pollination turns over a new leaf
When it comes to luxury apparel brands tapping into the growing popularity of pot, there hasn't been much movement beyond the enthusiastic embrace of the marijuana-leaf motif.
One need look no further than the diamond- and emerald-encrusted, 18-karat white-gold Happy Leaves necklace Bulgari introduced last year or the green gown from Viktor & Rolf's spring and summer 2019 couture collection with the instantly recognizable seven-point cannabis sativa leaf emblazoned across the front.
The founders of Sundae School, a fledgling apparel brand based in New York, want to change that. Following on the heels of the label's second cut-and-sew collection, co-founder Dae Lim has decided to branch out beyond fashion into branded cannabis products, which are expected to hit California dispensaries sometime in the middle of next month.
His upscale unisex smokewear line, which is carried locally by Barneys New York in Beverly Hills as well as online, looks from afar like any number of laid-back, loungewear-meets-workwear labels, but up- close it reveals its nods to the cannabis consumer, including hats with hidden spliff holders, jackets with dedicated pipe pockets, intarsia-knit crew neck sweaters that declare "smoking chills," and toile patterns splashed across sweatpants and shorts that depict cross-legged, robe-clad scholars brushing up on how to roll joints or make bongs.
Lim, 26, explained that the decision to grow from cut-and-sew into cannabis came out of visiting California to research the label's fall and winter 2019 Green Rush collection, which is themed around the recent legalization of medical marijuana in South Korea (where Lim was born) and the prospect of legal recreational cannabis in New York. (The statement piece of that collection is an immense, cocoon-like puffer jacket inspired by a blunt — a type of joint that's rolled in a tobacco-leaf wrapper.)
The cannabis business "was so exciting," Lim said, "and it wasn't too long before we realized that only two kinds of people can really play in that market: the people who have the most money and the people who can tell the most amazing stories and can authentically communicate [their brand story].
"Fashion and apparel is where you [currently] see the highest forms of branding," he said. "You go to the Chanel show or the Y-Project show, and they're exuberantly telling their stories — not directly, though, but through images [and] through garments. That sort of brand development and narrative development hasn't really been taking place in the cannabis industry because it's a new, growing industry. What we're most excited about is the branding landscape in cannabis."
To Lim's point, the recent mainstreaming of marijuana has seen businesses rooted in the cannabis space — growers, dispensaries and paraphernalia retailers — making a concerted effort to become full-fledged lifestyle brands. Approaching the fashion/cannabis convergence from the opposite direction, they are increasingly moving into the high-end apparel and accessories space.
San Francisco-based Sherbinskis, which made its name as a cannabis-strain creator and cultivator, sells everything from $4 co-branded Sharpie pens to $160 hoodies and $5,000 ashtrays, and near-ubiquitous dispensary MedMen, which has eight Southern California doors including ones near Beverly Hills and LAX, recently rolled out a capsule collection of apparel and accessories that puts its logo and red-and-white color scheme on varsity jackets ($129), chenille-logo hoodies ($79) and yoga mats ($29).
RELATED: Why Barneys' high-end head shop may be the future of cannabis-related retail »
Higher Standards, an upscale purveyor of smoking accessories with stores in New York and Atlanta, not only moved into apparel and accessories (including logo-stamped Zippo lighters and Victorinox Swiss Army knives), it also collaborated with home-goods designer Jonathan Adler on an 11-piece, soon-to-launch collection that includes stash boxes, coasters, trays and ashtrays.
To expand beyond clothes, Lim tapped the expertise of college chum Jun S. Lee ("We both studied applied mathematics at Harvard," Lim said), who also happens to be president at Oakland-based cannabis distributor Nabis.
The result of their effort is two Sundae School-branded, THC-containing products — pre-rolled joints and vaporizer pens set to roll out to a handful of California dispensaries.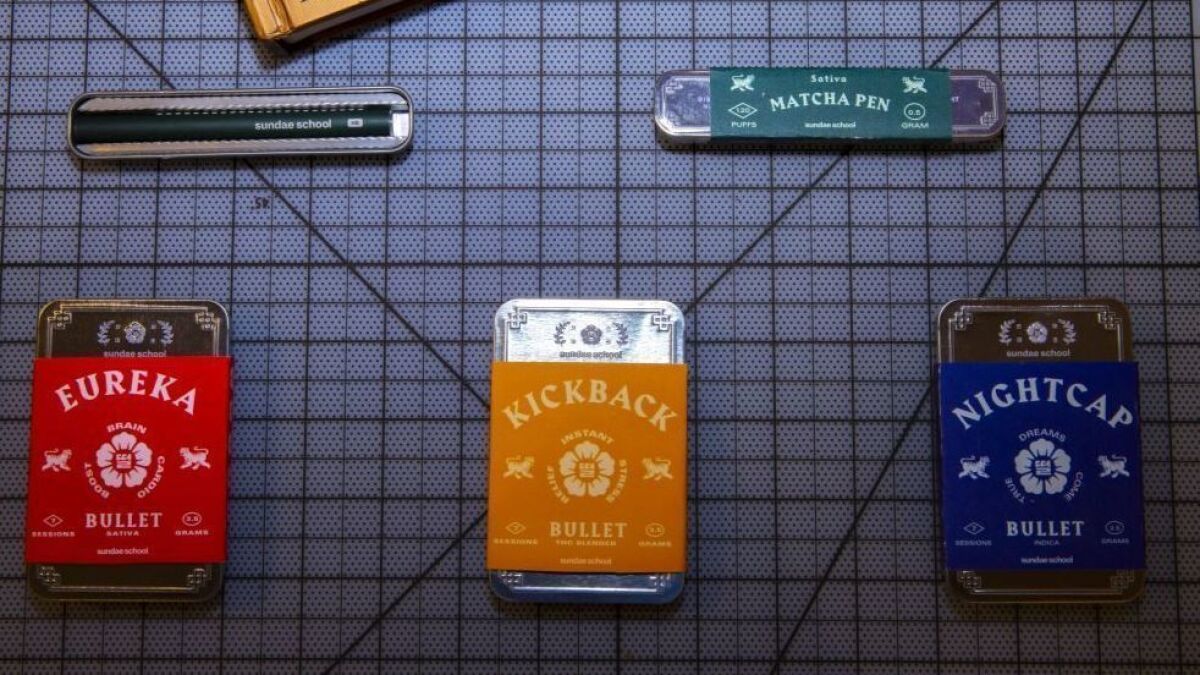 The pre-rolled joints, in keeping with the scholarly theme, have been dubbed "Honor Rolls" and will be offered in two sizes: .3 gram mini joints (eight to a pack) and full-size 1 gram joints (offered in an indica, a sativa and a one-to-one THC/CBD blend). Also, the single-use disposable vaporizer pens packaged in a pencil-case-like box will be available in flavors Lim described as matcha or yuzu. Lim said the cannabis is sourced from a handful of farms from around the state, including Caliber in Salinas (for outdoor-grown flower) and L.A.-based THC Design (for indoor-grown flower).
"We hope to change what [cannabis] we use seasonally," Lim said, "so we can get the best of whatever flower is available. People eat vegetables seasonally and people should be smoking weed seasonally." The ultimate synergy, Lim said, will come when they're able to pair the apparel-collection drops with the cannabis-product drops.
Lim, a marijuana enthusiast himself, has another hope: that his expansion into cannabis will help highlight and cater to a lesser-known segment of the cannabis industry. "There are so many Asian American stoners [and] wakers and bakers," he said, "and [along the way] we've met a lot of Asian Americans in the business, which is an amazing thing because in fashion it's kind of expected. These stories are authentic to us, and my hope is we can grow into a solid family of products that includes diverse, Asian-culture-inspired offerings."
Given how far Lim has taken Sundae School in such a short time, that might not be a pipe dream.
For more musings on all things fashion and style, follow me at @ARTschorn