A tale of two timepieces: Rolex ropes the rose-gold rainbow, Baume gets earth-friendly with new watch
You can tell a luxury timepiece manufacturer is really swinging for the fences when it uses the quote often attributed to Mahatma Gandhi, "Be the change you want to see in the world," to explain its new brand, but that's how watch designer Sylvain Berneron framed the Richemont Group's launch of the Baume watch on a mid-May day in Malibu.
The name references Richemont's 188-year-old Baume & Mercier brand (the company also owns the Vacheron Constantin, Officine Panerai and Piaget brands, among others), and it graces a collection of new unisex timepieces designed — from the ground up — with sustainability and eco-friendliness in mind. Some watch cases are made from partly recycled aluminum, for example, and some watch bands are made from upcycled plastic bottles culled from ocean waste. Although designed in Geneva, the watches are manufactured and shipped worldwide from the Netherlands in hexagonal tubes made from recycled cardboard in an effort to further lessen the environmental impact.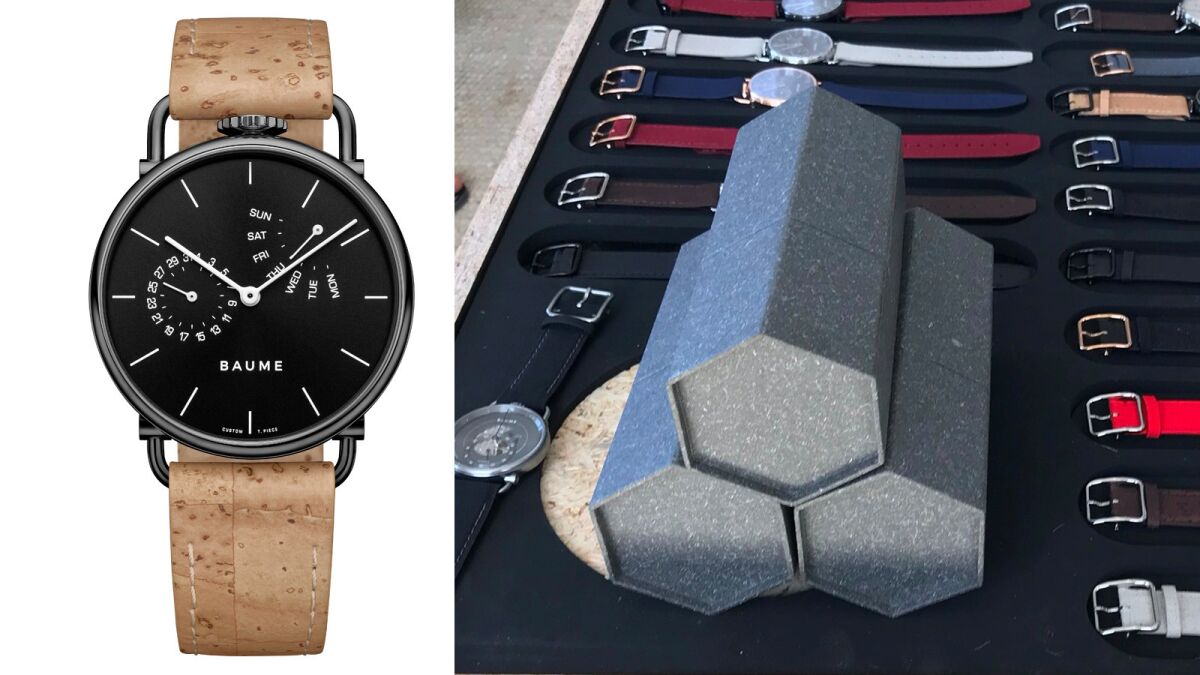 Berneron invoked the Gandhi-esque words at the global launch of the Baume in Malibu last month (a locale chosen to emphasize the connection between man and nature — complete with dolphins visible in the foreground and cargo ships in the background) after acknowledging that wristwatches are more statement than necessity these days and that one timepiece wasn't all by itself going to solve the myriad issues plaguing the planet. "I think we have to understand that the products that we buy today shape the world of tomorrow," the watch designer said. "So we tried to make watches that [address the problems] of today." He added that the overarching goal was to "trigger a new way of thinking in watchmaking."
What makes the Baume, which launched May 15 with two versions (one of which can be customized some 2,000 different ways), noteworthy is its $560-to-$1,100 price tag, which Berneron said was an important part of spreading the wrist-bound message of sustainability. "When we created this brand, we had a choice in the price segment," he said, "and for 10 or a hundred times [the price], we could make a fully sustainable, recycled top-notch [timepiece], but the goal is to spread the [message] to a wider audience … making a $50,000 recyclable watch is not a challenge."
Berneron's words came to mind when, less than 48 hours later at a watch preview in Beverly Hills, I was handed a breathtakingly beautiful Rolex worth more than a fully tricked-out Cadillac Escalade. A gem-set, rose-gold version of the Oyster Perpetual Cosmograph Daytona, the bezel was set with 36 baguette-cut sapphires in a seamlessly blending rainbow gradation, with 56 sparkling diamonds set in the middle case and 11 baguette-cut, rainbow-colored sapphire hour markers.
The Rainbow Daytona sells for $96,900, which makes it about 173 times more expensive as an entry-level Baume. And, make no doubt about it, wearing of those bejeweled Rolex watches sends a message that's just as loud and clear (though perhaps not 173 times as loud and clear) as the lower-priced watch. Because Los Angeles is exactly the kind of place you're likely to encounter these pieces of wrist candy out in the wild, here's a side-by-side comparison.
A tale of two timepieces
Baume
35 or 41 mm in diameter
The Iconic (pictured) has a partly recycled aluminum case; custom versions are offered in black-, silver- or gold-colored stainless steel with up to two lines of custom engraving on the case back.
Water-resistant to 100 feet.
Black, 100% recycled polyethylene terephthalate (or PET) (pictured) band made from plastic ocean waste reclaimed by Brussels-based Waste Free Oceans. Natural, upcycled or recycled fabrics used in other interchangeable button-on straps (with buttons made from corozo nuts) include cotton, linen and cork and color options include gray, red, blue and burgundy.
Miyota 82D7 automatic movement; 40-hour power reserve for the version for the Iconic (above) or quartz movements (Ronda 6004D, Miyota 6P20 or Miyota JR00; all with 40-month power reserve) for the custom-designed watches.
The dial of the Iconic is silver with white index markers; options on the custom versions include white, black, blue and two different shades of gray.
The Iconic has black hands; options for the custom versions include white, silver gold or black.
Located at the 12 o'clock position on the top of the case is a placement that is a nod to the history of the Baume & Mercier heritage and allows for an easier and less wasteful future expansion into pocket-watch styles.
Designed in Geneva; made in and shipped from the Netherlands.
Unveiled in Malibu on May 15, the custom watches are made to order to avoid waste; available online at www.baumewatches.com and delivered free worldwide within 15 days. The Iconic timepiece ships within 48 hours of order receipt.
Price: $530 to $1,100
Rolex
40 mm in diameter
18-karat Everose Gold case (Everose is Rolex's proprietary pink gold alloy, manufactured in-house at a foundry in Plan-les-Ouates, Switzerland). The bezel is set with 36 baguette-cut sapphires in a rainbow gradation, and the middle case is set with 56 brilliant-cut diamonds.
Water-resistant to 330 feet.
18-karat Everose Gold link bracelet with ceramic inserts.
Designed and assembled in Geneva from components made and assembled at three other sites within Switzerland.
Unveiled at Baselworld 2018 in Basel, Switzerland, on March 22; availability varies based on demand and sourcing of the multi-colored sapphires used for the bezel and hour markers. Order inquiries should be directed to a local Rolex retailer.
Price: $96,900
For more musings on all things fashion and style, follow me at @ARTschorn.