New York Fashion Week: Tom Ford dials it down for spring/summer 2019
Reporting from New York —
Tom Ford's spring/summer 2019 men's and women's runway collection, which kicked off the season's official slate of New York Fashion Week shows here, felt like an about-face — or at least a reset — for the designer, whose runway clothes have been deliciously and deliriously over-the-top for the last few seasons, culminating in fall/winter 2018's cacophony of bright color, menagerie of animal prints and assortment of "pussy power" purses and shoes.
For spring, however, Ford has forsaken the eye-catching candy-store shades for a palette grounded in neutrals, heavy on the black, white and beiges with some pale lilacs and powder blues in the mix as well. The pattern-play was M.I.A. too; the catwalk was a sea of solids, broken up by only a handful of leopard-spot pieces toward the tail-end of the show (including some metallic jacquard jackets for men and leather jackets and a corset-style top for women).
The dialed-down colors and pared-back patterns let texture take center stage. The most notable of these was a faux-crocodile fabrication used on strong-shouldered jackets, skirts, wide belts and handbags. Other fabrics included stretch leather, chiffon and lace — lots and lots of delicate lace. Heavy leather jackets were layered over wispy lace tops and georgette skirts, and dresses were trimmed in lace — overall giving a nightgown/loungewear vibe to many of the looks. Knee-length faux-croc skirts hemmed in black lace struck the perfect balance between hard and soft.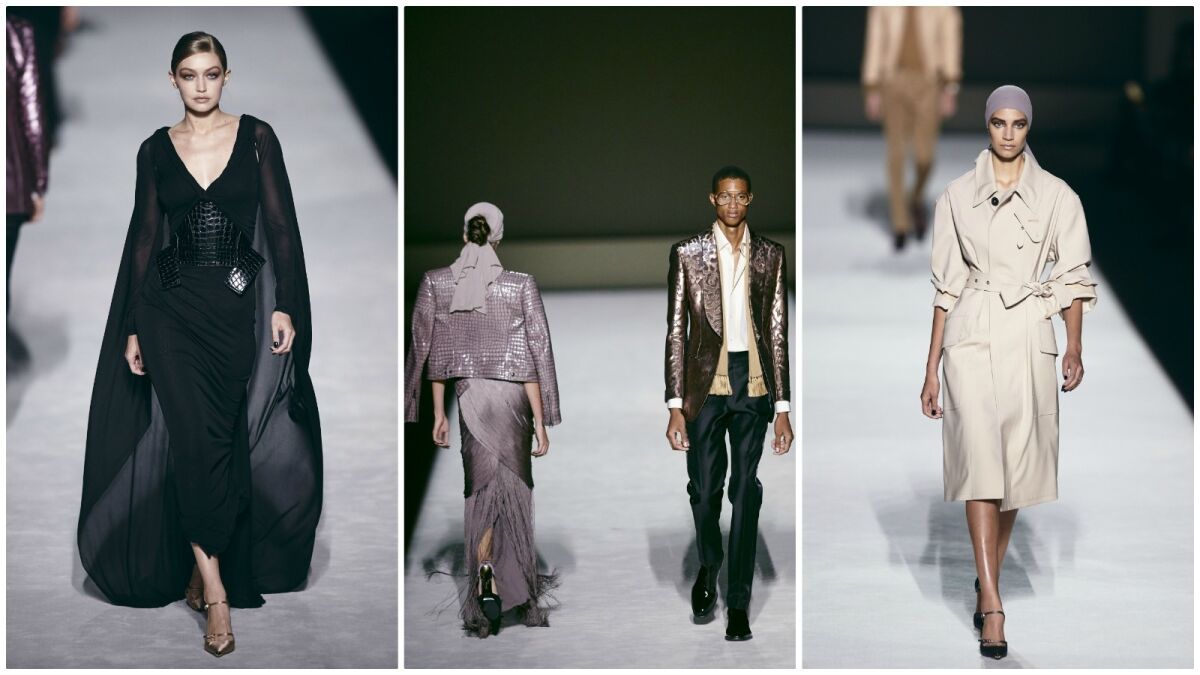 Standout women's looks included a black double-breasted suit with pale-pink peak lapels (now say that five times fast!); a light lilac look paired with a strong-shouldered faux-crocodile jacket; and a similarly-textured corset top with a skirt the texture of draped string or fringe, and a black caped evening dress with a crocodile-textured belt worthy of Wonder Woman (or, perhaps, her alter ego Diana Prince).
Memorable pieces on the men's side included the silver metallic peak-lapel tuxedo and a metallic jacquard shawl-collar dinner jacket in a pale shade of purple that shimmered with each step.
The takeaway? Even when he's dialing it down, Ford is still a master at taking things to the next level.
For more musings on all things fashion and style, follow me at @ARTschorn
---