Star-studded UNICEF Ball raises more than $2.3 million for life-saving children's efforts
Kicking off the UNICEF Ball on Saturday at the Beverly Wilshire Hotel in Beverly Hills, host Keegan-Michael Key lavished praise on the night's honorees, noting actress-producer Salma Hayek Pinault's "amazing, amazing life," both on screen and off, which the audience later learned included breastfeeding another woman's baby at a refugee camp.
The "Key & Peele" actor then talked of couple Nicole Avant, former U.S. ambassador to the Bahamas, and Ted Sarandos, chief content officer of Netflix, calling him "the guy who generously keeps everyone in Hollywood employed."
Key then took a moment to personally thank Sarandos. "I love you," he jokingly whispered and then to the audience, explained, "I'm on 14 different Netflix shows right now and I pitched three more to Netflix just yesterday. Whoever is the waiter at Ted's table, if you can find a way to work in a pithy comment to something, by the end of the evening, you might have your own show."
The event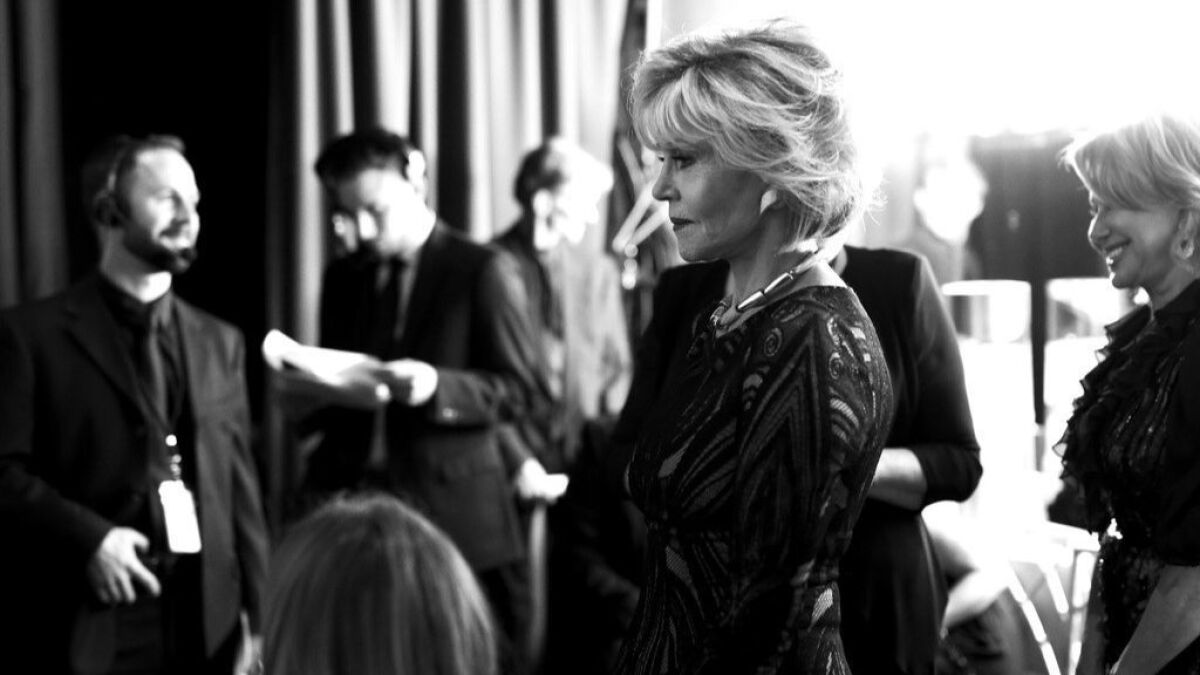 Key did well to emphasize the word "generous" in welcoming "the wonderful and fabulous and generous people of Los Angeles." By evening's end, the city's seventh biennial ball raised more than $2.3 million for UNICEF's life-saving work on behalf of the world's children. The black-tie affair featured performances by the Dream Dancers, the Broadway Boys and 11-time Grammy winner Pharrell Williams.
The program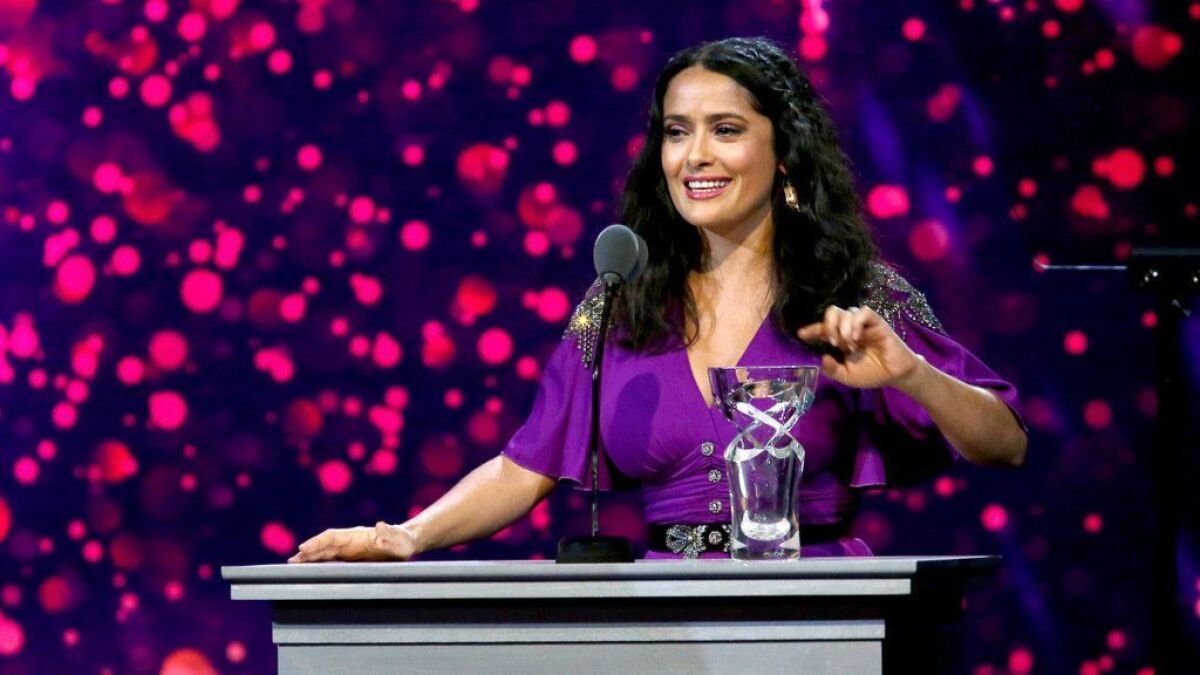 Jane Fonda introduced Avant and Sarandos, lauding the former ambassador for advocating for small-business development, education, alternative energy initiatives, female empowerment and help for people with disabilities.
Turning to Sarandos, Fonda, who stars in the Netflix series "Grace and Frankie," said, "Ted's vision has single-handedly transformed the entertainment business, but his legacy is so much more than that. He has given a global platform to filmmakers and documentarians to tell stories that bring the world closer and its social problems closer to the public."
After noting that Sarandos is "technically my boss," the twice Academy Award-winning actress called "Grace and Frankie" a highlight of her career. "Ted and Netflix have shown that strong women at any age can top-line a show and talk so freely about anything, especially sex and sex and more sex."
For the final award presentation, UNICEF USA President and Chief Executive Caryl Stern introduced Hayek Pinault, who recounted her experiences, which included participating in the organization's successful program to eradicate the threat of tetanus to children. "You know, sometimes you do, and you do and you do and you think 'OK, I'm just making it a little bit better today.' But this time, we really changed things."
Her problem, she said, is that she wants to fix everything. "We go with one goal, but I see other problems. I want to fix them right there at the same time," Hayek Pinault said, giving as an example her desire to save, not just the refugees but also, one time, a dog "that was really in bad shape."
She then recalled meeting a 15-year-old girl "sobbing and shaking with a newborn baby, and she said, 'Please help me. I need milk. We had so many things but we didn't have milk except I remembered that I had milk because I was weaning my daughter … and I said, 'I got milk.'" Hayek-Pinault then breastfed the baby.
The crowd
Founding chair Ghada Irani, along with lead benefactors Tamar and Bob Manoukian, spearheaded the event, attended by Alyssa Milano, Lilly Singh, Betty Who, Megan Henderson, Don Johnson and Molly Sims, producer Scott Stuber, former California Gov. Gray Davis and recording industry legend Clarence Avant, among others. Gala chairs included Ray Irani, Tom Barrack, Julie C. Opperman, Marlyn and Robert Day, Ann and Jim Gianopulos, Wendy and Leonard Goldberg, Lyn and Norman Lear, Bryan Lourd and Bruce Bozzi, Irena and Mike Medavoy, Lori and Michael Milken, and Alia and Ronald Tutor.
The show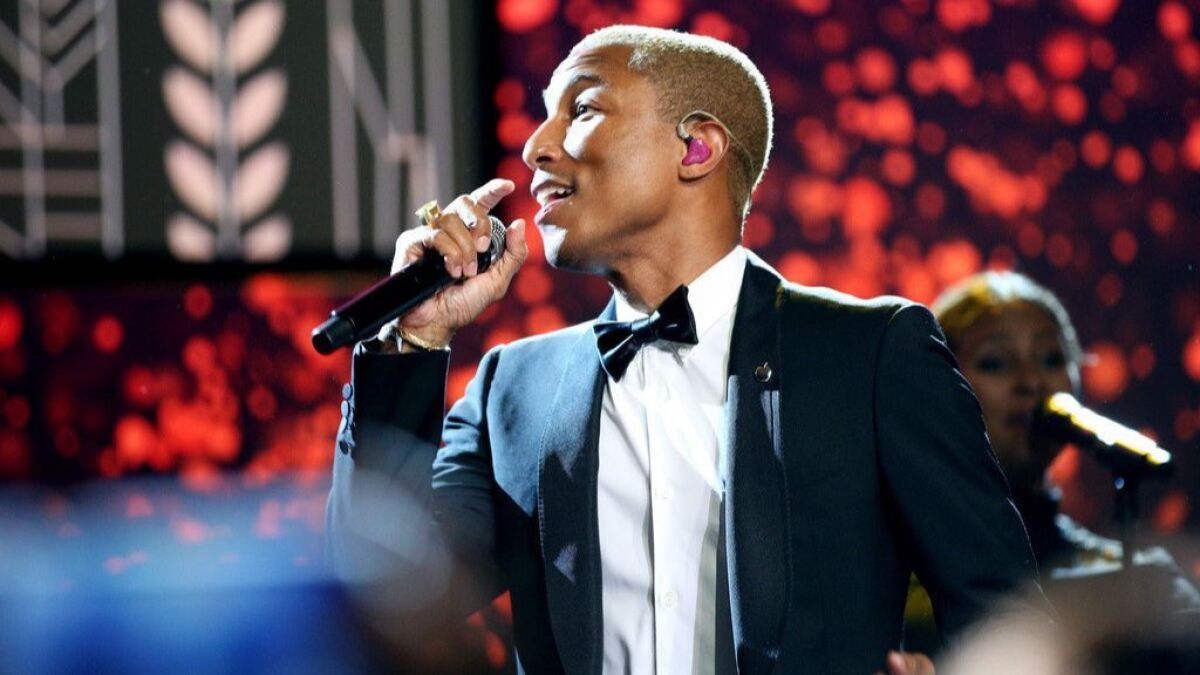 Pharrell Williams closed the evening with "Feels," "Get Lucky" and "Happy," urging the audience to do more "for something that is so much bigger than us. You know this is a vast, vast, vast universe, but like Salma said, 'Those kids they need us.' … I want you to feel the energy in the room, the 'can-do' energy … Cause we 'can do' — better than what we're doing. So let's go."
The numbers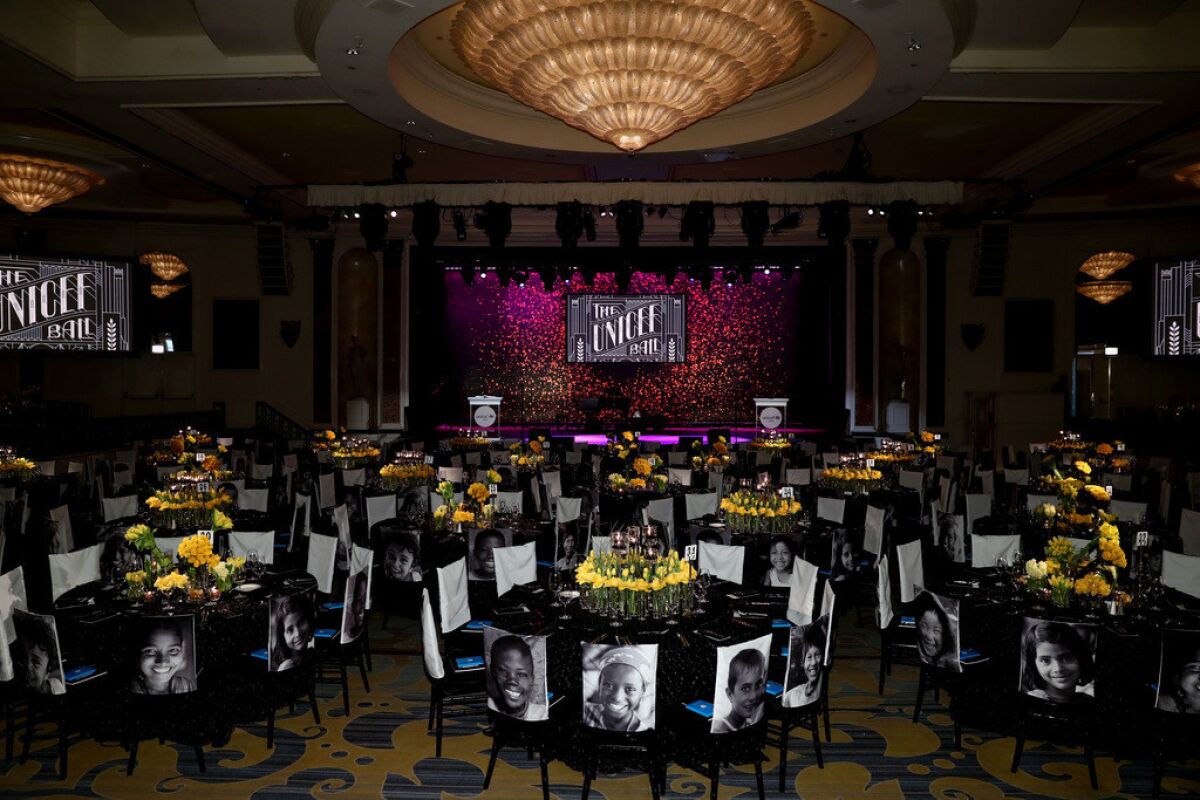 More than 600 guests attended the gala, buying tickets from $1,250 each to tables ranging up to $50,000. In an auction — in which Key said, "This is your opportunity to be Oprah," mimicking the former talk show host's shouted giveaways — gala attendees offered $32,000 for trucks, $10,000 for therapeutic food, $5,000 for community water pumps and $1,000 for learning programs.
---