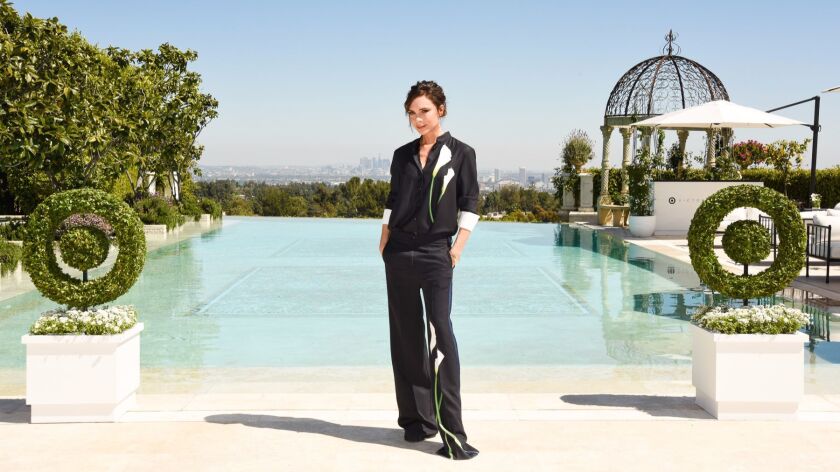 As her son Romeo played bean bag toss and daughter Harper strung a necklace from dried flowers, fashion designer Victoria Beckham chatted quietly in a shaded corner of a garden party.
"This feels like a celebration," Beckham said. "It feels like a very British celebration."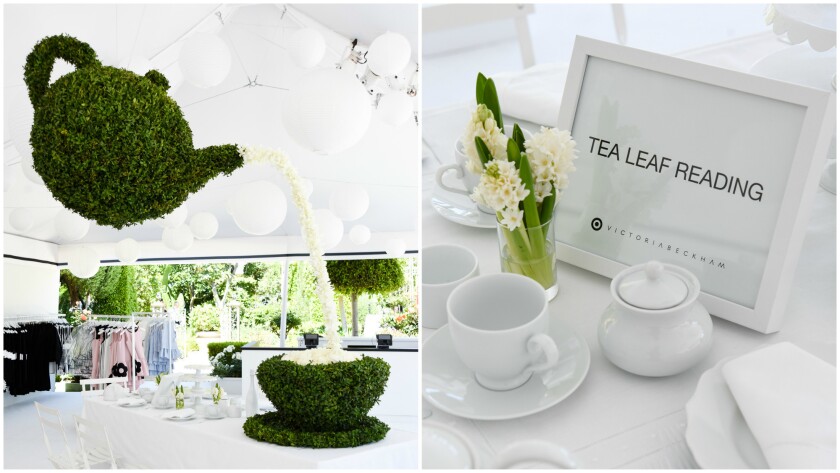 The Saturday afternoon tea party at a Bel-Air mansion was to formally launch the limited-edition Victoria Beckham for Target line, which will hit Target stores on Sunday and be available through April 30, provided there's anything left by then, given the speed with which some anticipated capsule collections sell out. (Remember how quickly Target and Missoni's collaboration sold in 2011?)
Saturday's event, attended by Jessica Alba, Zoe Saldana, Naomie Harris and others, had a decidedly English feel. Waiters circulated with trays of black bean sliders speared with a miniature British flag and coiled paper stuffed with fish and chips, while the bar served up tumblers of pink-hued Pimm's cocktails.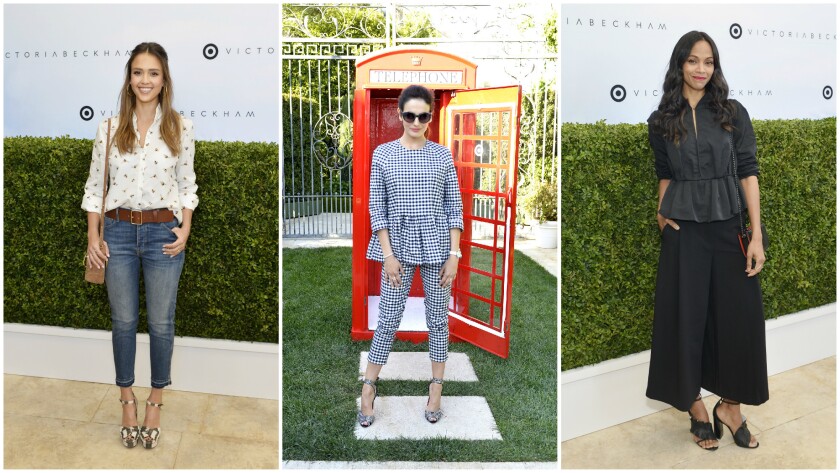 Beckham said she's particularly thrilled that this new collection will bow globally on her website on the same day as the Target roll-out.
"I'm excited to be able to reach and empower so many women around the world," Beckham said.
The fresh, summery looks should have no trouble translating across geographical borders. Guests rifled enthusiastically through the racks set up at the party, draping over their arms pretty mint green and blue-and-white gingham dresses.
The expansive collection of 200 looks was designed for babies through women (with sizes up to 3X). This is the first time Beckham has turned her attention to creating children's clothes, and she brings the same level of detail to these pieces as if she were designing a frock for an A-list client.
Standout looks from the collection include straight navy dresses with pristine white collars and tiny bunny rabbit details, embellished bomber jackets and the signature print of the line — a striking calla lily on a black background. The cut and fabrics have a high-end sensibility, but prices are Target-consumer-friendly, ranging from $6 to $70. Most items are less than $40.
The aesthetic is partly inspired by the British designer's less-expensive Victoria Victoria Beckham line, where dresses are about $1,000, less than half the price of selections from her top-tier Victoria Beckham Ready To Wear collection.
"Some of the details carry over," said Beckham, citing the scalloped details on necklines. Otherwise, the designer said she was inspired by her relationship with her 5-year-old daughter Harper, the youngest of her four children.
"I based it on the time that I spend with Harper and what we like to do together. She loves a pretty dress but because she's got three brothers, she's also a bit of a tomboy," Beckham said. "I understand that kids want to look good but also want to feel comfortable and just play and be children."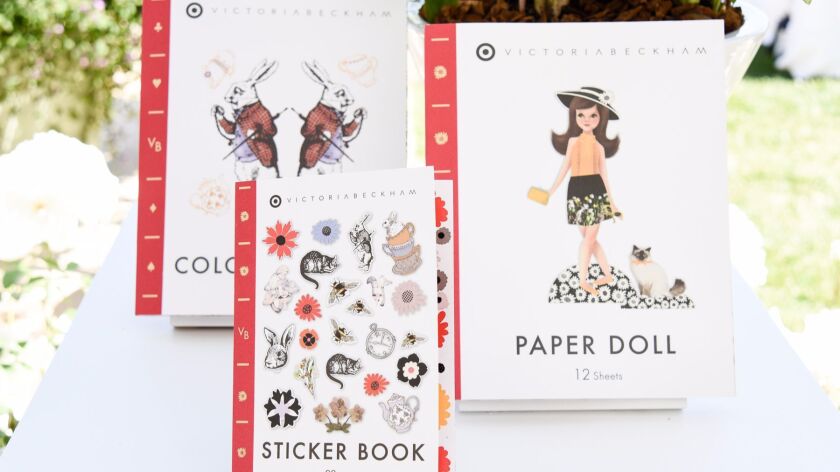 ALSO
Inside Dolce & Gabbana's exclusive celebration of life, love, opera and couture
That '70s runway show: A Rebecca Minkoff showcase of groovy girl power at the Grove
Tommy Hilfiger, Gigi Hadid dip into the '70s for a 'fun and youthful' fashion show in Venice Beach
---