Kendall Conrad, Lena Wald and Outerknown's John Moore tapped for Wear LACMA's spring 2017 collection
The spring 2017 offerings from the Los Angeles County Museum of Art's art-meets-fashion project, Wear LACMA, will be a range of leather accessories by Kendall Conrad, a suite of jewelry from Lena Wald and menswear pieces, T-shirts and a pair of pants from Outerknown.
Launched in 2012, Wear LACMA taps Los Angeles-based fashion talent to create limited-edition apparel, accessories and jewelry inspired by artwork in LACMA's permanent collection and exhibitions, with all proceeds benefiting the museum.
Over the years, that's resulted in jewelry by Juan Carlos Obando inspired by a 16th century bronze sculpture of the Roman god Mercury; sunglasses inspired by Chris Burden's "Urban Light" (2008) from Oliver Peoples; and scarves and pashminas by the Elder Statesman's Greg Chait inspired by 15th century Peruvian textiles.
Kendall Conrad
For the latest installment, an ancient handled weight — think old-school kettlebell — from northern Afghanistan decorated with images of scorpions and a palm tree spurred accessories designer Kendall Conrad to create a leather shoulder bag bearing a hand-stitched version of the image and a leather iPhone case with a hand-stitched palm tree on the front and scorpion on the back. The scorpion crops up again in the shape of a Conrad-designed brass pendant necklace.
Lena Wald
The striking colors found in two works by German Expressionist Ernst Ludwig Kirchner, the painting "Two Nudes in a Room" (1914) and an untitled woodcut block print (1919-1923), inspired a suite of painted and enameled rings by L.A.-based jewelry designer Lena Wald.
Most are in the shape of the traditional symbols representing male and female symbols, but the standout design of the assortment are the rings bearing the word "untitled," a clever reference that could apply just as easily to the title of Kirchner's block print as to the notion of gender fluidity.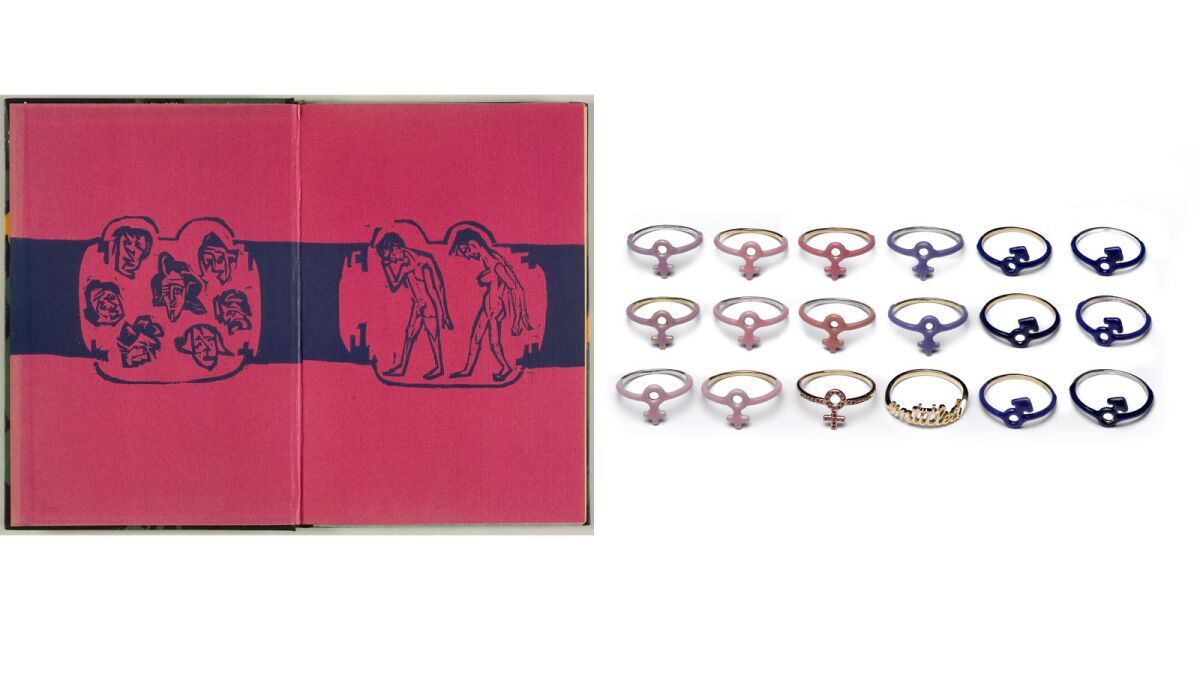 Outerknown
Longtime menswear designer John Moore, who launched the surf-meets-sustainability Outerknown label with champion surfer Kelly Slater two summers ago, has created a four-piece Outerknown capsule collection for Wear LACMA that draws on three pieces in the museum's permanent collection.
A blue hexagonal tile from Damascus (circa 1600) and a 19th century botanical photograph are reproduced on T-shirts, and a mulberry bark textile from late 19th century Hawaii does double-duty by inspiring a T-shirt design and a pair of khaki-colored, beach-worthy pants.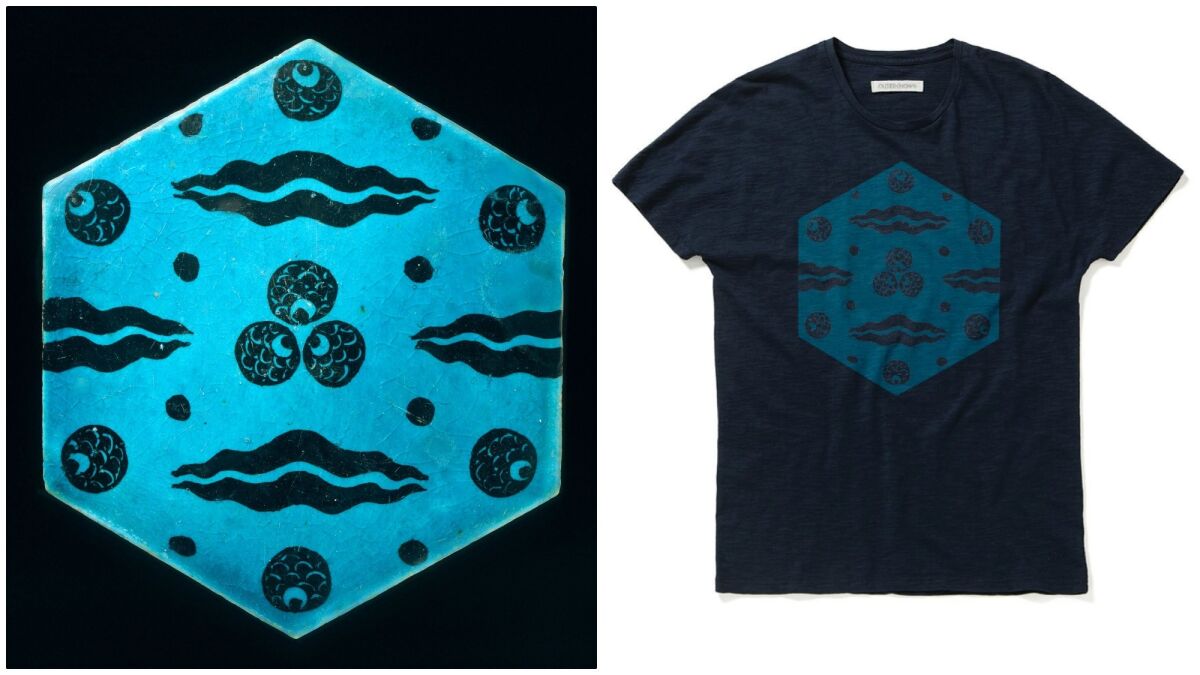 Where to buy
The new collection officially launches June 7, and it will be available at the brick-and-mortar LACMA Store at 5905 Wilshire Blvd. and online here. Prices range from $48 for an Outerknown T-shirt to $925 for the Kendall Conrad shoulder bag.
Fashion Videos
For more musings on all things fashion and style, follow me at @ARTschorn.
ALSO:
Kelly Slater, John Moore launch Outerknown
Handbag designer Kendall Conrad expands into footwear, brass jewelry
Inspired by art: Designers celebrate LACMA's 50th with wearable creations