Movie Sneaks: How to hire Bill Murray: Ted Melfi's 12-step plan for 'St. Vincent'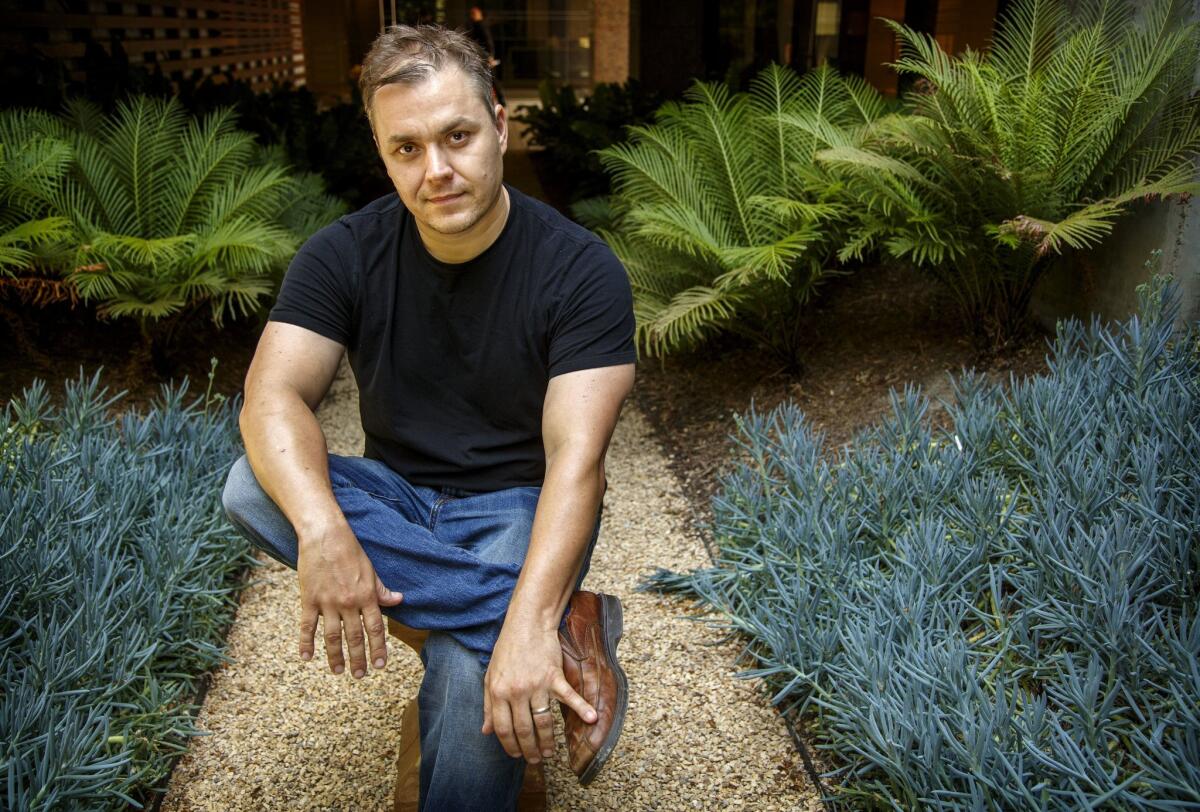 You're Ted Melfi, a first-time filmmaker, and you've written a movie about a cantankerous old guy who comes to realize the meaning of his life through the help of a lonely 12-year-old neighbor kid. It's called "St. Vincent," and you think Bill Murray would be a great fit in the lead role. One problem: Murray doesn't have an agent or manager. The only way you have of reaching him is a 1-800 number that one of your producers, Fred Roos, gives you.
"Good luck," says Roos, who worked with Murray on Sofia Coppola's "Lost in Translation." "To tell you the truth, Sofia and I didn't know he was going to come to Japan to do the movie until the day he showed up on the plane."
You formulate a 12-step plan. It goes a little something like this:
1. Call the 1-800 number. Listen to the generic voicemail greeting. Note that it's not Murray's voice. Press 6 to leave a message. Erase the message because you're nervous and you're babbling. Leave another message. Leave a dozen messages over the course of a month, telling different stories, varying your approach — serious, funny, endearing. Become convinced that if Murray is hearing any of these messages — which he probably isn't — he probably thinks you're insane.
2. Track down Murray's attorney. Surely he has a direct line. "Have you tried the 1-800 number?" he asks.
3. Finally, you hear from Murray through the attorney. He requests you write him a letter, one page, and explain who you are and what you want him to do.
4. Write the letter. Send it to a P.O. box in upstate New York. Wait two weeks. (It's always two weeks between steps.)
5. Murray's attorney: "Bill thought the letter was swell. Can you send him the script?" He gives you a P.O. box in Martha's Vineyard.
6. Two weeks later, Murray calls Roos' assistant. "Is he ever going to mail me that script?" This time, he leaves a South Carolina P.O. box number.
7. You're driving (yes, two weeks later) and your mobile phone rings. "Ted Melfi? It's Bill Murray. Is now a good time?" Now is the best time. You pull the car over. "I don't Google people," Murray says. "That's not my thing. Can you tell me who you are and what you do and why?" You give him a 20-minute spiel about being a commercial director, a hustler. "That all sounds good," Murray says. "I'd love to sit down with you for a coffee tomorrow." Mental scan. Tomorrow works. "In New York?" No, you're shooting a commercial in L.A. tomorrow. "How about Friday then?" Murray asks. Friday. Yes. You could get to New York by Friday. "No, in Cannes. I'll be in Cannes." Oh, boy. Mathematically impossible. "Well, you know," Murray cajoles, "Cannes is going to be a great time." Can't swing it. Murray promises to call back in a couple of weeks. You hang up the phone, torturing yourself that you've ruined everything.
8. Three weeks later, 8 o'clock on a Sunday morning, Memorial Day weekend, Murray calls. "Can you come meet me at LAX in an hour?" You pop a Vicodin (you've thrown your back out because of the stress), grab your cane and drive to LAX, heading to United baggage claim as instructed. There's a man in a rumpled suit holding up a sign reading "B. Murray." You know you're in the right place. You wait.
9. "What's with the cane?" Murray says by way of greeting. "Oh. Well ... you gotta stretch." Pause. "You want to go for a drive and talk about the script?" You step into a Town Car and drive for three hours, stopping once at In-N-Out Burger. Because you're vegan, you order the grilled cheese, the only thing on the menu remotely close to your diet. "That's an awful life," Murray jokes, though he does seem to be digging the grilled cheese himself.
10. Murray takes out his dog-eared copy of your script and you go through it page by page. He has notes. Ideas. They're pretty damn good.
11. After passing through the Pechanga Indian Reservation in Temecula, you arrive at a quaint, ranch-style house Murray owns. He gives you the tour. Orange groves. Tangelos. Avocados. Finally: "I think we're good," he tells you. "We should do this. Do you wanna do this with me?" Yes, you answer. I would love to do this with you, Bill. One thing, though: Can you tell someone other than me that this happened? Because I'm not sure they're going to believe you're doing the movie if you don't tell them. Sure thing, Murray says.
12. Two weeks later, Murray finally calls his attorney. Yes, he's doing the movie. A year later, right after the Fourth of July weekend, he's on set, reading the words you wrote. And you still can't believe it's happening.
But it is. ("St. Vincent," which also stars Melissa McCarthy and Naomi Watts, arrives in theaters Oct. 24.)
Get the Indie Focus newsletter, Mark Olsen's weekly guide to the world of cinema.
You may occasionally receive promotional content from the Los Angeles Times.