Over pastries and awards, Tina Fey talks about the highs and lows of being a female power player in Hollywood
The 25th annual Women in Entertainment Breakfast brought together an invitation-only list of female power players to enjoy avocado on toast, frittata and pastries — and an awards ceremony like no other.
Said Jon Hamm, surveying the room from the podium at Milk Studios in Hollywood, "This is the most inspired I've been at 10 in the morning in some time."
The Emmy-winning star of "Mad Men" came to the Dec. 7 event, hosted by the Hollywood Reporter, to present the Sherry Lansing Leadership Award to Tina Fey, while two Academy Award winners, Susan Sarandon and Jessica Lange, turned up to introduce Ryan Murphy, honored for his commitment to make 50% of the directors on his TV shows women, people of color and members of the LBGT community.
Murphy has worn many Hollywood hats as the creator, writer, director or executive producer (or some combination of all those titles), best associated with blockbusters such as "American Horror Story," "The People vs. O.J. Simpson: American Crime Story" and "Glee." And he's an executive producer for the upcoming "Feud," starring his two presenters.
Oscar-nominated actress Emma Stone and Olympic gold medalist Simone Biles announced three winners of full scholarships to Loyola Marymount University worth $200,000 each, but not before Lansing presented a video about the Women in Entertainment Mentorship Program, a joint venture between the Hollywood Reporter and Big Brothers Big Sisters of Greater Los Angeles, that caused a standing ovation.
The event's presenters and honorees were a few of the famous faces at the breakfast, which was presented by Lifetime. The list included Lea Michele, Jane Lynch, Rita Wilson, Kathy Griffin, Geena Davis, Aja Naomi King, Constance Zimmer, Eva Longoria, Omarosa Manigault, Felicity Huffman, Kate Walsh, Niecy Nash, Maria Menounos, Michelle Monaghan and Vera Farmiga.
And from the magazine's recent Women in Entertainment Power 100 list were Donna Langley, Ava DuVernay, Jennifer Salke, Bonnie Arnold, Bonnie Hammer, Nina Jacobson and others.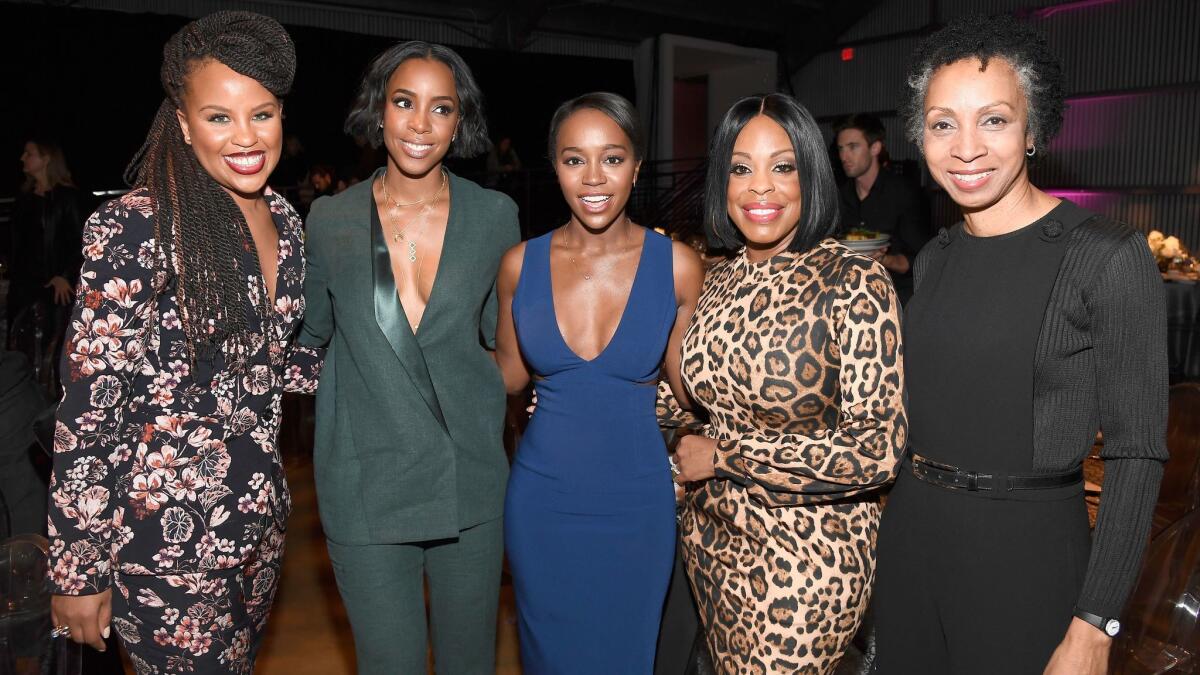 Fox News journalist Megyn Kelly, who's also on the list, kicked off ceremonies by praising the women who stood tall this year "in the face of firestorms and fury and fear." Not surprisingly, she included among them "Hillary Clinton, for breaking a barrier no woman has ever done in America and told little girls, 'Listen up. You're next.'"
Later, Kelly heaped more accolades on Clinton for being "a female presidential candidate, pushing 70, who runs for office without first getting a face-lift."
Kelly wrapped up her remarks with an allusion to the president-elect who waged a Twitter fight against her, saying, "Despite the tweets and all the rest of it, there is much to admire about Donald Trump."
Never mind that some audience members — most notably Griffin — booed, Kelly said, "There is much to admire about him, and I think the more we understand that and understand why he won this election, the better off we'll be as a country."
For her part, Fey began with a few good-humored shots at the men in the room, starting with Hamm for "Trump-ing" her, as he sidled up behind her after handing her the award.
About producer and director Brett Ratner's presence, Fey said, "In his defense, he thought this was a thing where you could eat breakfast off of a hundred women."
As for her fellow honoree, she called Murphy "the prolific genius who has created so many opportunities for actresses of a certain age to play witches and horrifying monsters and lawyers who fail to convict."
She shared observations on "these incredibly ugly times" before moving on to her definitions of power, beginning with "knowing that you will be heard — not necessarily obeyed but heard."
Fey added, "I have a little bit of that power. I can get [NBC Entertainment Chairman] Bob Greenblatt or [Universal Pictures Chairman] Donna Langley on the phone within, like, 48 hours. But can I get my 5-year-old to answer me if 'Teen Titans Go!' is on? No, I cannot."
While still onstage, the nine-time Emmy winner and best-selling author also wondered aloud, "What's next for me? What is my role in this business going to be once nobody wants to grab me by the ... anymore?"
Fey then said, "First, there's a lot of reassurance that everyone's ... is still very grabable."
She concluded her speech by saying she'd like to be like Beyoncé and stop giving interviews because she's always asked the same questions — one of them being, "What advice do you have for young women?"
Her answer? "I say, 'Don't smoke. Wear a bra. Trust your instincts. Don't ... John Mayer,'" Fey said.
Get our L.A. Goes Out newsletter, with the week's best events, to help you explore and experience our city.
You may occasionally receive promotional content from the Los Angeles Times.