Looking for fresh makeup ideas? Here's a recap of beauty trends from Milan Fashion Week
ALBERTA FERRETTI: "The most beautiful girl in the world" is what makeup artist Tom Pecheaux aimed at while creating the beauty look for Alberta Ferretti — "a very sexy woman," Pecheaux underscored. Smoky eyes defined by a little bit of eyeliner were key. On top, a very fresh lavender glitter by MAC Cosmetics highlighted eyelids and cheekbones. It's not a glossy look, but a glowy one: "We replaced the gloss with a glitter," Pecheaux explained. The makeup played with the contrast of a very satiny skin and nude lips. Skin was prepared with a massage and a little bit of contour, while no powder was used, and it was smoothed with Waterweight foundation by MAC Cosmetics, in a way that it looked flawless but natural. Waterweight foundation was used on the cheek contour, two shades darker than the model's skin tone.
FENDI: The beauty look at Fendi was all about the eye. Makeup artist Peter Philips shaped a very graphic makeup to get a "strong, bold effect," he said. Inspired by the ready-to-wear collection, Philips mixed ranges of colors to get to a petrol, blue-green hue, which matched the clothes. A little bit of black mascara was used on the top lashes. The smoky eye played with the contrast of a natural yet luminous skin, which was prepared using Diorskin Star Foundation, a touch of contouring, no blush, but a wash of powder only. Lips and nails were kept natural, to balance strong graphic eyes.
PRADA: Speaking about the beauty look at Prada, makeup artist Pat McGrath described a very strong, independent and individual woman. A tomboy-like girl, because "tomboys can be beautiful." The inspiration came from the idea of a very fresh and honest girl who is direct and sensual at the same time. No mascara was used on the eyelashes, while eyebrows were mainly brushed up. Eyelids were smoothed with a Pat McGrath Lab palette in the more natural matte hue because "it's all about the skin" McGrath underscored, as the inspiration comes from a very direct woman. To highlight the skin, she used a light touch of foundation, "almost used as a contour." Lips were just balmed and kept natural and nails followed the same trend: they were just kept neutral, only well-polished.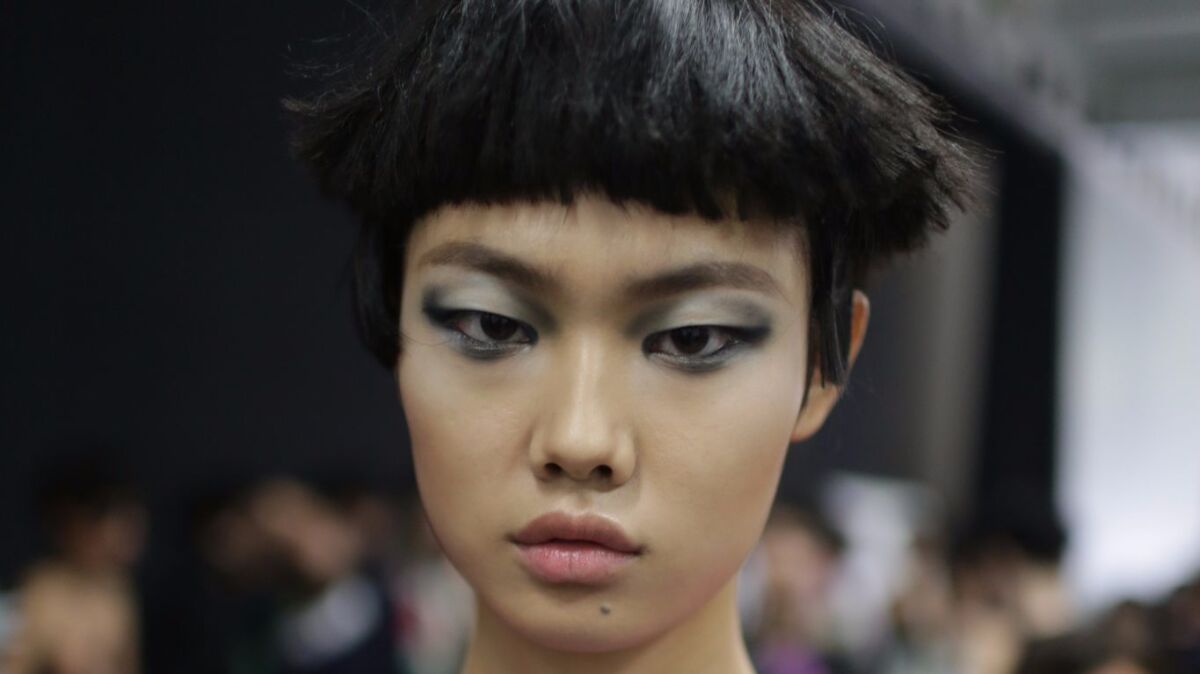 GIORGIO ARMANI: Graphic eyes that match with graphic hair. This time "we wanted to do something more [artistic] and more free," makeup artist Linda Cantello said, speaking about how she studied the look with Giorgio Armani for spring. The look was about black-and-white shadows and the makeup was applied as it was a painting, a painted skin that one can mix and match and blend. A strong black line defined the eyes with shadows and white flashes of light, but this contrast was modeled by respecting each girl's personality. As the focus was on the eye, skin had a fresh look. A brand new base was prepared for skin, a whitish highlighter that can be blended — and will come out in a line in April.
ETRO: A massive show with nearly 100 male and female models, to start the celebrations of the 50th anniversary of the company founded in 1968. Etro's atmosphere was a mix of tradition and innovation and was inspired by the idea of a woman on her trip to India. Makeup artist Mark Carrasquillo created "a real gentle and delicate makeup," as he explained. Skin was almost bare as the focus was on a natural shiny face. A delicate highlighter was used on the nose, on the chin and around the eye. No mascara on the eyelashes and a little bit of concealer helped give a "super-gentle version of the girl's beauty." A luminous, gorgeous glowy yet natural skin: "A very easy but pretty beauty." Lips were very well-balmed and left neutral to emphasize a great natural beauty.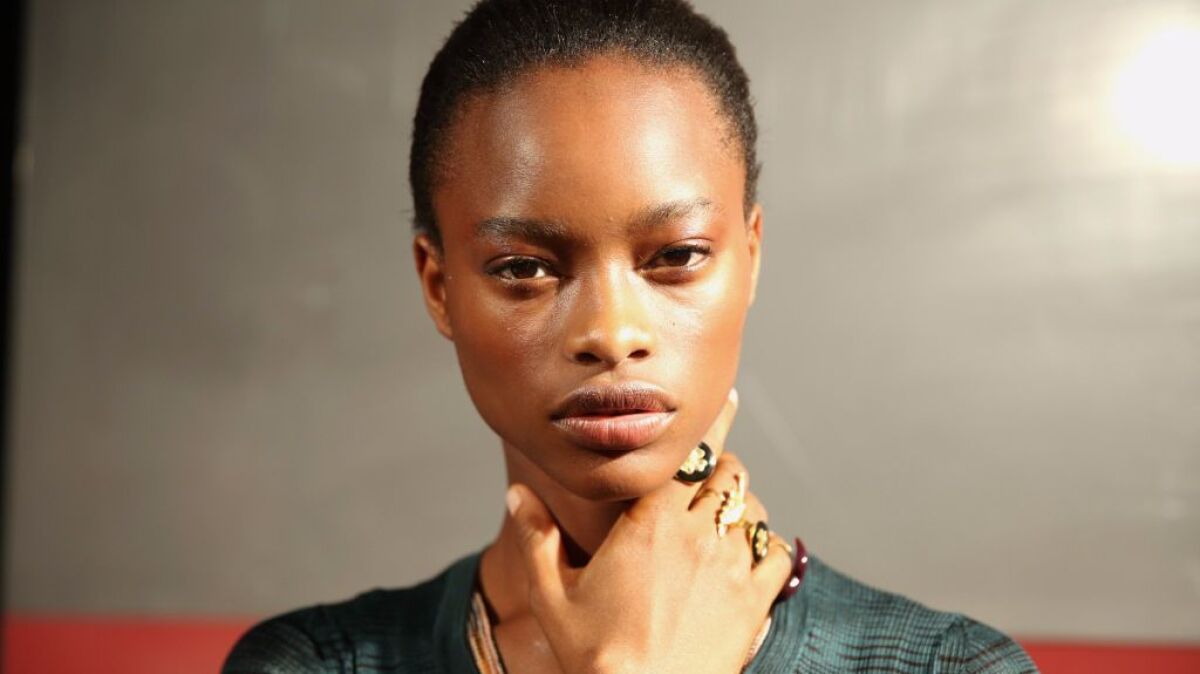 MISSONI: "It's all about the eyes, which become very graphic and almost neon," makeup artist Lynsey Alexander said. The inspiration came from those late Eighties, early Nineties cool pictures. "Think about Amber Valletta," Alexander said, as shot by Craig McDean. To get the bold graphic shades on the eyes, Alexander used a combination of acrylic paints to create custom Missoni color on green, purple and blue hues. No mascara was used on the eyelids and skin was kept fresh and natural, too, while a smidgen of concealer was used only if needed. Prime Highlighter pen helped brighten below the eyes.
MARNI: The dream of a treasure hunt, where we need beauty, eclecticism and "individualism," said makeup artist Pat McGrath, describing Marni's beauty look. "We wanted all the girls to have bold colorblocking," in blue, baby blue and green. Color was dabbed as if the makeup was applied with one's fingers, in an elongated shape. No mascara was used and, as a contrast, skin was kept fresh, with no blush but just foundation and concealer.