Goop hiring to expand collections, debut home goods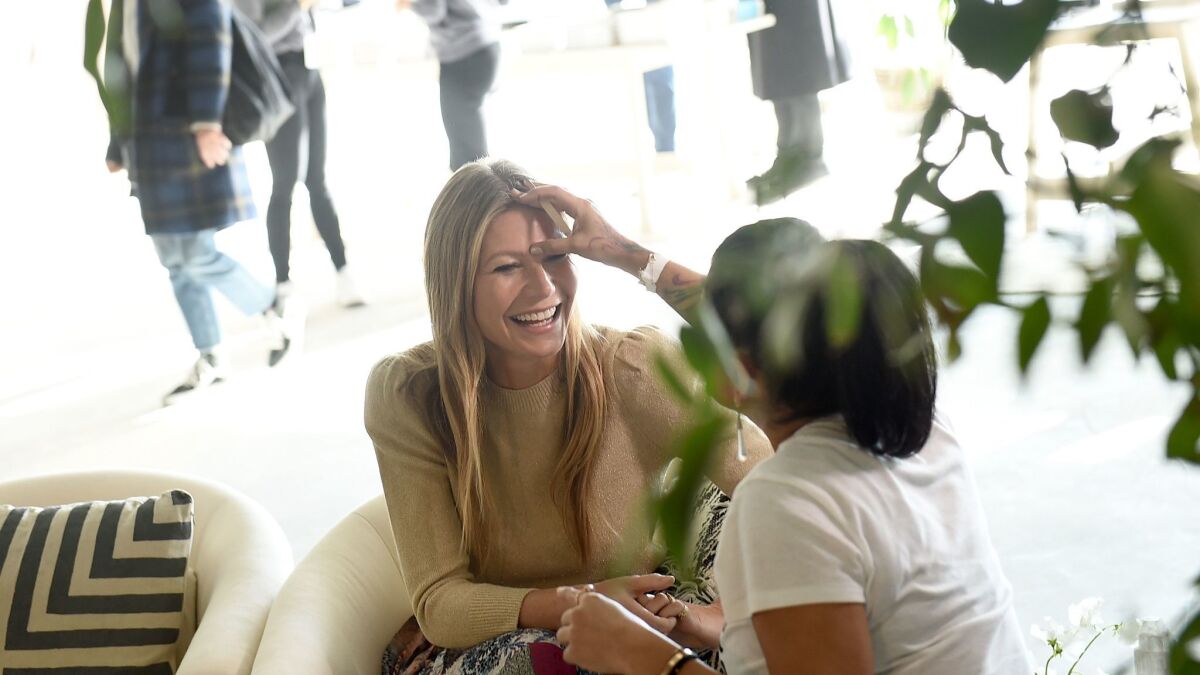 The fashion world is going to get Goop-ier this year. The high-end, love-it-or-hate-it lifestyle brand that Gwyneth Paltrow started more than a decade ago as a list of her favorite things and places for inquiring friends is ready to expand its collection of branded merchandise beyond a small line of skin-care and wellness products and a limited run of apparel separates.
Expect more knitwear, which Goop has dabbled in with a few pieces since launching its "G. Label" about 16 months ago, but also denim, which will be a first for the label. G. Label releases a handful of pieces every month and the most recent three-piece collection features a cable knit sweater priced at $650 and a sweater dress priced at $595.
Asked about the future of the line, Blair Lawson, Goop's chief merchandising officer, said that G. Label is set to continue in its current format of "tightly edited monthly drops" that will be sold exclusively through Goop. But she admitted the company is "building out the team and infrastructure to support broader monthly collections," as well as an expansion of the G. Sport athleticwear line.
The company is now looking for a fashion production director, a fashion buyer and a merchandise planner, according to several new job postings.
This is not the first hiring spree Goop has been on recently. Late last year, the company brought on Shaun Kearney as senior vice president of fashion, where he's been charged with growing the branded label and Goop's overall fashion business. Kearney came to Goop from Fabletics, the women's athleticwear brand founded by Kate Hudson. Wendy Lauria also came on as vice president of marketing at the time and Erin Pollard was hired as director of partnerships, international fashion and luxury. Both came from Harper's Bazaar.
But Goop isn't only expanding in fashion. It's headed toward its first launch of branded home goods as well and is looking for a vice president to head up the category.
Lawson said "developing our own home products, as well as building out our highly curated multibrand assortment in home is a priority this year," and added that Goop has "some very exciting projects underway in the home category."
As for how the development of Goop home will go, Lawson said it will follow the same path of the brand's other segments — keeping things "selective and thoughtful" — and be complementary to them as well. Right now, Goop's web site has about 400 brands across fashion, beauty, home and wellness.
Overall, Goop tripled its year-over-year revenue in 2017, and while its multibrand business grew 250 percent during the year, its own brand grew 400 percent and is on track to make up more than 50 percent of the company's e-commerce revenue in 2018. But Lawson said the 50-50 split "is an ideal balance for us" because Goop wants its own products to "fit seamlessly into our multibrand assortment."
Still, Goop sees that "nothing is off-limits" in terms of branded product additions, according to Lawson.
"That being said, we don't roll things out without a lot of thought," she added. "It's important to us to identify a need, test the market and fully understand the space before we introduce a new product."
---