Fashion's Band of Outsiders much in demand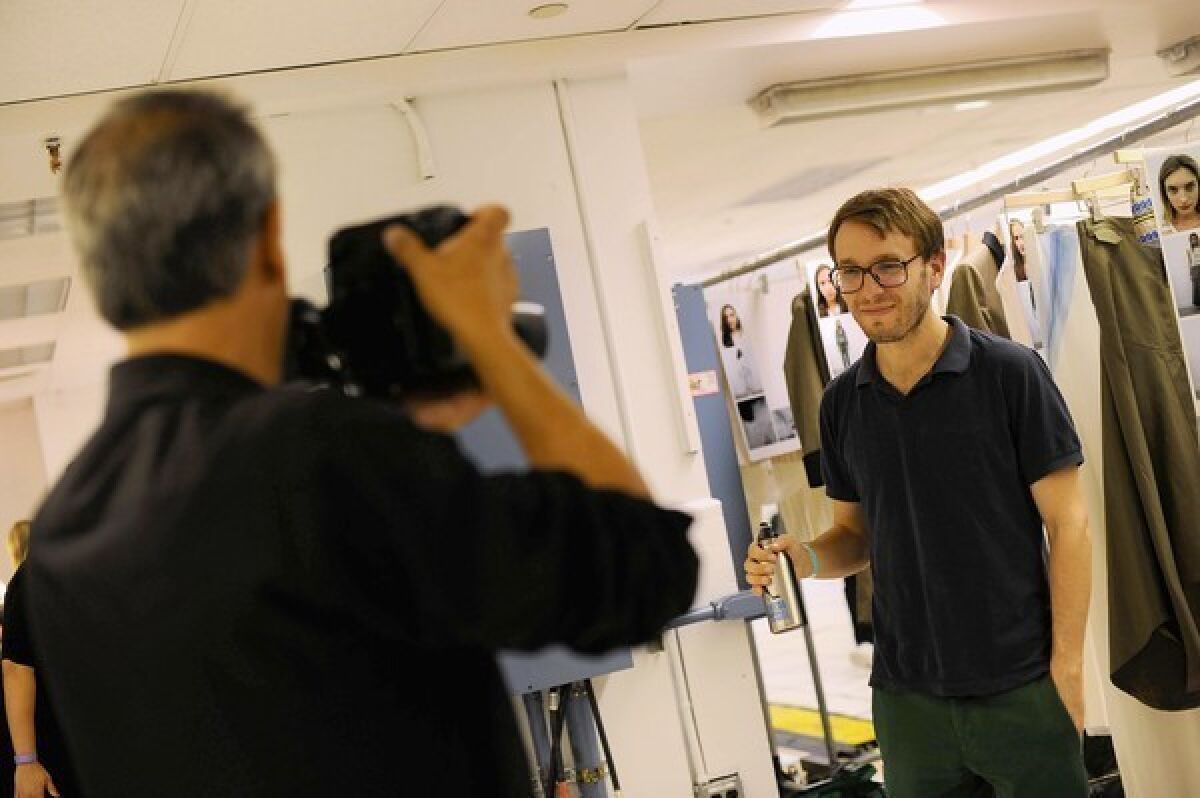 Los Angeles Times
NEW YORK — As it gets ready to enter its 10th year, the Band of Outsiders brand has just about become the ultimate fashion insider.
In June, founder and creative director Scott Sternberg presented his menswear collection in Paris for the first time — in a live-streamed, 60-hour event billed as "the longest show ever." The brand's first retail store is being built in Tokyo. And the first lady of the United States, arguably the most high-profile fashion fan in the country, has been spotted in the Boy by Band of Outsiders women's line not once but twice this year.
Sternberg has received accolades from his peers, as well as commercial success. In 2007, he was one of 10 finalists for the Council of Fashion Designers of America/Vogue Fashion Fund award, in 2008 he took home the CFDA's emerging menswear designer of the year award, and in 2009 he earned the group's menswear designer of the year award.
Not bad for a guy with no formal fashion background who launched his line out of L.A. nine years ago this month armed with only a love of cinema, two freshly issued credit cards and a crystal-clear vision of what he wanted his brand to be. In the process he's breathed new life into the preppy aesthetic.
Today Band of Outsiders is a bicoastal business with global distribution. Its headquarters in Los Angeles (across Santa Monica Boulevard from the Hollywood Forever Cemetery) employs 14 people, and its New York City office (occupying a former fortune cookie factory) employs four.
On a sunny September day immediately following his New York Fashion Week show — the first solo runway presentation of his women's collection — the graphic design junkie, photography aficionado and cookie-obsessed Silver Lake resident has the rumpled look of a college kid fresh off an all-nighter, holding back-to-back meetings with European suppliers and partners and conducting interviews with Japanese reporters.
"Right now I'm trying to hire a CEO, which would really be helpful," Sternberg says, "in terms of house[keeping] on the supply-chain side and the distribution side."
Sternberg declines to share specific sales figures for his privately held company, offering only that the company does a wholesale business of $10 million to $20 million per year.
With the ubiquity of brands that mine the "preppy with a twist" vibe, it's easy to forget that Sternberg was a neo-prep pioneer of sorts, launching his updated take on American classics into a menswear market not yet filled with the likes of Michael Bastian and Thom Browne's Black Fleece collection with Brooks Brothers.
Whether it's slimming down Oxford shirts, making patchworked pencil skirts out of suspenders, dip-dying madras or turning Sperry Topsiders inside out, Sternberg's clothes always seem to hit the sweet spot of reverent homage. "Most of what we do is [stuff] I grew up with that I love," he says.
Sternberg, 38, grew up in Dayton, Ohio, and studied economics at Washington University in St. Louis with a minor in photography.
He moved to Los Angeles in 1997 and took a series of typical Hollywood jobs that culminated in a three-year stint as an agent in CAA's new media division. (A typical project, he says, would be "like pairing 'American Idol' with Coca-Cola — that sort of thing.")
In early 2003, Sternberg joined a company founded by Hollywood producer Cary Woods; Woods' ex-wife, J. Crew co-founder Emily Woods; and Nantucket Nectars co-founder Tom Scott (Emily Woods' current spouse).
Before the trio eventually decided to focus all their efforts on launching a resort community TV channel called Plum TV, Sternberg had the opportunity to work on a variety of projects for them, including one that planted the seeds for the Band of Outsiders brand.
"I was working with a couple of young designers," Sternberg says, "developing the core of who they were and helping distill their ideas into something that could eventually be a product line for Target or Wal-Mart. That was the first time I started doing all kinds of branding stuff around fashion."
One of the designers he worked with was Quincy Jones' daughter Kidada, and Sternberg remembers putting inspiration boards and product ideas together and building out an entire collection. (Kidada Jones would eventually partner with Walt Disney to produce a line of jewelry and accessories called Disney Couture.)
"It was really understanding — and commercializing — who she was, what she stood for and how that would translate into a product that someone — in this case tweenage girls — would want to buy," he says.
At the same time, Sternberg says he started formulating his own concept, one that focused on men instead of tweens. "I put together my inspiration boards, I hired a student to draw some flats for me so there were garments in there. I had fabric swatches, I did a proper collection pitch, and I made a proper presentation of it."
When his bosses decided to focus their efforts solely on Plum TV, Sternberg said he realized that what he really wanted to do was pursue his nascent fashion interest.
"And Emily [Woods] pulled me aside and said: 'Listen, you have no training but your ideas are lucid — you couldn't be more clear. This is what a fashion designer is. Have you ever thought about doing this? It seems so natural to you.' And that was really the inflection point for me."
In October 2003, Sternberg struck out on his own and took classes in illustration, pattern-making and garment construction. He started his Band of Outsiders menswear label that month with just two products — shirts and neckties. He incorporated the company in January 2004, and within a few months his super-skinny neckties and slim-fitting shirts started hitting retail.
His first retail accounts included Barneys New York and the Ron Herman and South Willard boutiques in Los Angeles.
"At that time we were looking for some really plain men's button-down shirts without logos on them," recalls South Willard's co-owner Ryan Conder. "And there was nothing at that time — everything was either really formal like Prada or middle-of-the-road with logos all over them. Scott made a really understated, basic, button-down shirt that fit well. And it was made in the U.S.A., which was great."
In the years since, the menswear label has grown to include jackets, hand-tailored suits, knits and outerwear pieces. Spring-summer 2009 saw the addition of a menswear-inspired designer line for women called Boy by Band of Outsiders. In January 2010, a line of lower-priced fitted men's polo shirts (dubbed This Is Not a Polo Shirt) joined the Band family. A softer, more feminine women's contemporary line, Girl by Band of Outsiders, followed for spring-summer 2011.
A big part of the brand's DNA is the influence of film. Not only does the name come from the Jean-Luc Godard film "Bande à part," but seasonal inspirations have included Godard's "La Chinoise" (which influenced the fall 2009 collection), Jacques Cousteau's "The Silent World," (spring 2010) and "The Hunger Games" (Boy by Band of Outsiders' spring 2013).
That there's a cinematic theme to hook into, that the clothes are high-quality and well-designed and that everything from the typefaces used and the way the ad campaigns are shot (on a dwindling stock of Polaroid 600 film) hew strictly to Sternberg's vision for the brand are only parts of the equation. There's something about Sternberg himself, his personality and sense of humor that all play into the brand's success.
It can be seen in the Lego figure in Sternberg's bespectacled likeness (the legacy of an early installation at Opening Ceremony), the occasional entries in his cookie blog (which started as an in-joke with some friends and can be found at the Band of Outsiders website) and the movie screenings he hosts at the Hollywood Forever Cemetery (over the summer it was a showing of the Bill Murray summer-camp classic "Meatballs.")
"Look," says Nina Garduno, the buyer responsible for bringing Band of Outsiders to the racks at Ron Herman and who has gone on to launch her own Free City label, "there are a lot of people with great ideas who don't have drive, and there are a lot of people who have drive but no great ideas. He's got both — and he's charming and personable."
South Willard's Conder said he didn't have any idea the guy he met selling shirts and ties out of his L.A. apartment in 2004 would get to be where Sternberg and his brands are today.
"I probably should've figured it out," Conder says, "because everything is very calculated with Scott. He's very smart about what he does, but he's such a humble guy. It's like he's the kid that pays attention in class."
If Band of Outsiders were a film, 2012 might well mark the start of the second act, and like any good filmmaker, Sternberg is happy to hint at what's coming next — but he's not about to give up the plot.
Yes, he'll say there's a book in the works (compiling the Polaroid celebrity ad campaigns he's shot over the years), and he's happy to discuss the Tokyo store, which he thinks will be set to open next October. But he won't talk about specific plans for stand-alone stores in the U.S. or a brand extension that's in the works. ("I can't give it away because it's so specific … but all in due time," he says.)
"For the next year, the goal is to get the supply chain in place so when we do have a network of stores we're able to fill them on any given week," he says.
Although the Tokyo store is being opened in conjunction with Japanese partners, Sternberg, who owns his company free and clear, says he's reluctant to take on any partners or investors who don't share his long-term vision.
"I'm a brand guy," Sternberg says. "It's super important that I sell a lot of shirts and blazers and all that stuff because that's the legacy, but in terms of the real value that I'm creating, it's around this brand that can have a life well beyond me. So that requires decisions that are always going to give an investor pause."
As a former agent and ardent cinephile, Sternberg's one brand guy who knows all too well that when a film gets made by committee, there's rarely a Hollywood ending.
---