A wine list with no bottles? Truxton's American Bistro offers inventive wine service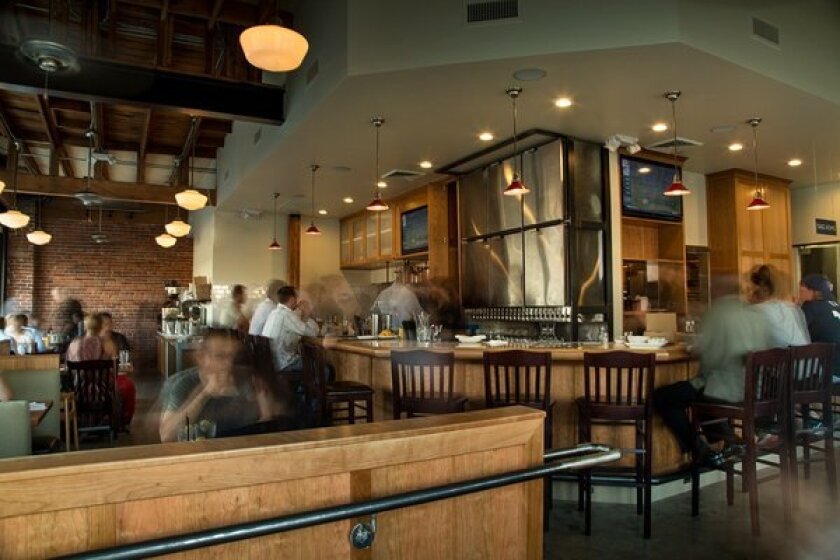 Restaurants (or at least some) have finally seen the light and are no longer hauling cases of bottled water in, shipped from across the seas. They're creating their own water in house and served in carafes.
A new Santa Monica restaurant is going further and dispensing with wine bottles entirely. That's right. Lou Moench, wine director for the new Truxton's American Bistro, is serving wines strictly from cask.
"We're going out and sourcing wines that you would normally pay $30 to $80 a bottle for," co-owner Tim Foley explains in a statement. By eliminating the costs of distribution, marketing and bottling, he contends Truxton's can serve its customers superior wines for less.
In other words, these aren't going to be cheap keg wines. Interestingly, the casks won't be wooden at all, but stainless steel. Sixteen of them. So, just sixteen wines to choose from at a time. And just in case you're wondering, the casks are hermetically sealed so no oxygen will ever touch the wine.
Right now Moench, who owned Father's Office from 1986 to 2000 and initiated its draft craft brew program, is busy tasting and negotiating directly with wineries for the wines. His first selections are mostly from California, but in the future he plans to add wines from Oregon, Washington, Italy, Spain, South America, New Zealand and Australia.
No labels. No names. Just the barrel number, vintage, varietal, alcohol level and viticultural area. Which means you'll just have to trust your own palate to decide the value of these wines.
Wines are priced by the glass, half-carafe, and full carafe. For example, a 2010 Chardonnay from Tracy Hills AVA fermented and aged in French Oak barrels goes for $6.50 a glass, $17 for a half-carafe and $34 for a full carafe (the equivalent of a normal wine bottle). There's also a Sauvignon Blanc from Sonoma Coast, a Santa Barbara Pinot Grigio, and a Viognier from the Santa Ynez Valley made with bio-dynamically farmed grapes.
Reds include a Nebbiolo from Lake County, an organic Merlot from Mendocino County and a single-vineyard Syrah from Arroyo Seco-Monterey. A 2009 Cabernet from Chalk Hill in Sonoma County is the most expensive wine on the list at $10 a glass, $20 for a half-carafe and $40 for a full carafe.
You can see how this cask program could have real advantages, especially for the casual wine drinker who finds lengthy wine lists daunting. The half-carafe is a better buy than two glasses of wine. And if you're just two, you can order two different half-carafes instead of having to stick with just one wine for the entire meal.
Chef Greg Schroeppel (ex-Spago, Chinois on Main, Granita) turns out a menu that's a little bit retro (and very middle of the road) with a little bit of everything. Taquitos, chicken wings, a French onion soup and a five-cheese spinach dip lead the "small plates & soups" category.
Larger plates include 11-spice brisket plate, rotisserie chicken, Argentina-style flat iron steak and chicken "chile verde" burrito. But there are also familiar pizzas, pastas, salads, burgers, sandwiches and vegetarian and "healthful" options, too. The match for the latter would be naturally one of the organic wines.
An all-cask restaurant is an interesting concept, one that will very much depend on customers leaving labels, wine scores and prejudices behind and trusting their own palates. Will they be able to do it?
ALSO:
Tender Greens chef lives a home brewer's dream
Did this guy really drink $100,000 worth of whiskey?
All-white flash-mob Diner en Blanc comes to Los Angeles
---
Get our weekly Tasting Notes newsletter for reviews, news and more.
You may occasionally receive promotional content from the Los Angeles Times.