Is Portugal ready for its moment? If George Mendes' 'My Portugal' has its way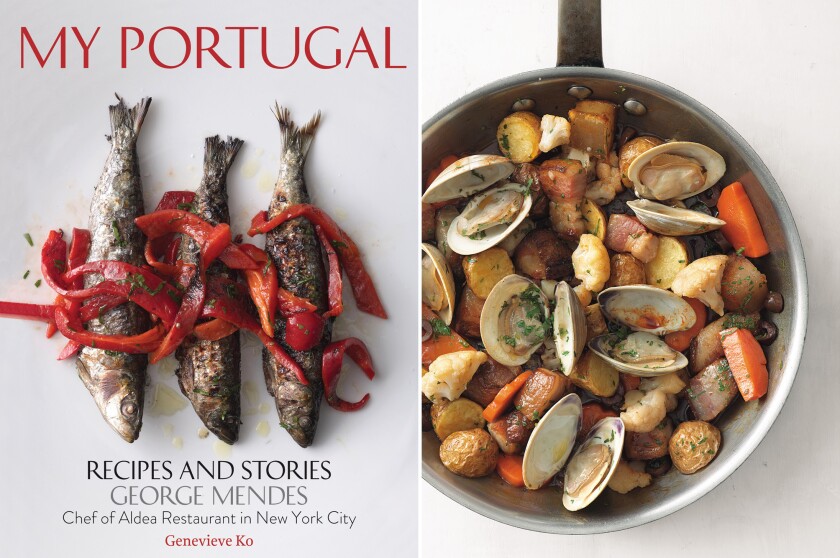 Cookbook shelves are overflowing with books about Spanish cuisine, Italian cuisine, French country cooking and even Greek taverna cooking. But Portuguese? Thin pickings. But now comes a new book by George Mendes, chef of Aldea Restaurant in New York City.
"My Portugal: Recipes and Stories" is such a wonderful reminder of everything that's alluring about Portugal -- the landscape, the people, the cuisine, the ingredients, the tradition, the wines -- all seen through the eyes of this passionate Portuguese American chef.
Until now, the best Portuguese book out there has been from David Leite of the blog Leite's Culinaria, who published "The New Portuguese Cooking" a few years ago. That's a great book for the home cook.
This is Mendes' take. Of course, because we're talking Portugal, he's devoted an entire chapter to bacalhau, or salt cod. This chef, though, doesn't buy the board-hard dried salt cod. Instead, he cures his own for two or three days with just whole, skin-on cod filet and kosher salt, changing the water every 16 hours or so. And to make it even more flavorful, he wraps the salt-covered fish in cheesecloth and hangs it in the walk-in fridge. (Home cooks can place the fish on a wire rack set in a roasting pan.)
The recipes include his mom's salt cod and potato croquettes (which you can make ahead and serve at room temperature), salt cod with smashed potatoes and spring onions, a lovely salt cod and chickpea salad, even a recipe for farm egg, salt cod, black olives, and crunchy potatoes. I'm in, soon as I get it together to cure the cod.
The book does include some simple recipes, such as aromatic black-eyed peas, Brussels sprouts with quince and bacon, fried eggs with chanterelles, morcella (blood) sausage, and potatoes, and a killer cinnamon-vanilla rice pudding with Vinho Verde-poached plums.
There are great, rustic soups, too, including an Alentejo specialty: tomato, bread and egg stew lightened up with fresh lime zest and cilantro, and a classic collard greens soup with chouriço sausage and Yukon gold potatoes.
But to make many of the other dishes, you'll have to plan ahead. Mendes cooks like the chef that he is --with stocks and essences, and other bits of prep always at hand. I very much wanted to print the recipe for pork belly with clams and pickles, which Mendes calls one of his favorites of all time, "the epitome of the soulful meeting of land and sea." Only before you make it, you also have to make a pork jus, a pork stock, roasted pork belly and refogado, the Portuguese version of sofritto.
Even if you don't cook a thing, read the book. In small vignettes and stories, Mendes' love for Portugal and its cooking comes through the pages, his affection for his family and food he grew up with. You'll hear about his father and mother, their Portuguese neighbors, about adventures seeking out the best suckling pig in Portugal or eating seafood in Lisbon. This is a cookbook to dream on.
Grilled sardines with charred peppers
Not tested in the Los Angeles Times Test Kitchen.
"Fresh sardines are completely different from the tinny, salted canned kind," Mendes writes. "They're as fatty as salmon, but with firm yet flaky mild white flesh. Their thin skin's tough enough to hold up on the grill, but delicate--and delicious -- enough to eat. I love the roasted, marinated peppers here, but the sardines are also great on their own with freshly squeezed lemon juice.
Serves 2
2 poblano peppers
1 green bell pepper
1 red bell pepper
Extra-virgin olive oil as needed
Kosher salt to taste
Sherry vinegar to taste
6 sardines, gutted and cleaned
Maldon sea salt to taste
1 tablespoon chopped fresh parsley leaves
4 lemon wedges, for serving
Prepare a grill by heating a mixture of all-natural briquettes and hardwood lump charcoal until very hot.
Lightly coat the peppers with oil and very generously season with kosher salt. Place on the hot grill grate and grill, turning occasionally until blackened and collapsed, about 15 minutes. Transfer to a dish. When they're cool enough to handle, peel the skins off and remove the stems and seeds. Cut the peppers into 1/2-inch wide strips and toss with oil and vinegar. Let stand to marinate.
Make sure your grill is still very hot. If not, add more charcoal and heat.
Lightly coat the sardines with oil and sprinkle generously with kosher salt. Place on the hot grill grate and grill, turning occasionally, until grill marks appear and the sardines start to whistle, about eight minutes.
Transfer to serving plates and drizzle with oil. Sprinkle Maldon salt on top of the fish. Garnish with the parsley. Serve with the marinated peppers and lemon wedges.
Follow @sirenevirbila for more on food and wine
---
Get our weekly Tasting Notes newsletter for reviews, news and more from critics Bill Addison and Patricia Escárcega.
You may occasionally receive promotional content from the Los Angeles Times.