6 places to get great banh mi in L.A. and O.C.
The ubiquity of banh mi, the French-influenced, Vietnamese baguette sandwich, in the United States -- or at least along the West Coast -- may seem relatively recent. But it's been a slow and steady burn since the late 1970s and early '80s, when Vietnamese immigrants started small businesses in San Jose and Orange County.
The classic banh mi contains "smearings of pate and various Viet cold cuts, daikon and carrot pickle, chile heat and cilantro," according to Andrea Nguyen, an expert on Vietnamese food and the author of several books, including "The Banh Mi Handbook."
Vietnamese baguettes tend to be a little softer than their French cousins, a result of mixing rice flour or conditioners such as vitamin C powder into the dough. The bread is split open and filled to bursting with pate and other ingredients, whether it's the cold cuts Nguyen mentions, barbecued pork, sardines or tofu. Pickled root vegetables are an important component, as are jalapeno slices and a few dollops of sweet mayonnaise, preferably Kewpie brand, a Japanese variety.
Food enthusiasts in the United States can sometimes get a little dogmatic about tradition and "authenticity." But some foreign food, like the banh mi, is the result of cross-cultural experimentation. The sandwich got its start in the late 1800s, when French colonialists brought bread and pate to Vietnam, where bright and spicy flavors were added to that simple combination, creating the sandwich we know today. And the experimentation continues in Vietnam: According to Nguyen, the latest craze in Saigon is the "doner kebab banh mi."
Here are six restaurants across L.A. and Orange counties also trying something new with banh mi.
East Borough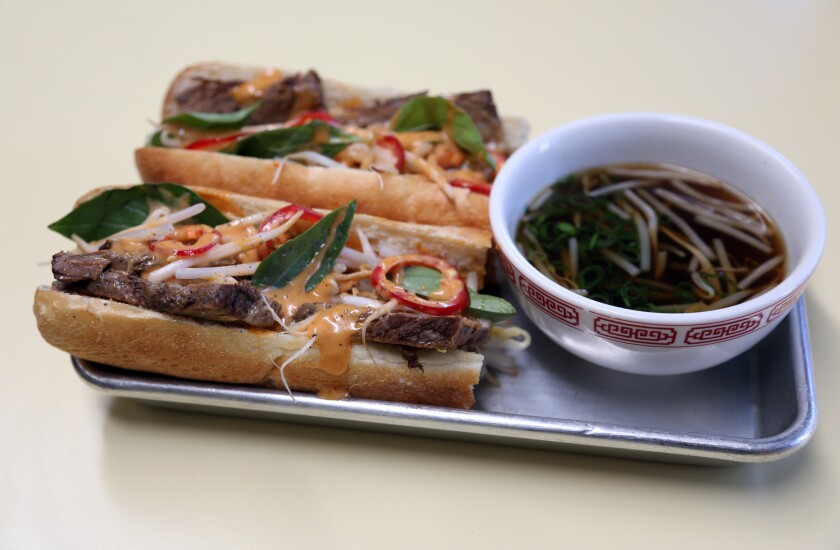 A moderately upscale restaurant with a full bar, East Borough raised some eyebrows when it opened a few years ago with a $12 banh mi, but the restaurant is having a lot of fun with the sandwich, and it's worth checking out. Laughing Cow cheese smeared on a baguette is one of Vietnam's most popular snacks, but East Borough may be the only place on the Westside selling it, topped with herbs and other traditional ingredients. The restaurant also adds the cheese product to the sardine banh mi. The "pho baguette" is a play on pho and French dip, smashed together in banh mi form. It is essentially the ingredients in the uber-popular soup placed on a baguette, with a cup of beef broth on the side. 9810 Washington Blvd., Culver City, (310) 596-8266 | East Borough O.C. 2937 Bristol St., Costa Mesa, (714) 641-5010, www.east-borough.com.
Ba Le
The name "Ba Le" is used with abandon by Vietnamese American restaurateurs, as it's associated with quality and, somewhat ironically, originality: The first Ba Le restaurant was a pioneer that found an audience outside the immigrant community. The three Ba Les in Reseda, Alhambra and Westminster have been there since 1984, the early days of the banh mi boom. The baguettes are prized -- the team behind Starry Kitchen/Button Mash swears by them -- and can be purchased on their own. Ba Le also makes it own mayonnaise -- which can be bought separately, too -- as well as a number of sides and snacks. The pandan waffle is popular: Eat it hot while you wait for a classic sandwich. Ba Le Alhambra, 1426 S. Atlantic Blvd., Alhambra, (626) 308-3003 | Ba Le Westminster, 9152 Bolsa Ave., Westminster, (714) 891-9424 | Ba Le Reseda, 18625 Sherman Way, Reseda, (818) 342-9380.
Saigon's Bakery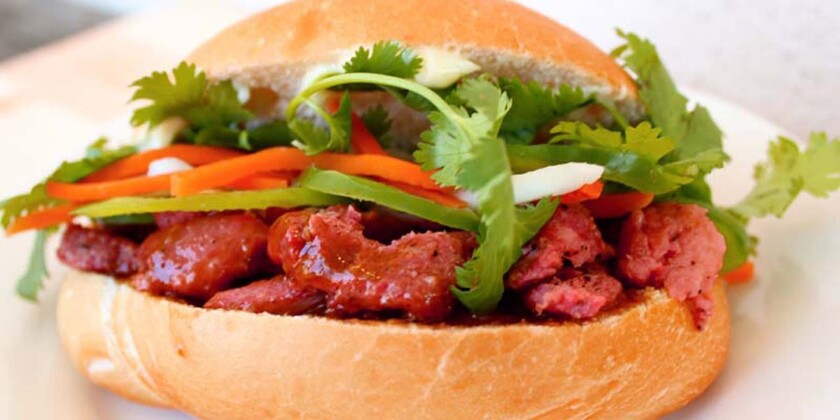 Often just called Saigon Bakery (even by the company itself), Saigon's has a couple dozen different sandwich options, half of which are served on baguette. (The other half are served on round loaves of French bread.) On the menu is a trung, or fried egg, option. There's also xiu mai, or meatball. Here's a tip: combine them for a messy, richer version of the standard banh mi. The breads are made in-house, along with croissants, which can be subbed in for the sandwiches. We've all heard of ham croissants, but added scrambled egg, cilantro, pickles and jalapenos really elevate the classic. 8940 Westminster Ave., Westminster, (714) 896-8782 | 13861 Brookhurst St., Suite 17, Garden Grove, (714) 539-9921, www.saigonsbakery.com.
Tan Hoang Huong
This mini chain has a full menu, but by the time you reach the counter, you've probably decided to stick to banh mi. THH has a nice selection to choose from -- pork comes in about six forms, and there's steak, tofu, chicken and sardines, too. But try a "breakfast" banh mi. Spam and egg is a good choice. If you can't fathom Spam, just request a fried or scrambled egg added to any sandwich. THH is also a bakery, so leave with a couple pate chaud and a baguette. And maybe some pandan cake. Be forewarned: The boba is more of a milkshake than a tea. Tan Hoang Huong Tustin, 14081 Newport Ave., Tustin, (714) 731-1366 | Tan Hoang Huong Westminster, 6926 Westminster Blvd., Westminster, (714) 891-3344 | Tan Hoang Huong Fountain Valley, 15972 Euclid St., Fountain Valley, (714) 775-7422 www.thhsandwiches.com.
Little Sister
Though it doesn't bill itself strictly as a Vietnamese restaurant, Little Sister (with a location in Manhattan Beach and a new one in downtown L.A.) clearly takes most of its inspiration from Vietnam -- or from Vietnamese American culture. The most classic banh mi on the menu, with pate, grilled pork and cold cuts, is called the #SGV Special. There are grilled chicken and fried fish options, too, and Little Sister also has a pho-derived sandwich: "six spiced" brisket and tendon, with hoisin, red onions, fried shallots and garlic, hot mustard, and green and red sambals. Little Sister DTLA, 523 W. 7th St., Los Angeles, (213) 628-3146 | Little Sister Manhattan Beach, 1131 Manhattan Ave., Manhattan Beach, (310) 545-2096,www.littlesisterla.com.
Gjelina Take Away
There's no hipper restaurant in Los Angeles than one where your chair might just be an overturned crate. Hidden in the long sandwich menu are two options that can be considered banh mi, though only one is labeled as such: the brisket banh mi, and the pork belly sandwich. The former comes with pickled carrots, pickled onions (rather than daikon), cilantro, aioli and a jalapeno vinaigrette. The latter has that same aioli, pickled turnips, arugula and harissa. With its flavorful mayo, pickles and pork cooked on high heat, the sandwich clearly takes inspiration from Vietnamese cooking. 1427 Abbot Kinney Blvd., Venice, (310) 392- 7575, www.gjelinatakeaway.com.
ALSO:
How to make perfect biscuits, plus 9 recipes
Spicy soup and more Korean comfort food at Yook Cal Bop Sang in Koreatown
Head to Corazon de Tierra, a restaurant on a winery, in Baja's Guadalupe Valley

---
Get our weekly Tasting Notes newsletter for reviews, news and more.
You may occasionally receive promotional content from the Los Angeles Times.