Your guide to 5 IPAs: Decoding the different styles of this hop-intensive beer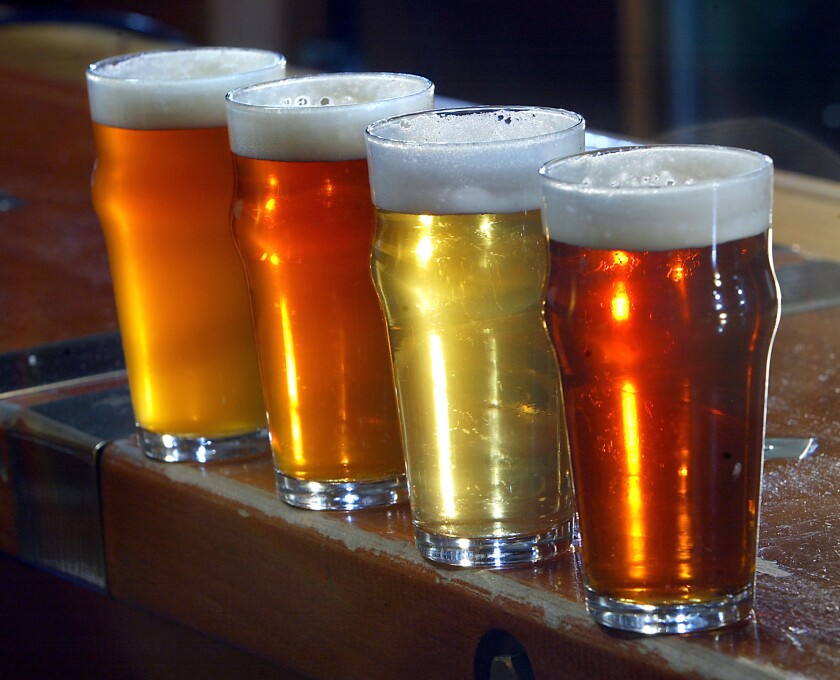 With the world's best-known triple IPA -- Pliny the Younger -- on everyone's lips this week, it's probably past time to take a look at what exactly gets tripled, how an Imperial IPA gets crowned, and how can you have a Black India Pale Ale.
Like an emergent subgenre of rock and roll, as IPAs gained popularity, they began to fragment into sub-styles. Brewers capitalized on people's love for hops and used their creativity to create new versions of the style to stand out from the growing crowd of IPAs.
Here are five major variants of the standard IPA, and what makes them each different.
West Coast IPA -- West Coast IPAs are known for the huge hop aroma bursting with notes of citrus and tropical fruits. Their malt character is understated, and they finish dry to let the layered hop flavors and aromas take center stage.
Examples: Beachwood Brewing Melrose IPA, Green Flash West Coast IPA, Russian River Blind Pig.
Double or Imperial IPA -- While nothing is actually doubled when making these brews, there is more of just about everything. More malts make for more alcohol in the finished brew and allows for more hops to be added to balance the beer out. Double IPAs can range from around 8 percent alcohol to 10 percent or more, and they can be downright devastatingly bitter.
Examples: Russian River Pliny the Elder, Golden Road Brewing Wolf Among Weeds, Stone Brewing Ruination.
Triple IPA -- Edging up over 10 percent alcohol, triple IPAs -- like the infamous Pliny the Younger -- are the culmination of American brewers' obsession with hops. And beer fans can't seem to get enough. These brews can be tough to find as they are expensive and time-consuming to brew, and they must be consumed as fresh as possible for full impact.
Examples: Russian River Pliny the Younger, El Segundo Brewing Co. Power Plant, Knee Deep Brewing Simtra.
White IPA -- A hybrid style that takes the hop-forward character of the IPA and blends it with the wheat and often the spices used in easy-drinking Belgian Witbiers. The wheat provides a lighter body and a refreshing zing, and many modern aroma hop varieties shine when paired with the grain.
Examples: Deschutes Brewing Chain Breaker, El Segundo Brewing Co. White Dog, Boulevard Brewing Reboot.
Black IPA -- Every beer-loving pedant's favorite oxymoron, the black IPA was invented -- depending on who you ask -- in the Pacific Northwest or North County San Diego. Either way, these dark ales use enough roasted malts to provide a deep mahogany hue and a distinct roasty flavor to standard pine and citrus flavored IPAs. The match works surprisingly well, and a Black IPA can be nice change of pace from typical India Pale Ales.
Examples: Stone Brewing Sublimely Self Righteous, Golden Road Brewing It's Not Always Sunny In LA, 21st Amendment Back In Black.
ALSO:
Bruce Kalman opens Union in Pasadena
BBQ and Thai curried potatoes at Hungry Pig
Genius: Girl Scout sells cookies outside pot clinic
---
Get our weekly Tasting Notes newsletter for reviews, news and more.
You may occasionally receive promotional content from the Los Angeles Times.