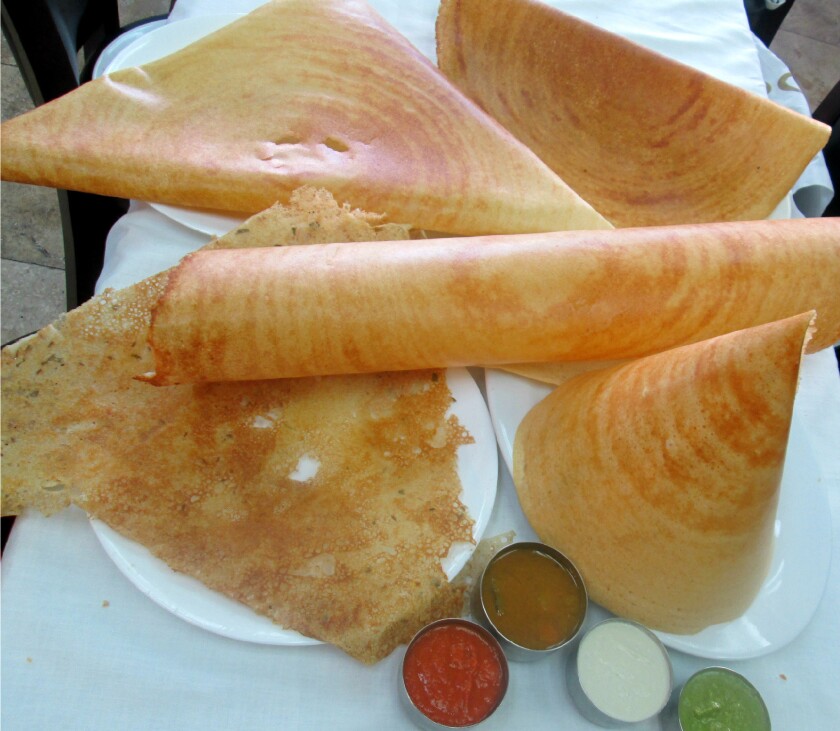 The names on the menu at Chennai Dosa Corner — Madras, Mysore, Andhra Pradesh — read like a travel itinerary to southern India's states. But the tiny 4-month-old restaurant sits on the restaurant-jammed stretch of Pioneer Boulevard in Artesia called Little India. And it serves dozens of different kinds of dosas, the crispy crepes made from a fermented batter of ground rice and lentils — a staple dish of the region.
Sham Itheek is Chennai Dosa Corner's owner, and his 10-seat shoebox-shaped restaurant is reminiscent of the quick-service shops of the cities in his homeland. Peeled from a very hot grill, the huge crepes come to the table still steaming. Inside, creamy little pillows of soft dough absorb the various seasoning masalas that will change their character.
The aromas of spice-laden cooking that float from doorways up and down the street usually signal a specific region's cuisine — possibly Gujarati-, Punjabi- or Andhra-style. Chennai Dosa Corner may be the only place here whose dosas borrow from so many southern Indian states and cities.
Food columnist Lucas Kwan Peterson goes to Artesia with Arjun and Nakul Mahendro and their father, Pawan, to try some of the best Indian food in the city. The Mahendros own a modern Indian restaurant, Badmaash, with two locations in Los Angeles.
You may need an extra bowl of the creamy coconut chutney to cool you down if you order the Andhra kara dosa — kara means spicy in Tamil. A searing blast of capsicum heat drives its cumin-laced flavorings.
The Mysore dosas of Karnataka are much less assertive. You'll recognize them by their flat triangular fold and slightly peppery taste. Gongura dosa, from Telugu, depends on fresh red sorrel leaves for its masala's sharpness, while the podi dosas of Tamil Nadu get a slightly spongy crunch from the roasted chile-dal mixture that's spread over their surfaces as they cook.
Some dosa fans prefer the slightly tangy taste of a dosa's fermented black lentil and rice batter on its own. For these purists, the kitchen turns out unseasoned variants, including dosas slathered in butter or ghee, and ultra-thin dosas that are as crackly as potato chips.
There are also egg-filled dosas, semolina-based rava dosas, dosas enfolding melted paneer cheese, extra-large family dosas and — kids love these — plain dosas that have been folded into the conical shape of witch's hats.
The Goan pork curry recipe from Badmaash develops deep, meaty richness from a homemade curry powder, a long marinade, and a slow simmer in a tomato-onion sauce.
In the southern Indian style, Chennai Dosa Corner serves cloud-like steamed idly to dunk into sambar, a tart tamarind-laced lentil broth. These, along with doughnut-shaped savory vada and other popular snacks — although made from the very same ingredients as dosas — emerge with radically different textures and forms. And don't pass up utthapam, the soft, personal-pizza-size pancake.
If you're closer to the Westside, you could head to Itheek's Brentwood restaurant, India's Oven. But for all those varieties of dosa, you'll need to head to Artesia.
Chennai Dosa Corner, 18413 Pioneer Blvd., Artesia, (562) 924-3111, chennaidosacorner.com
---